Back to selection
TED HOPE INAUGURATES FILMLINC SERIES WITH MARK JACKSON'S "WITHOUT"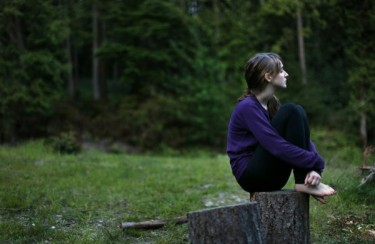 Producer Ted Hope, who has been running a regular independent film screening series at Goldcrest for the last few years, is moving uptown — he's the inaugural curator of the Film Society of Lincoln Center's monthly Indie Night showcase. And for the series opening film, he's picked a favorite of ours here at Filmmaker: Mark Jackson's Without. On the basis of this first feature, Jackson was selected as one of our 2011 25 New Faces. In his write-up, Brandon Harris wrote:
Comprised of shots that make you feel as if you're glimpsing the most private of moments, a fly on the wall for one young woman's haunting meltdown, Without may suggest some of the greats of world cinema (he is willing to site the influence of Michelangelo Antonioni and Marco Ferrari, filmmakers he ironically missed out on while studying in Italy), but Jackson has little interest in quoting them. A keenly observed, deeply unsettling meditation about a young woman house-sitting an infirm old man for a young couple on holiday from their remote, Pacific Northwest island home, Without burrows deeper into how loss and emotional devastation can transform into sexual and psychological lunacy than any film in memory….

Light on music or exposition and filmed almost entirely in one home, the film is powered by a brave and stunning performance from newcomer Joslyn Jensen, who bares the ugliest aspects of her psyche in a role that one might envision a young Isabelle Huppert in. The chamber drama slowly unpacks its protagonist's damaged psyche in longish, brooding and occasionally gorgeous takes thanks to Jackson's chief collaborator, co-d.p. and co-producer Jessica Dimmock.
If you didn't see Without when we screened it in our Best Film Not Playing at a Theater Near You MoMA series last year, make sure to catch it tonight at 8:00pm at the Howard Gilman Theater. Jackson, Dimmock, star Joslyn Jensen and Hope will be on hand for the Q&A. Hope will curate this season of Indie Night, and future curators will include producers Christine Vachon and Jay Van Hoy & Lars Knudsen.