Back to selection
"BRICK WORK" — TORONTO'S WAVELENGTHS 4: IN COMPARISON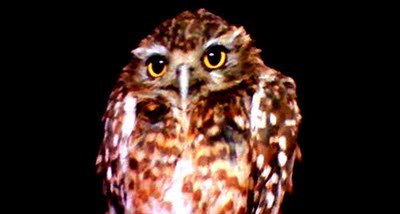 Ironically, a strange, brilliant one-minute trailer for the Buenos Aires Festival International de Cine Independiente (BAFICI) by Argentine director Lisandro Alonso opened the fourth Wavelengths program of avant-garde cinema at the Toronto International Film Festival. In the piece, officially titled S/T (pictured above), an unblinking owl stared in luxuriously saturated color, while pounding drums created a masterful musical score. The work was being asked to function not primarily as advertising but as cinema — and experimental art cinema at that.
S/T was followed by In Comparison, a 16mm film by accomplished filmmaker and installation artist Harun Farocki. Born in the Czech Republic, Farocki lives and works mostly In Germany. His latest film documents the manufacturing and building techniques of brick-laying in countries around the world. In Comparison begins with brick creation in Burkina Faso, where locals pack mud into rectangular mounds and turn them over, one at a time, like so many sand castles. Meanwhile, brightly-garbed Indian women transport neat piles of bricks on their heads, stacked up like mini-skyscrapers (pictured below), while technology of varying sophistication is employed in European factories that produce slanted bricks, smooth bricks, automated bricks. They are sometimes embossed, sometimes sliced like cookie dough, and sometimes made in rounded or grooved shapes barely recognizable as members of the brick family at all.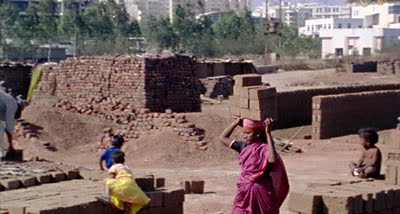 Despite the vast differences in resources and location, common and elemental construction concepts — like the mold, the conveyor belt, and the assembly line — recurred time after time. Between production sites, In Comparison paused to show its audience technical white-on-black line drawings of the finished unit or units that a given brick-making method will produce. Some bricks are as jagged as broken teeth; others as uniform as dominos. Watching the film, the audience seemed mesmerized — as entranced and unblinking as Alonso's owl.