Back to selection
Paper Co-Creator Andrew Allen about his Award-Winning iPad App of the Year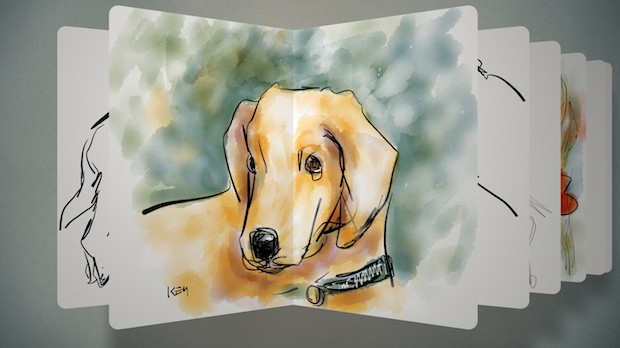 Back in April I published this interview with Andrew Allen, filmmaker and developer with the software company 53, about his newly launched Paper app. This week the app was named by Apple as its #1 app of the year for iPad. Our original conversation about Paper's development, and Allen's journey from filmmaker to developer, is detailed below. — SM

Andrew Allen, one of Filmmaker's "25 New Faces of 2011," had a big premiere this month, but it's not a film. Allen is part of FiftyThree, the company behind Paper, an iPad drawing app that made Apple's App Store "App of the Week" and has been downloaded 1.5 million times in 14 days. Picked for our "25" list on the basis of his extraordinary animated short, The Thomas Beale Cipher , and his creation, with Jason Sondhi, of Short of the Week, Allen now brings the cinematic polish of his short work and the impeccable taste of SOTW to an elegant web app aimed at artists, doodlers and, even those just wanting to jot down a quick note.
Making a virtue of simplicity, Paper initially presents you with three notebook icons… and not much else. After playing with the app a few moments, you discover the tool bar, popping up from the bottom border and offering you a drawing pen, an eraser, selection of colors, and the option to buy, individually or as a package, a more complete set of drawing tools. (Paper's pricing model — free, with but the real functionality several "Buy Now" buttons away — has garnered debate in the tech press, and Allen and I discuss it below.) But what's most striking about Paper is the unexpected and beautiful whoosh it seems to add to the brushstrokes of even the most artistically challenged. Here, Allen and I discuss his balance of filmmaking and tech, the business and design beginnings of Paper, and how filmmakers should think about expanding their storytelling online.
Filmmaker: Filmmaker readers know you as a filmmaker, and as one half of the team behind Short of the Week. But tell me about tech. How long have you worked in this field?
Allen: I've been involved with tech for about six years now. It's been more or less the day job, and a fascinating day job at that. I've worked in agencies doing a number of different projects, ranging from working with Nike on the latest sensory training technology or working with Microsoft developing new concepts, like the Courier concept, which is something I worked on.
Filmmaker: What's your specialty within software development? And can you code?
Allen: I'm more on the design side – interaction design, experience design, graphic design, motion design. My coding skills aren't worth much.
Filmmaker: And tell us about your company, Fifty Three.
Allen: We formed FiftyThree last year. There are four co-founders, and we all have different backgrounds. We are all craftsmen; we like making things, and we saw this need for tools to help us think. We already have great tools and applications to help us execute. If you want to make a beautiful motion graphics piece, you open up After Effects. Or, if you want edit, you open up Final Cut or Avid. But what about all that stuff that tends to happen on paper, on Post It notes and napkin sketches? We were interested in building tools for the very free-form, creative-thinking world of creators. Paper is our first product for that world. We have been working on it for nine months. Like a movie, it takes a lot of effort. I've downloaded every drawing and notetaking app. You have your notetaking apps, which are all about taking notes, all about writing. But the stuff you make [on them] doesn't look that great. On the other side, you have these very detailed and rich illustration apps, like Sketchbook Pro and Procreate, which are great if you are a talented illustrator. But for the average person — and even for me — they are really tough. You spend so much time fiddling with all the settings for each brush, getting the opacity and texture just right, that you forget why you even came to the app in the first place. We see Paper as a happy medium, something simple, fast and flexible where you can make things that look good.
Filmmaker: Who does what within the company?
Allen: Georg Petschnigg developed our own custom Expressive Ink Engine that just makes your sketching look great. Julian Walker handled all of the technical challenges in bringing it to life. I designed the experience of what the app is, how it works, and how it makes you feel. Jon Harris and John Ikeda helped out in various supportive roles as well as a number of other outside contributors that made it all possible.
Filmmaker: How do you see Paper developing as an app? Or are we seeing it in near its final form?
Allen: We built Paper to be a big app – it's not just a one-off app. It's something we want to keep growing and evolving, and we have a lot of plans on how to do that. And then we have ideas for other apps, other services and even other hardware accessories.
Filmmaker: What about the in-app purchasing model? Why did you decide to price it this way — free, but with immediate options to build out functionality? Why not just charge a higher price for a more filled out experience?
Allen: There are a number of good reasons for it. We looked across the app landscape, and there are a lot of people producing one–off, throwaway apps. They [launch], update the app once, but then because there's no way to get more money out of people, there's no incentive for them to keep developing it. We wanted to do something we could stick with and continue to bring more value to people. And one way to do that is to further differentiate the tool set, to offer tools for industrial designers, for storyboard artists. We want to offer these options but we don't want to clutter the interface and force people to buy [them all]. We see in-app purchasing — building rich apps that can grow and that people can buy [supplements for] as they need them — as the future of apps. And we made the initial app free so everyone can try it.
Filmmaker: This is because Apple doesn't allow paid upgrades, right?
Allen: Yes, but even if they allowed paid upgrades, you'd still have to pay for everything. But do you need everything? This is a nice, flexible system. We can continue to upgrade basic things in the base app, but then we can allow people to customize.
Filmmaker: You are iOS only now. What about Android?
Allen: We don't have any immediate plans for Android, but we are looking at it. It's partly a resourcing thing for us. The obvious reason [we started with iOS] is that it's the biggest platform, but [Apple] has also done a lot of things really well. And I think the new iPad is the best mobile table experience out there. We're all about the best — we want to work on the best, make apps for the best.
Filmmaker: Did you have any previous experience in developing for iOS?
Allen: It was my first iOS app, and the first for our developer.
Filmmaker: Were there any surprises in the iOS development process?
Allen: There were a couple moments, here and there, where Apple wants you do something one way and you want to do it another way. Like our in-store experience — we wanted to give people the option of just buying the [individual] tools or buy everything as a package. But Apple doesn't have a concept of packages of purchases. We created one, but there are a few inconsistencies. There's no way to make the individual purchases add up to the same price of the package. But all in all it's been a great experience.
Filmmaker: I'll confess that I find Paper a bit forbidding because I'm a terrible artist. My drawings look like a child made them.
Allen: The funny thing is, we have seen people over the last few weeks sharing stories, people who never considered themselves artists or drawers. They say, "At least your app makes it look decent!"
Filmmaker: So what kinds of things can our readers do with Paper?
Allen: I can tell you how I have been using it — for any sort of planning or pre pro, for making simple lists and drawing diagrams, for capturing ideas for characters or dialogue. I do a lot of character sketching in Paper. In addition to that, it's a great storyboarding tool. There is additional functionality we can add for that, and maybe we'll go down that road at some point. The video we shot as a promo, all that was storyboarded on Paper. There's one very talented filmmaker in China, Qiao Li. He shot a number of pieces in China, including one called 80 Impression, and he's doing a post-apocalyptic science-fiction short just outside of Beijing. We got him Paper during our beta, and he's been using it to storyboard his whole film.
Filmmaker: There's been a lot of talk in the independent film community about the need for filmmakers to embrace transmedia. But many filmmakers aren't conversant with tech and are even intimated by it. What advice would you give to a filmmaker who might want to extend his or her work online, or into apps?
Allen: Don't be afraid of it. It is a new format, a new medium. I really think filmmakers are poised to jump into it, to take it into interesting new ways. For a long time, tech development has been driven by functionality. I feel like it's reaching a maturity level now that the storytelling component is going to be more and more in important, not just in terms of apps but experience design overall. And it's maturing in terms of distribution too; Paper got out to 1.5 million people in two weeks. That's on the level of a major feature-film release. I'm not the first one to say this, but if storytelling in the 19th century was through the novel, and 20th century was through film, then, in the 21st, we think it's poised to get out there through interaction and the interface. We think about the future of storytelling a lot at Short of the Week. You look at interactive films, like those from Moonbot Studios. They did the Oscar-winning short, The Fantastic Flying Books of Mr. Morris Lessmore. When they came out with that film, they also came out with a tie-in app. It's this very interesting medium between storytelling and tech. You have to understand something about tech and it's limitations, but if you find the right partner…
Filmmaker: And what about Short of the Week now that you have finished the Paper launch?
Allen: Short of the Week is growing. We just crossed our five-year anniversary, which is 100 years in online years. We just brought in five new regular contributors. We are still pushing content, and we will continue to find the best storytelling voices. And at some point we may look to do more than that.