Back to selection
THE HURT LOCKER TAKES HOME TOP PRIZE AT GOTHAMS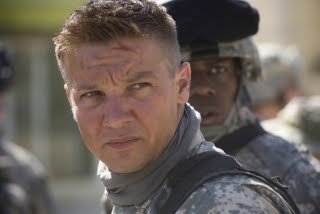 Kathryn Bigelow's The Hurt Locker won Best Ensemble Performance and Best Feature at IFP's Gotham Independent Film Awards, which was held last night in downtown Manhattan at Cipriani Wall Street.
Bigelow was also given one of the evening's Tribute awards. Also receiving Tributes were Natalie Portman, Stanley Tucci and Working Title Films' Tim Bevan and Eric Fellner.
Other winners include Ry Russo-Young's You Wont Miss Me, which received the Best Film Not Playing at a Theater Near You Award (which is chosen by Filmmaker Magazine); Robert Siegel, director of Big Fan, won Breakthrough Director and Robert Kenner's Food, Inc. won Best Documentary.
The full list of winners are below:
Best Feature
THE HURT LOCKER
Directed and produced by Kathryn Bigelow; Written and produced by Mark
Boal; Produced by Nicolas Chartier and Greg Shapiro
Best Documentary
FOOD, INC.
Directed and produced by Robert Kenner; Produced by Elise Pearlstein
Breakthrough Director Award
ROBERT SIEGEL
Writer and director, BIG FAN
Breakthrough Actor Award
CATALINA SAAVEDRA
Actress, THE MAID
Best Ensemble Performance
Jeremy Renner, Anthony Mackie, Brian Geraghty, Ralph Fiennes, Guy
Pearce, David Morse and Evangeline Lilly in THE HURT LOCKER
Casting director: Mark Bennett
Best Film Not Playing at a Theater Near You
YOU WONT MISS ME, Ry Russo-Young, director, producer and co-writer