Back to selection
Melanie Shatzky and Brian M. Cassidy, Francine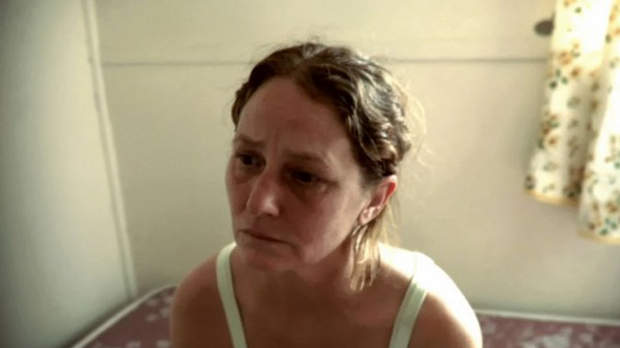 Named one of Filmmaker magazine's "25 New Faces of Independent Film" in 2007, New York–based co-conspirators Melanie Shatzky and Brian M. Cassidy gravitated toward moving-image storytelling after earning master's degrees in photography at the School of Visual Arts. Exploring the porous borders between narrative and nonfiction, while importing many of the techniques they'd learned as MFA students in another visual discipline, Shatzky and Cassidy debuted two equally memorable, conspicuously stylized shorts that year, The Delaware Project (fiction) and God Provides (a nine-minute doc), which premiered at the Rotterdam and Sundance Film Festivals, respectively. In 2011, The Patron Saints, a six-years-in-the-making "hyperrealistic" feature documentary that peeks at life in a nursing home with curiosity, discomfiting candor, and eccentric flashes of dark humor, unspooled at Toronto and further aligned the husband-and-wife team with a heightened cinematic style that borrows something from portraitists-of-the-everyday Walker Evans and William Eggleston.
Continuing their exploration in ambiguous factual/fiction blends and tonal portraiture, Shatzky and Cassidy's no-frills narrative feature debut Francine stars Academy Award winner Melissa Leo as an emotionally shattered middle-aged woman looking for a sense of connection after she's paroled from prison. Occupying a battered rental house somewhere in the Hudson Valley, Francine struggles to define herself in relation to others, barely speaking to the manager of the pet store where she's found low-wage work cleaning fish tanks and assisting customers. Wandering through a parking lot in one scene, she comes across a death-metal band performing for a motley clutch of fans—some moshing, others swaying or head-banging—and enjoys a rare, trance-like moment of communion. Other possible routes to human connection, such as when she's invited to a church-sponsored roller-skating event by friendly Linda (Victoria Charkut), resolve poorly in the end and make it clear that Francine is painfully isolated. Another acquaintance, recovering alcoholic Ned (Keith Leonard), takes an interest, too, and finds Francine work at a stable when she's fired from the pet store, among other kindnesses, but his gentle pass at her one evening does not translate into romance. She finds intimacy instead with animals, gradually filling her house with adopted strays, lovingly brushing horses under her care, and eventually working alongside an animal doctor at a veterinary clinic in more intense settings. Her instinctive tenderness with nonhuman creatures (in one scene, she gingerly places a dead hamster's foot in her mouth, echoing a similar scene in The Patron Saints) brings her out of the haunted inner world she inhabits, at least temporarily, but the long "adjustment period" the warden warns her to expect at the beginning of the film proves harder to navigate. Strangely absorbing for a low-budget character study with a threadbare narrative arc and spare dialogue, Francine is built around Leo's intimately felt performance, accruing emotional force in barely discernible and sometimes unsettling ways.
Filmmaker spoke with Melanie Shatzky and Brian M. Cassidy about empathy, animals, tonal storytelling, and the relationship between still photography and cinema. Francine opens at MoMA today.
Filmmaker: The film is about empathy and our ability, however limited at times, to connect with others. Why did you decide that theme would be rich to explore in a small-scale, single-character drama?
Cassidy: All of our work tends to aim to reach a level of understanding and empathy for seemingly difficult to understand and complicated people. So Francine is no different. The capacity to empathize with people can be opened up through cinema and this kind of storytelling. We like our films to exist in that place in between where you might feel at a distance from someone and intimately close to them. That's an important element for [our idea of] Francine, this interplay between being uncomfortably close and at arm's length from her. We like to bring the viewer close to things they haven't quite seen or experienced before.
Filmmaker: That's true also of your new documentary, The Patron Saints, where we spend time with people—in this case, residents of nursing homes—who are mostly invisible in society, since witnessing age and illness really does make us uncomfortable. What made it interesting for you to explore this idea in a narrative context?
Shatzky: I'm not quite sure. Brian and I both come from a photography background. We like to work at the intersection of fiction and documentary where what is real maybe feels slightly staged, and what is staged feels real. We don't know someone quite like Francine in real life — she's an amalgamation of people we've come across, people who've felt a tremendous sense of loss. Part of our work involves looking at people facing desperate circumstances and the creative ways they try to pull themselves up and out of that [situation]. Brian and I are huge animal lovers and we recognize within animals a tremendous beauty – they're both naive and wise, so they accept and love you if you're good to them, or even if you're not that good to them. Francine wants connection but finds a more heightened sense of that with animals. It's a very unique way for someone to try to create a family.
Cassidy: On a filmmaking level, fiction appeals to us because it more readily allows us not to be tethered to constructing something that only exists in the real world. We weren't sure, coming out of the documentary, how much of the real and so-called authenticity we were looking for would really translate. Making Francine was encouraging because we felt that not only could we find those truthful moments and details [in a fiction film] and create a character study that felt rooted in the real, but that we could bring more of our subjectivity to it as well.
Filmmaker: What did you strip away from your original concept of Francine in order to arrive at the character we meet on-screen?
Shatzky: A lot of [the story] is based on feeling. Within all of our work, it's more emotion-driven. Given our background, we both think in terms of images and the kind of meaning you can glean from a single frame, and much of that is related to how it makes you feel. While we were writing, images would come to mind, and there was no rhyme or reason immediately to why certain things felt right, they just did. It really felt like we had discovered them together.
Cassidy: I think we approached it more like composing music. Francine came to life for us in a very intuitive way, [as we were] thinking about movement of emotionality and situation and tones. And then at a certain point it was about stripping away and [figuring out] how to embed certain themes so that they land truthfully and are sequentially related — the story architecture that goes into creating an experience that works and lasts over 74 minutes. That part of the process continued throughout our conversations with Melissa Leo and the other actors and well into the editing.
Filmmaker: How did you introduce Melissa Leo to the idea of this character and a feature film? Was there a pitch?
Shatzky: It was a pretty unusual situation. Brian and I intended to cast a nonactor—we thought we'd find an actual ex-con or a woman who worked at a gas station or a diner, something like that. We decided to shoot in the Hudson Valley, where Melissa lives, and she heard about the film because she's on the local email list. She approached us and asked if we'd consider her as the lead. We were quite fortunate. [Laughs]
Filmmaker: Did you have blocked scenes and dialogue in the screenplay or did you work more collaboratively on the story with her?
Shatzky: We had written a 10-page script, which was mainly descriptions outlining vividly and precisely what would happen within each scene—what it would look and feel like, what would happen between the actors, where they were coming from and going to—but we didn't write any dialogue. We wanted it to feel real by everyone bringing their own words. Which is not to say it's an improvised film—not at all. But the dialogue within the scenes is. Sometimes our actors would come up to us and ask, "Is it okay if I say such and such during my take?" And we'd say, "Don't even tell us what you're going to say because we want to keep it fresh. Just say it while the cameras are rolling."
Filmmaker: The death-metal band in the parking lot was an especially inspired interlude, both for its eccentricity and for what it tells us about Francine's inner life and spirit.
Cassidy: That's a moment when we sense a kind of release for Francine and a fleeting sense of community, even though she doesn't speak to anyone. It's not unlike a church sermon where you're around other people and it has a spiritual element. That scene encapsulates a time when she's momentarily free. We knew where that scene would land in the film but we experimented—in the end it felt just right where it was. It also speaks to our background in still photography, where a moment can be very vivid and tell you a great deal in a way that's almost decontextualized from the instants before and after. It makes sense where it is tonally and sequentially, but it also exists on its own, and those are the kinds of moments we look for.
Filmmaker: The progression of work environments Francine moves through—the pet store, the stables, the racetrack, the animal clinic—seemed to have a logic, too.
Shatzky: It went from public to private. At the pet store, the focus is on customer service. On the next job, she works a little more intimately with the animals, and finally at the clinic she's a primary caregiver.
Cassidy: Her work gets more severe and isolating through those three jobs, but in a way gains a certain nobility.
Filmmaker: How did you coordinate the shooting inside the clinic with Mike Halstead, the veterinarian who also plays one in the film?
Shatzky: It didn't take much convincing at all—he was very interested in the project from the get-go. We had the Humane Society present for every single scene that featured an animal. At the vet office, those are actual procedures we are documenting, so we incorporated scenes into those situations. Just so you know, the "euthanasia" is actually a dog being anesthetized because he was having his teeth cleaned. We knew we wanted that scene, but we were never sure what we were going to get [on any given day]. We just had to show up. We couldn't ask him, "Can you move the cat five inches to the left?"
Filmmaker: There's a great scene where Francine is tightly cradling the dog that's just been put down. When working, as you did, like documentarians, how did you go about integrating your lead actor?
Cassidy: It's hard to explain—this is part of the work that happens between actors and directors—but Melissa knew the character very well, she knew what was going to happen, and Mike Halstead knew well in advance this was the way it was all going to happen. There's an edit in that scene, even though there doesn't seem to be. First, Mike fills a syringe with this pink solution, which in actuality is a euthanasia solution. He was intent on us getting that right. There was a bit of blocking and conversations about how to construct that [moment]. Once we got going, it was all observed and shot in one take.
Filmmaker: A lot of still photographers think of the image as sacred, almost, and are very attached to the idea of a single moment. What motivated you to move over into moving images as an art practice?
Cassidy: I think the layers and levels of description that are available to filmmakers—sound, pacing, collaboration with actors—there are so many. We were both intrigued and seduced into the notion that you could have these extra means at your disposal. Early on, that held great appeal for us.
Shatzky: Neither of us went to film school. We have a master's degree in photography from the School of Visual Arts, and within that program was a smaller video program. That's where Brian and I met. We both responded very strongly to each other's work, which at that time was very different. If you look at it visually, our work looks [unrelated], but I think we were dealing with some of the same ideas. Then we started collaborating, and we were more satisfied with what we came up with together. That's where our filmmaking began.
Cassidy: We operate out of that place of what makes sense to us instinctively. When we first picked up a video camera and began using elements of time and movement, it took a little while to understand what from photography could translate to cinema. Much of it can't. The early experiments we were doing felt too much like photographs—it was calling too much attention to itself.
Filmmaker: What are the joys and challenges of being partners in every sense, marital, artistic, business?
Shatzky: There aren't that many challenges! We're married people, so when Brian and I walk down the street there could be 80 things going on, and I just say, "Brian…" and he knows what I've noticed and what I'm thinking. So it's that kind of shared empathy and curiosity about others that we try to bring to our work. We have our own little community wherever we go. For us, it's very nourishing to work together—we want to see the same thing.
Cassidy: We're lucky and fortunate to have each other.