Back to selection
Bringing Dead Zoo to Life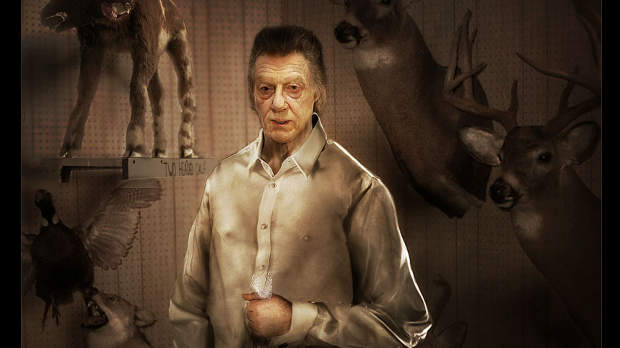 A few years ago, I made a feature documentary about rock posters, Died Young Stayed Pretty, which premiered at SXSW Film Festival. Cartoonist Ward Sutton did a great 12-panel comic strip review of the film in the Village Voice, and Filmmaker Magazine did an awesome interview.
My new film, Dead Zoo, is finally off the ground, after six years of sweaty script development and countless hours with amazing collaborators like Oscar-nominated character developer Julianna Kolakis (District 9), 2D animator  Philip Piaget and musician Com Truise. Dead Zoo is inspired by recent conversations revolving around the merging of the body with machines — a prosthetic love story about what it means to be human, and what it means to be alive. It's the story of a young woman with a prosthetic arm, who, against all odds, comes to terms with her extraordinariness.
It's been a super scary yet wonderful experience since the donation drive launched on Indiegogo. The past two weeks have been filled with wonderful dialogue and new connections, giving way to awesome ideas which will definitely enhance my original concept. In the spirit of my past movie Died Young, I'm doing this campaign DIY!
What a process this is — it's a very telling experience talking to the people who you know, have known, will know in the future, and some I'll never know! I've gotten brilliant ideas to make a better movie. I've been talking to the bionic companies to see if they are interested in having their bionic arms in the movie. One of the big ones offered to help design the arm! One of the companies said they thought that the story is cool but they had a problem with Charity, Dead Zoo's heroine, being pretty, and it's problematic that she makes her living as a webcam model. Why? Because their clients are stalked by "devotees" who have a strange sexual fetish for people with limb loss! NOW I want to add a devotee character in the script, because fear of fetish is scary.
I'm also talking to the Paralympics folks because there aren't many feature narrative films that deal with the emotional turmoil of limb loss — you can see a commercial with a cute kid who says he or she just got this brand new arm, but there is no connection for people. They're detached from the story. Although the aesthetics of Dead Zoo is heightened sci-fi -fantasy, the relationships and emotions are real and grounded, and people can make an emotional connection to the characters in this film, however graphic, pulp-fiction the style maybe. This is an important story for me because Charity is a fascinating survivor of multiple coincidental tragedies, and I am one too. So I'm driven to make this film just like my subjects are driven.
I lost both my brothers young. When you lose a young sibling, it's like you've lost a physical part of yourself…I always said it's like I have a missing arm and leg for each brother — and you have to learn to live with your loss. People don't see your loss. In Dead Zoo, Charity's struggles are a physical representation of loss in all its forms. This story is about how, against all odds, she comes to terms with her "extraordinary-ness".
I've been calling everyone I've ever known, and I discovered that my first brother's passion was robotic prosthesis before he switched to electrical engineering and got his PhD degree before he died at the age of 28. This film is inspired by a symposium I attended at the MIT MEDIA LAB called h20, about bodies and machines merging. All this time, I didn't know my brother's first pick was the same subject I would take on many years after he passed away.  And wow, what he would have done with it if he had — what a loss for science.  Knowing this now in his absence is a beautiful and strange way for me to connect to my brother.
For my Dead Zoo campaign on Indiegogo, I opened a twitter account and I had to learn how to tweet. In three days, I sent out 1200 tweets, and then Twitter suspended me, saying I can't tweet at people! But I just joined and I don't have any followers — how do I get the word out if I can't tweet @ them? Then the Comic-Con fans, sci-fi fans, bionic, post humanist, robotics, prosthetics, futurist, scientist retweeted and followed me!!! Comic-Con retweeted, saying I had the best hash tags on Twitter — pretty cool for a first timer! One thing is definite about online crowd funding: My eyes are burning me and it's a tool to go blind!
There are a lot of sensitive subjects in this film — taxidermy is one — and I'm learning so much. For example, during my tweeting adventures, I discovered a South African taxidermist who just moved to a ranch in Texas. His house is filled with African game! He was very interested in some sort of collaboration, but he thought that Dr. Peter, the taxidermist character in the film, is too pulp-fiction for his taste ("not his cup of tea") because even though his first love is taxidermy, he turns villainous, driven by his obsessive passion
This film is rich with the undercurrents of subculture. I'm familiar with subcultures — I tackled the subject in my first film, Died Young. I understand the singularity of a fetish culture. It is impossible to please all of them, because of the inherent nuances in subculture. Everyone has visions of their own. I love obsession, I love people driven by their passion. Even though the South African taxidermist in Texas didn't work out, the one in California did! I'm pleased to report that Chuck Testa from Ojai Valley Taxidermy video who has over 12,644,007 YouTube hits, contacted me via Facebook, after I posted on his YouTube video. We've connected by phone, and he wants to collaborate on Dead Zoo! It's pretty cool how it worked out, and I'm super excited to have his expertise!
Then my d.p. Mahlon Todd Williams sent me a link to an article in Wired magazine titled "Taxidermists, Artists Bring Aging Museum Animals Back to Lifelike." The photograph caption reads "Taxidermist George Dante touches up one of the Alaskan brown bears in the Hall of North American Mammals"  at  the American Museum of Natural History. This is where my documentary background comes in handy, time for detective work, and cold calls! I found Dante's number and I called him up! This happened in 10 minutes time from getting the link, to reading the article and then talking to the taxidermist touching up the Alaskan Brown bear! Funnily, he didn't know about the article! He told me he would consider helping out…
Meanwhile, back at the museum, I talked to the senior museum artist at the American Museum of Natural History, one of my favorite places in NYC!!!  He's retiring in a year and said that he would think about being a consultant on the project and to get back to him in a year.  I told him the film is titled Dead Zoo--he said that is an offensive title because he's a naturalist and his world is about preservation vs. some other taxidermists who hunt for trophies. It's a wonderful dialogue to have about the subject, because in Dead Zoo lies an inherent juxtaposition of taxidermy and mechanized prosthetics, the intent of which is to stimulate the discussion about what it means to be human; and what it means to be alive.
Okay now to the sex! Beyond the sexy electronic music by Com Truise that will be the soundtrack to this movie–I cut the concept video to one of his tracks "VHS Sex"–the scientist Hugh Herr, whose symposium inspired me, wears bionic legs himself. He describes disability as sexy, cool and powerful.  So a movie about it will have to be too!  "Zombie robot hottie bike gang" is a lovely comment made by a virtual friend on Facebook, on the character concept art of Charity; our heroine in graphic art terms is pretty hot.
So a friend in England was going to donate to my important cause, and then he wrote me back and said, "I didn't know it is a skin flick" I asked him what that was! He said necrophilic porn.  Back to what I was talking about before, the fear of fetish! I can't wait to make this film because, my god, look at the wonderful dialogue I've had just based on a synopsis, concept art and a concept video cut for mood (we haven't cast or shot yet). There is power in mood. We haven't even talked about Anthony's car! The blue sexy Chevette! And Charity's real-life crush on Anthony. And his repulsion towards her bionic arm. And the prosthesis technician, Daniel. Do you see Diane Keaton? We merged Diane Keaton, Christopher Walken, Peter O'Toole, Tom Waits and John Hurt to make Dr. Peter's character concept art. I won't get into the wolf story but you can see the 2D animation sequence by Philip Piaget made exclusively for Dead Zoo, and hear the creepy cool sound effects by Owen Meyers on Dead Zoo's Indiegogo Page.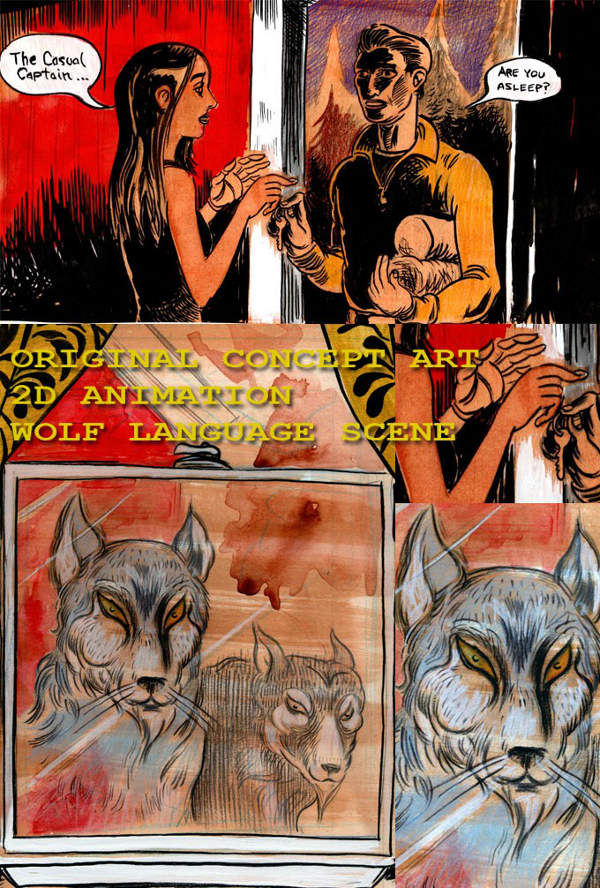 Here is a list of some of the subjects I've talked about doing this campaign… synthetic neurobiology, biomechatronics, bionics,veterans, robotics, singularity, transhumanism, post humanist, devotees, Paralympics, skin flick, futurology, smart prosthesis, wannabe amputees, cybernetics among many. A friend said get in touch with Paul Allen the multibillionaire co-founder of Microsoft! So I found a guy in China, who knows a girl in LA, who knows Paul Allen. Before this process I simply thought that the film is a Burton/Cronenberg-esque mix, but after this intense process I think it's all of the above and Douglas Adams! Here is a comment from a donor: "I'm totally intrigued by this combination. I haven't seen anything like it since Douglas Adam's books about Dirk Gently! :)"
This is just a small sneak peek into the POV of the audience for Dead Zoo! What glorious dialogue, controversy, and intrigue this film-to-be will deliver to all the passion-driven people out there! So it seems to me that crowd funding for a film influences the make up of the film! Now more than ever, I'm drooling to make this movie–drip, drop drip drop drop drip. So I dreamed last night that in 30 seconds Indiegogo's bar turned green to 15K!!! I was so happy!
I will end on this, by saying holy moly I got this in my inbox for the Script of Dead Zoo: "Thank you for your submission to the 2013 Sundance/Sloan Commissioning Grant. We are pleased to invite you to the second round of consideration!!!" 
We are just 7 days away from the end of this campaign and you will see all of these ideas come to life in the film. All you brilliant people out there, be the reason this kick-ass film gets made because, as one of my donors said, "It's so fucked up I just have to see it made"
We will get funded no matter what, so every bit makes this movie!
Wolf concept art by Raul Gonzalez.