Back to selection
Rome Film Festival 2012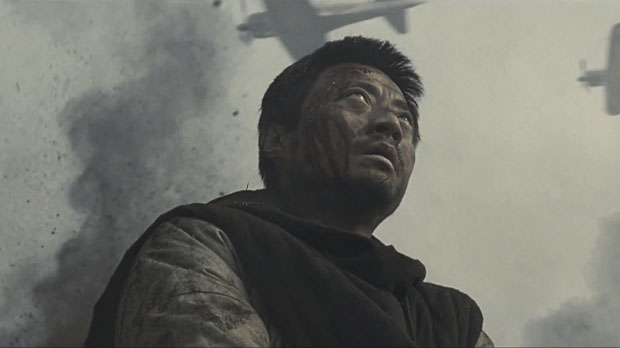 Back to 1942
Everyone knows Rome wasn't built in a day. So to expect the former Venice Film Festival artistic director Marco Mueller to transform the fortunes of Rome's film fest within eight months of taking the job would have been unfair. The event this year was about building foundation stones for the future, shaping an event and identity that would have the film world believing that all roads lead to Rome.
It's the seventh year that the Eternal City has been hosting a film festival and the hope that it would become the leading festival in Europe's packed autumn festival season has never materialized, with Hollywood studios preferring to launch early Oscar films in Venice and Toronto and to host big European junkets in London. Previously, a bit like the New York Film Festival and London Film Festival, it was not much more than an aggregator of the best films that had shown at other festivals, with the occasional world premier and a launch pad for the domestic release of an American movie.
Mueller's first act was to announce that Rome would be a festival of world premieres. It was an admirable and ambitious plan: 15 films in the main competition, the implementation of an Italian section (which had this year been jettisoned by Venice), an experimental section, and for those without a home but a big enough name director or star, an Out of Competition slot. When the program was announced, the obvious question mark had been the failure to get one of the big Hollywood Oscar films that had yet to premier. Hitchcock preferred to go to AFI, and there was no sign of Les Miserables, Zero Dark Thirty or Promised Land. The biggest omission was the film everyone expected might premiere, Quentin Tarantino's Django Unchained. After all, Tarantino had worked as a programmer at Venice, while Mueller was in charge, with his program featuring Italian B movies.
And here came Mueller's mistake. He hinted in press conferences that there was a big chance that Tarantino's western could be one of the surprise movies. When it turned out it wasn't, the result was that not only had he failed to promote the intriguing lineup that he had put together he also brought into focus Rome's failure to attract a big Hollywood vehicle. When some of the films that did show early on at the festival failed to live up to expectations, it then became easy to dismiss his debut Rome effort as a festival that flattered to deceive.
Yet take away the Hollywood noose and it becomes apparent that Mueller has done a commendable job in programing films of interest given that his festival is sandwiched between the omnipotent might of Toronto and Sundance. The line-up for the competition was intriguing. There were name directors, Larry Clark (Marfa Girl), Mike Figgis (Suspension of Disbelief) and Jacques Doillon (You, Me and Us) debuted new films. As became Mueller's trademark at Venice, he attracted the biggest films from Asia. The two surprise movies were Johnny To's Drug War and Feng Xiaogang's Back to 1942 and of course no festival is complete without yet another film from Takashi Miike (Lesson of the Evil). Another film that jumped out was Mao Morire, the second film from Mexican director Enrique Rivevo (his first, Parque Via, won a clutch of festival awards).
A director who had less luck with his first film was Roman Coppola; there was not much love for the underrated CQ, but having collaborated with Wes Anderson and his sister Sofia Coppola recently, there were high expectations for his sophomore effort, A Glimpse Inside The Mind of Charles Swan III. The final American film in the line-up was The Motel Life, the debut film of Gabriel and Alan Polsky which, given that it starred Stephen Dorff, had potential to be a downmarket Somewhere.
These last two films showed after I left the festival so escaped my watchful guise. Of the competition films I did see, the most interesting tale came in Back to 1942, about the famine in China that killed 3 million people while the country was at war with Japan during World War II. It was originally a story brought to international attention by American Pulitzer Prize-winning journalist Theodore White. It doesn't shy away from showing how tough the famine was, and it's feature filmmaking on an epic scale. Tim Robbins appears, briefly, in a role as a priest, and is the biggest misstep. It's a film that in the aesthetics and musical score directs the audience how to feel, and if you can handle the emotional hammer, there is plenty left to admire.
Larry Clark and Mike Figgis are both on familiar territory. Marfa Girl is about the culture clash between bored adolescents, border guards and artists in the trendy Texan town. Clark does a fine job at shining light on the conflicts that this mashup creates, but it's a ride that Clark has taken us on too many times before. Figgis once again shows off his mastery with digital camera, split screens and form. Suspension of Disbelief is about the artistic process and is so self-aware that it provides a running comment on its own plot devices. A noir thriller, it has a film within a film within a film.
Miike's Lesson of The Evil is a disappointing high school tale of a serial killing teacher that like so many of the prolific writer/director's efforts believes that it shouldn't stick to one genre when you can have five. Meanwhile Mao Morire is a ghost story set on an island centring around the death of a near 100-year-old woman. It's so slow it would drive drying paint up the wall. Away from the main competition, Peter Greenaway gave a pretentious and highly visual reinterpretation of Bible tales by way of the Dutch mannerist Hendrich Goltzius in Goltzius and The Pelican Company. Perfect material for Greenaway and done with his usual visual style, but in the end nothing too surprising. The only director who did something out of the blue was Marjane Satrapi. Her new film, Gangs of the Jotos, is a fun romp far from the heavy stylizing of Chicken with Plums and Persepolis.