Back to selection
Filmmaker Launches Holiday Sale and New iPad Edition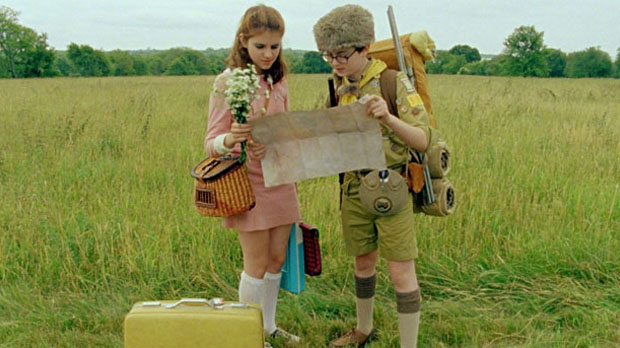 We have two big announcements: the first is that our popular annual holiday sale returns, with 40% discounts on Filmmaker subscriptions and an array of bonus gifts — including DVDs of our Spring cover, Moonrise Kingdom, pictured above — given away to randomly selected new and returning subscribers. And the second? We've just launched Filmmaker on the iPad, a new edition of the magazine containing all of our print content as well as links and new video content.
First, let's talk about the sale. A lot of magazines discount all the time; we do it once a year. From now until December 31, you can get a year's worth of Filmmaker for only $10. That gets you the print edition, which you can read in the hard copy, online in our members area through your browser, or you can download it in the form of our Bluetoad digital edition. (If you just want the digital edition, that's discounted too.) Our bonus gifts this year include DVD copies of some of our favorite films of the year, including Oslo, August 31; Detropia; Jiro Dreams of Sushi, The Queen of Versaille and more. There are also signed posters (from 28 Hotel Rooms and In Our Nature), books (Anna Karenina, tying into Joe Wright's new Focus release, and Jon Reiss' Think Outside the Box Office); and, as we had last year, an Oscilloscope "Circle of Truth" boxed set of DVDs and Blu-Rays from the essential indie distributor. Click here to see all the prizes, and then follow the subscribe button on that page to pick up a year (or two) of the magazine. Or, just go directly to our subscribe page now.
Now, about that iPad edition. We've partnered with Mag + and developer David Hackett to bring Filmmaker to Apple's Newsstand. It's exactly the same as the print edition, except we've added links to each article, and there are a couple of bonus videos too. (Look forward to exclusive video content in the issues ahead.) We've priced it really competitively at $2.99 an issue, or only $9.99 a year. At the moment, the iPad is its own separate subscription (and is not a part of the above promotion and giveaway), but come Spring we expect to be able to bundle the iPad with our print subscriptions.
Want to try out the iPad edition? Download the app for free and then look in the library, which you get to via the bottom menu. There you will find our Summer "25 New Faces" issue free of charge. Check us out.
So, there are a lot of ways you can read Filmmaker. Of course, for free here on the web, or through your RSS reader is one of them. But only about a third of the print magazine appears here on the web; the rest is print only, and this includes most of our longer, in-depth pieces. By subscribing you get all of that content but, also, you help us across our entire platform. Our subscriber base is what brings in advertisers, pays our writers and enables us to expand on the web as well. If you enjoy Filmmaker, please consider subscribing or gifting a subscription for a friend or loved one. (It's easy — you enter their address when you subscribe.)
Okay, commercial break over. Check out our sale, check out the iPad edition, download our Summer issue free, and hope you all have a great holiday season.