Back to selection
Rendez-Vous with French Cinema 2013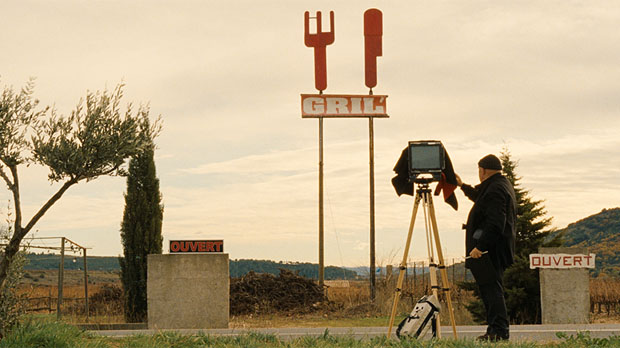 Journal de France
Jean-Claude Brisseau's The Girl From Nowhere is an auteur work of relatively low-profile interest to the broader public, one of several such items in Lincoln Center's annual Rendez-Vous With French Cinema series, which starts today. Brisseau's career is firmly bifurcated, the second part beginning with 2002's Secret Things — overheated soft-core with classical allusions — led to lawsuits and sentencing for sexual harassment of auditioning actresses. After two more films in this humid vein, The Girl From Nowhere stars Brisseau himself in an adamantly chaste mood. A man-mountain with a body somewhere between latter-day Gerard Depardieu and NFL coach Rob Ryan, Brisseau is lumbering mathematician Michel Deviliers, long holed up in his apartment, working through his grief year after year by writing a grand history of intellectual thought, religions, the meaning of dreams and every other starting point for big picture pontification.
In the first scene, Devilliers is distracted from his self-imposed labors when he hears young Dora (Virginia Legeay) being beaten up on his apartment building's staircase. He cleans her up, agrees not to call the cops, and is drawn out by the young gamine into talking about his work. "It's been ages since I had such a stimulating discussion," Devilliers glows when asking Dora to stay past the days needed for recovery to give him feedback on his book. "That was hardly a discussion," Dora responds, "more of a monologue." Devilliers is a gasbag struggling to find his way out of years of hermetically developed pedantry and crankiness, and Dora's his unexpected muse and platonic companion.
Brisseau's on-screen self studiously abjures carnal urges. "Do you want to sleep with her?" doctor friend Denis (Claude Morel) asks. "Don't be stupid," Michel responds. It's not Brisseau's fault that Dora flashes a breast at him, or that he sees visions of indeterminately symbolic women making out in lascivious tableaux — pure as he is, sexuality seeks him out, but he refuses to take the bait. The Girl From Nowhere is goofily implausible as a statement of high-minded purity or a source of intellectual stimulation. Brisseau's discussed theories — questioning the veracity of the Old Testament or dilating on the nature of dreams — are more self-parodic than earth-shattering, and his character is (of course!) irrevocably scarred by May 1968, when he was "in a movement we saw as revolutionary," whose failure led to his friend's suicide (!).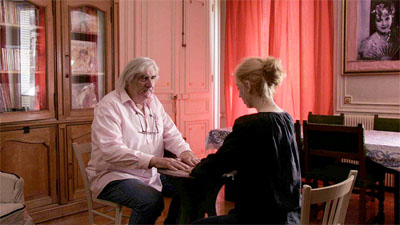 Despite the self-importance of Brisseau's character (mocked throughout, gently and unconvincingly, by Dora) and the film's frequent interminability, it's a perversely admirable project. It's at least not hard to understand why, at last year's Locarno Film Festival, the film won the Golden Leopard, getting praise from the unlikely duo of Rules Of Attraction director Roger Avary ("Brisseau is the youngest member of a new New Wave") and Thai auteur Apichatpong Weerasethakul ("his film shocked us in its melancholy and its deep melancholy towards the memory of cinema one has"). Shot in Brisseau's own apartment, it's definitely a cinephilic work as far as the sheer number of references goes, with DVDs and promotional art providing infinite allusions.
There's a self-conscious naïveté hanging over the film that's supposed to be charming, arguing for the virtues of rudimentary simplicity expertly deployed, and sometimes is. When The Girl From Nowhere momentarily turns into a horror film through nothing more than a red light going off in a cleaning supplies room and the sudden-noise-scare emergence of a hooded figure with a knife, it's a clear attempt to shock through a self-consciously pared down mode that can produce "magical" effects only possible through cinema, proving the point by generating an effective jolt. (The symbolic robed woman of death, a familiar image in Brisseau's work long before Secret Things, returns as well.) Often enervating, The Girl From Nowhere's peculiar groping for transcendence — signaled with an overlooped, beatific snatch of Mahler's Fifth Symphony — deserves a sincere slow clap.
Raymond Depardon's Journal de France is another presentation of self. Briefly, for the unfamiliar: Depardon is a legendary French photojournalist who seems to have taken footage of every significant geopolitical crisis zone of the late '60s, then moved on to a wide, varied, mostly documentary filmography. Journal de France is a career overview along the lines of Agnes Varda's The Beaches of Agnes or Chantal Akerman on Chantal Akerman, allowing a filmmaker to reflect on their life and work through their own footage, and it would make a fine introduction for the uninitiated. It's actually a couple's work, though, with Depardon sharing directorial credit with longtime personal partner/sound-woman Claudine Nougaret. She assembles and comments on a career's worth of cut-above outtakes, while he drives around France and takes large-format photographs of the countryside. Depardon's droll travelogue leavens and interrupts 50 years' worth of archival trawling, as he waits patiently for cars and pedestrians to go away for the one second necessary to expose his frames.
The footage can be harrowing, the clear highlight being journalistic footage of callously candid French mercenaries in 1968 Biafra. "We wage war all over the world," one says over a leisurely lunch. "We're never out of work." "Here the food is good," his companion agrees, "and the Biafran women are cute." They then discuss the necessity, as in Algeria, of preparing to come back as counter-guerrillas when France changes sides from funding native insurgents to defending its commercial interests. Elsewhere, either Nougaret or Depardon errs on the side of musical overstatement when presenting footage whose interest — e.g. Prague in 1968 as Soviet tanks roll in — should speak for itself. Instead, overly plangent strains from Mahler, Shostakovich, etc. annoyingly underline the sorrow and pity of what's shown.
A solid overview of a major figure's work that's been underseen in this country, it's also a commendably coherent unit in its own right. All footage has been squeezed into a widescreen frame, unifying 50 years' worth of different formats, while the shots from Depardon's Fiat camper van are catnip for anyone who loves slow Vertigo viewpoints from a car's hood as it dawdles up and down minor slopes.
Damien Odoul's Rich Is The Wolf is also assembled from its director's body of work — in this case, eight years' worth of home movie footage. The film's conceit is that these videos were left by "Olaf" (the director himself, increasingly glimpsed towards the end) for girlfriend Marie (Marie-Eve Nadeau) to puzzle through. Olaf disappeared with no explanation three weeks before the movie begins, but Marie isn't mad. "I don't feel abandoned," she says in voiceover. "I feel challenged." The premise is (probably knowingly) similar to Nagisa Oshima's 1970 The Man Who Left His Will On Film, in which a dead Japanese student revolutionary's final, seemingly meaningless reel is repeatedly viewed by his former soldiers in arms, who struggle to decipher ideological intent or even the faintest verbalizable point to his static shots of streets, bridges and anonymous landscapes.
The author is much more overtly visible here. Odoul's on-the-fly footage sometimes resembles the subjective, mimicking-epilepsy shots of Phillipe Grandrieux's aggressive Un Lac. In grainy, lo-res home-consumer-format video, he takes in lightning storms while zoomed so far in each flash is a digital-distorting event or cuts together variations on the same theme — the glare upon re-emerging from a driving tunnel into the sunshine in all seasons, the thwack of bodies and dummies thrown to the floor during Greco-Roman wrestling — as or more notable for the effects degenerated by pushing primitive digital to its limits as the events being recorded.
In Marie's voiceover and conversations with her one visible friend, the movie totally flunks the Bechdel test: every conversation is about this enigma of a man. Odoul/Olaf is an extremist, with a taste not just for the visually punishing but for shooting himself setting some of his clothes on fire or generally preening in eccentric fashion. Footage comes from all over, but France is firmly associated with memories of wartime atrocities, both from World War II's Nazi occupation and the Algerian War. It's a film whose taunting skein of formlessness leaves it nearly indecipherable, alternately/simultaneously tedious and original at all costs, the kind of work that excites the jaded palates of festival programmers and critics searching for new forms even if they don't work. That description should be enough for the self-selecting to know if they want this particular challenge.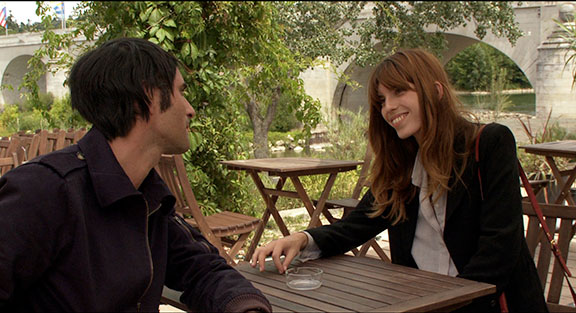 Perhaps the simplest pleasure previewed was Jacques Doillon's You, Me and Us, which — like 2003's Raja and 2008's Just Anybody — is a perversely buoyant romantic drama. Meeting for the first time in three years, former five-year couple Aya (Lou Doillon, in her third movie for her dad) and Louis (Samuel Benchetrit) start flirting intensely. "Now that we're protected" by new partners, she says, they can start meeting again, but instantly renewed passion threatens to disrupt new relationships. Louis' girlfriend Gail (Marilyne Fontaine) drops out early, aware her older boyfriend is too volatile and uncommitted to be worth the trouble of getting involved in a love quadrangle. Aya's dentist boyfriend Victor (Malik Zidi) is more confident in himself, berating Aya for repeatedly taking up with a guy she knows is bad for her (like cocaine, he says).
The fifth member of this drama is Lina (Olga Milshtein). When mom and her two suitors are fighting in the background of the frame, she's often found mugging in the foreground or vice versa. The juxtapositions can be pointed, perhaps too much so: "Are you immature with feelings?" Gail's asked in the back while Lina twirls up front. But mostly she's delightful entropy, a distraction at the fringes. Doillon keeps his camera close to whatever pairing of people is onscreen (it's mostly pairings), circling relentlessly around four comely, complicated people with the leisure to figure out their feelings. They evaluate each other, sometimes scathingly — "That guy is incapable of loving anyone and he's screwing up my life," Victor complains — and the movie gives themselves and the audience time to evaluate the truth of their perceptions of both self and other. Less intense (and attendantly rewarding) than Raja or Just Anybody, You, Me and Us is a complex, engrossing look at smart, wholehearted messes working themselves out.