Back to selection
The National Doc Mistaken For Strangers to Open Tribeca Film Festival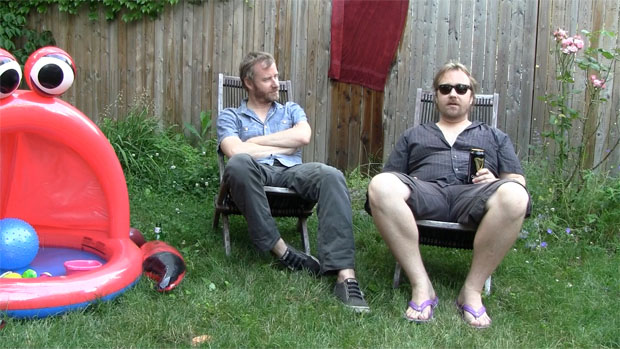 Mistaken for Strangers
It was announced this afternoon that the 2013 Tribeca Film Festival will open on April 17 with Mistaken for Strangers, a documentary about Brooklyn indie heroes The National. The film, exec produced by Oscar-nominated documentarian Marshall Curry, is directed by Tom Berninger, the brother of The National's lead singer Matt Berninger, who is a producer on the film along with his wife, Carin Besser, and Craig Charland.
The film, which has previously had working titles including Summer Lovin' Torture Party and For Those About to Weep, documents the band's tour supporting their 2010 album High Violet. Its current title is taken from one of the singles from the band's 2007 record Boxer.
In a press release, Geoff Gilmore, Tribeca's Chief Creative Officer, said, "Mistaken for Strangers exemplifies the independent spirit and vitality that Tribeca is excited to showcase every year. We are thrilled to open with a film that embodies the journey of an independent filmmaker, and is at its core a highly personal and lighthearted story about brotherly love. It will be a great night of both indie film and music."
"We're really happy to premiere this movie at Tribeca, as New York has been home to us for these past 15 years," Matt Berninger said. "I was happy to give my brother whatever access he needed. I just didn't expect this movie to include shower scenes."
"When my brother asked me along on tour as a roadie, I thought I might as well bring a camera to film the experience," added director Tom Berninger. "What started as a pretty modest tour documentary has, over the last two and a half years, grown into something much more personal, and hopefully more entertaining. It's a huge thrill to be showing this movie at the Tribeca Film Festival."
In a 2011 interview discussing the film, which then was screening as a work-in-progress at the MusicNOW festival, Matt Berninger said this of the film:
This isn't Cocksucker Blues. But we were unguarded around him [Tom]. He's a big metal fan — AC/DC and (Rob) Halford, so I don't know what kind of movie he's making. The nice part of it is that he isn't a sycophantic, auteur indie filmmaker necessarily — he's my heavy metal brother who's also a sweet hilarious guy. It's hard to tell what kind of story he has. It's not like Wilco's I Am Trying to Break Your Heart where there's a bunch of drama, and there are no airplane orgies or overdoses. It's just a lot of shows, a lot of traveling, a lot of airports, a lot of buses, a lot of hotels, a lot of hangovers and a lot of backstage goofing off.
The full slate for the 2013 Tribeca Film Festival will be announced next week.