Back to selection
A Hidden Gem in Eastern Oregon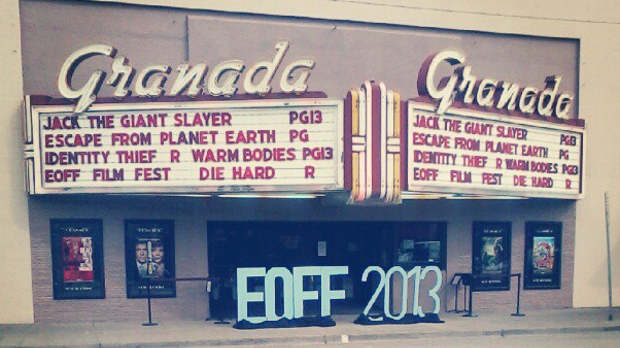 La Grande, Oregon, is the country's largest fully enclosed valley and the second largest in the world. The geographical term for this is a continental depression, but there is absolutely nothing depressing about the incredible mountain views that dominate just about every conceivable vantage point in this quintessentially Western town. The same could be said for La Grande's extraordinary Eastern Oregon Film Festival, which unspooled its fourth event in five years this past weekend. Captained by Christopher Jennings, who unlike many ambitious young locals has stayed in this former gold-mining, sugar-processing and lumber mill town of just over 13,000, the three-day, non-competitive festival has little resources to draw on but the good nature and hospitality of its board and local volunteers, yet it succeeds in ways that much more robustly supported and longstanding film festivals often do not.
Providing earnest engagement between the community it serves and the smattering of filmmaker guests it brings in is something most festivals don't do so well, but here the locals feed and house the filmmakers themselves. Q&As spill out onto the streets after the screenings, where a free rickshaw ride might be awaiting to take some of the patrons to another screening or a party. The volunteers are on a first-name basis with the filmmakers and even though it is run in a hierarchal fashion like any other event, their is an egalitarian spirit to the entire affair that is tremendously appealing, and given the smallness of the event, not terribly inefficient at all. Where other festivals have overly planned, touristy excursions, this one invites its guests to shoot BB guns and throw hatchets in the dense forests leading up to mountains ripe for snowboarding. The down-home albino bumblebee cocktails (Jack Daniels, Goat's Milk, Honey), a local favorite, tend to animate both activities.
Impeccably programmed by Benjamin Morgan and 2012 "25 New Face" Ian Clark, EOFF draws tremendous crowds for the type of indie fare that would never otherwise reach this far-flung end of the Beaver State, such as opening night movie Only The Young, Oscar nominee War Witch, hot-button health care doc Escape Fire and especially in this lily-white part of the country, closing night offering An Oversimplification of Her Beauty. Terence Nance, the director of Oversimplification, did a Skype Q&A from his phone, while walking the streets of Manhattan, en route to get pizza with what everyone in the audience presumed was a date, which considering the subject of the movie, was a welcome relief. Another 2012 "25 New Face," Lucas Leyva, who Mr. Clark assists at his own Miami-based Borscht Film Festival, was on hand to screen his and his partner Jillian Mayer's mind- and style-bending Sundance 2013 short #Post Modem, which uses the possibility of the singularity in our near future as a springboard to deliver one of the most visually assaultive, mildly terrifying and eerily humorous shorts I've seen in some time.
Northwestern filmmakers took center stage in a couple of shorts blocks put together by Thomas Philipson of Portland's Northwest Film Center and in the a couple of selections from regional filmmakers who claim, despite shooting their stories elsewhere, that the cadences of the region are embued in their style. Nandan Rao, who shot Sophia Takal's Green, which screened here in 2011, and Zach Weintraub's The International Sign of Choking, which screened here this year, was on hand with his own long-in-the-works directorial effort, The Men of Dodge City, which happens to star Takal and Weintraub. Like his extraordinary work on those two films as a d.p., The Men of Dodge City relies on mise en scene and misdirection to tell its story of a European-born kid sets out to renovate an abandoned church in a run down part of town into a art space with his ragtag group of friends. Purposefully shot in unflattering available light a la Terrence Malick's The New World, it is a difficult and rewarding movie, one which requires a significant amount of attention, as it delicately parses issues of gentrification, post-collegiate malaise and the value of labor, exploring in its extraordinarily long takes the ways in which various classes of people find value in what others leave behind.
There was another movie at EOFF, screened in top secret (although it was on the bill, if not in name), that I'm remiss to not write about. It was also made by someone who has appeared on our 2012 list of the most promising new independent film talent and it is a special movie, somewhat thin, both thematically and in its running time, but made with such aesthetic intensity that it rivals the kinetic quality of Darren Aronofsky's early work. The critic is loath to not write about it as of yet because of the increasingly lame politics of festival premiere status, as it has its "world premiere" at SXSW on Saturday, but know that director shares a surname with a certain famous football coach and a film director who's mostly forgotten period piece enriched the Weinsteins and won Best Picture years ago. You'll be hearing about it real soon.