Back to selection
Gimme the Loot — A Hammer To Nail Review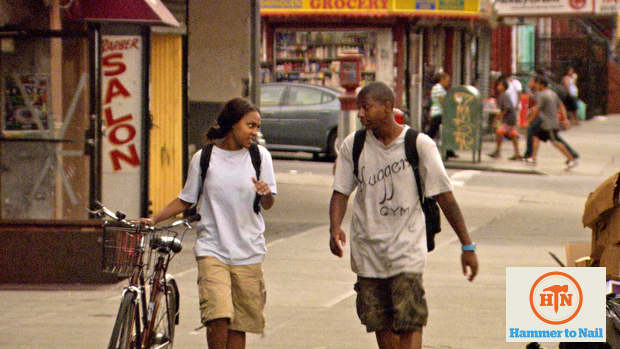 Gimme the Loot
(Gimme the Loot world premiered at the 2012 SXSW Film Festival, where it won the Grand Jury Prize. It was picked up for distribution by Sundance Selects before landing a coveted slot in Cannes' Un Certain Regard. It opens theatrically in New York City on Friday, March 22, 2013. Visit the film's official website to learn more.)
Writer/director Adam Leon's Gimme the Loot is set firmly in present-day New York City, in the comparatively still rough-and-tumble Bronx. It is filled with curse words. There are drugs. There is thievery. And yet it's just so gosh darn adorable. How is that even possible? This sleight of hand is what makes Gimme the Loot pop with such a refreshing old-school authenticity and flavor. Never sacrificing one for the other, it somehow manages to be both raw and sweet at the same time.
Malcolm (Ty Hickson) and Sofia (Tashiana Washington) are a teenage graffiti-writing duo. Malcolm has an effervescent charm and witty sense of humor, while Sofia is butch tough. This makes their pairing at first seem somewhat odd. But after seeing how well they work and play together, one actually starts to wonder if Gimme the Loot is going to be about the budding romance between these two. Before those flowers can bloom, however, a quickly hatched plot sends the film through a more action-packed turnstile.
Malcolm and Sofia are in desperate need of $500 in order to pull off an act of revenge and legendary graffiti coup that nobody has been able to accomplish yet: tagging the iconic New York Mets' home run apple. Malcolm ends up in the apartment of Ginnie (Zoë Lescaze) to sell her some hustled pot, as well as scope out her digs for a bigger score, but an unexpected afternoon get-to-smoke-and-know-you session develops, and he soon starts to question if he actually likes this girl.
Fear not. When Ginnie exposes herself as just another over-privileged white girl in Manhattan, Malcolm makes his decision: thievery will occur. Malcolm and Sofia recruit lock expert — and ex-con — Champion (an incredible Meeko Gattuso) to help them with their heist, as this caper starts to get tenser (and much, much funnier). All the while, the film retains its lackadaisical summer-in-the-city charm.
A slight movie in many ways — the picture itself runs only 81 minutes — Gimme The Loot nonetheless bursts forth with a memorable energy and spirit. Its perhaps most impressive feat is how it is set firmly in the present, yet it doesn't feel dated, even though its influences are not of this century. This is one of those movies that viewers no doubt bring their own film library to, and while I've heard it compared to the French New Wave and Italian neorealism and Richard Linklater's Slacker, to my mind, Leon's film is a most direct descendent of the NYC underground film scene of the 1980s (Wild Style, Smithereens, Stranger Than Paradise). Attribute that to a slightly more stylized and energetic approach to performance, or attribute it to its phenomenal retro R&B soundtrack, but whatever the case, attribute it. Gimme The Loot is a welcome respite from the typical inner-city slice-of-life drama. Though Leon and his collaborators acknowledge the toughness of this world and don't shy away from it, they also don't feel the need to bring guns and murder into the mix. Bomb.
Filmmaker has partnered with our friends at Hammer to Nail for a weekly "Pick of the Week" post that will be exclusive to our newsletter and blog for a long weekend, at which point it will go live over at Hammer to Nail as well. In the meantime, be sure to visit www.hammertonail.com for more reviews and lots of other great editorial.