Back to selection
SARASOTA KICKS OFF A FUN 10 DAYS WITH "THE EXTRA MAN"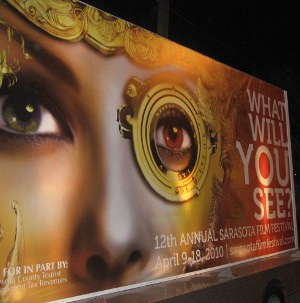 In its 12th year the Sarasota Film Festival has established itself as an important regional festival stop. Wedged between SXSW and Tribeca, Sarasota's 10-day event is filled with festival circuit favorites, access to industry folk for the area filmmakers and lots of parties.
[Full disclosure: I'm on the jury for the Independent Visions award this year.]
Kicking off last night with Shari Springer Berman and Robert Pulcini's The Extra Man, the film stars Kevin Klein and Paul Dano as unlikely roommates living in Manhattan, one an aging playboy (Klein) the other a dreamer trying to find his place in life (Dano). Klein is perfect for the role, as he brings to life author Jonathan Ames's character with wit and great physical comedy (which is probably one of his most unrecognized talents).
Appearing for the Q&A afterwards, Klein described a interesting incident while shooting in New York. While driving around with Dano for a scene in his ratty car, when he pulled up to a traffic light, friend Jeremy Irons happened to be crossing the street, noticed Klein in the car and came by and had a conversation as they were shooting the scene. "Jeremy must have thought Kevin had fallen on hard times," says Berman after Klein finished the story.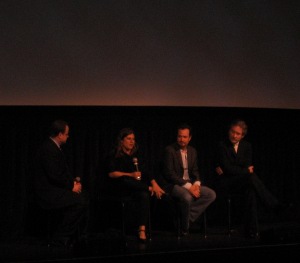 The festival continues with its annual "Night of a Thousand Stars" party at the end of next week, their "Conversations With…" series goes on throughout the week with Klein, Waking Sleeping Beauty director Don Hahn, Patricia Clarkson and Vincent D'Onofrio. There will also be a tribute to John Landis and a staged reading of Steve Buscemi's adaptation of William S. Burroughs 's Queer, which was penned by Oren Moverman (The Messenger). Some of the films playing this year include Saturday Night (closing night film), James Franco's behind-the-scenes look at Saturday Night Live, Aaron Katz's Cold Weather, the Safdie brothers' Daddy Longlegs, Debra Granik's Sundance winning Winter's Bone and Lena Dunham's SXSW winning Tiny Furniture.
Needless to say, it will be another fun year in the Gulf Coast. See the full list of films playing this year here.