Back to selection
Blackmagic Puts Some Life – and 4K – into NAB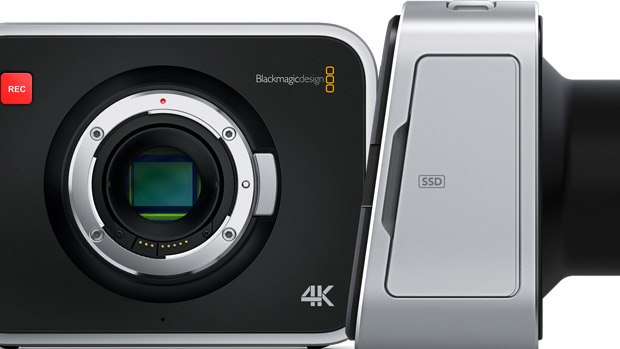 When it comes to cameras, this year's NAB was looking to be a consolidation year, rather than one of great innovation. Sony had only recently begun shipping their F5 and F55 4K cameras, and had no real camera announcements, though they did announce the prices for their 65" and 55" 4K displays. Canon announced that they were developing a 35mm cine lens and a few other things, but no new cameras.
But then along came Blackmagic to disturb the status quo by announcing two new cameras: the Blackmagic Pocket Cinema Camera and the Blackmagic Production Camera 4K. The latter is a 4K camera for $4K.
The Pocket Cinema Camera combines many of the features of their existing Cinema Camera in a much smaller, $995 package. It has a Micro Four Thirds mount, uses SD cards and records to either ProRes or "lightly compressed" RAW in CinemaDNG format, but it's the 13 stops of dynamic range that could attract the most attention. And while it's a Super 16 sized sensor, that hasn't stopped people from buying the current Blackmagic Cinema Camera. If you've been considering buying a DSLR, you might want to look at this camera instead.
The Pocket Cinema Camera is interesting, but it's the other camera that's the most interesting development, and the one that may be giving Sony and Canon fits.
4K, Super35 sensor, and global shutter
At $3,000 Blackmagic's Cinema Camera has been a hit, despite being delayed for several months while they sorted out issues with their sensor manufacturer. Yet just a few months after the camera finally started arriving in any quantity Blackmagic has gone and announced an even better camera for only $1,000 more. Many people will focus on the 4K capabilities of the Blackmagic Production Camera 4k (the official name), but it's the other changes that Blackmagic has made that make this camera more desirable.
Housed in the same body as the Cinema Camera, Blackmagic has stuffed in a new, Super 35 sensor that features a global shutter and 4K resolution. The SDI out has been boosted to 6G to support the higher resolution image, but that's about the only external changes they have made. There have been complaints about the shape, layout, and the usability of the touchscreen on the back of the current camera, so there will be disappointment that Blackmagic didn't make more changes here. However it's unlikely they would have been able to turn out a major revision like this as quickly if they'd also reengineered the camera body. They'd probably have had to raise the price too.
I've been skeptical of 4K – I think it adds too much to camera and production costs while providing little benefit for most productions – but this camera is still intriguing. It shines compared to its predecessor with it's larger sensor and the global shutter. If you like to use wide-angle lenses and/or get maximum depth of field, then the bigger the sensor the better. The global shutter will improve the image when capturing fast motion and – hopefully – reduce the weird effects you get with flash bulbs when shooting concerts on a CMOS sensor without a global shutter. The camera will record in HD, or if you really want to, you can record in 4K (3840 x 2160). If you record 4K using ProRes you'll be able to record 36 mins on a 240GB SSD card.
The Production Camera 4K has 12 stops of dynamic range, while the Cinema Camera and the Pocket Cinema Camera have 13 stops. The loss of that one stop is due to the global shutter. That's probably a trade-off worth making. The camera does still lack built-in ND filters, something you'll find on all of Canon's Cinema EOS cameras and on Sony's NEX-FS700 and F cameras. But the Production Camera is significantly cheaper.
Finally, if you already placed an order for a Cinema Camera you might be wondering if you can switch to the Production Camera. Blackmagic says that if you haven't received the camera yet you should talk to your reseller and they should be able to change your order. The only real problem is that you will have to wait at least three more months to get your hands on a camera.
Blackmagic Production Camera 4K
Blackmagic Pocket Cinema Camera
4/9: Updated to include CinemaDNG RAW format support in the Blackmagic Pocket Cinema Camera.