Back to selection
Handed Down: On Deceptive Practices: The Mysteries and Mentors of Ricky Jay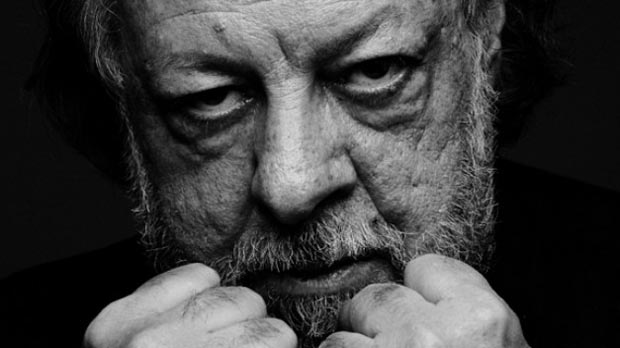 "A magician is an actor playing the part of a magician," the 19th-century stage conjurer Jean Eugène Robert-Houdin once said. But if that's true, then what about all those aspects of acting — such as figuring out character, backstory and motivation? Those are questions all professional magicians have to grapple with at some point early in their careers.
Or, to put it another way: Where does a magician's magic come from? A kid doing a magic trick can answer that question easily: it comes from a magic kit their father bought them. The amateur doesn't need really need to answer it either. His (and it usually is a "his") friends know that no real magic resides in him. But the professional, who stands on stage not just as a magician but as a theatrical construct, must think hard about that question, just like a comic book author considers the origins of a superhero's powers.
Ricky Jay's answer to that question is contained within the subtitle to Molly Bernstein and Alan Edelstein's highly entertaining new documentary Deceptive Practice: The Mysteries and Mentors of Ricky Jay, released theatrically this spring by Kino Lorber. In short, for Jay, magic comes out of tradition. Although Jay is one of the world's greatest sleight-of-hand artists, and one of the few members of his fraternity who could sell out one-man-show Broadway runs, the directors discover here a humble performer keenly aware of his lineage. Watching Jay's elegant card work and listening to his engrossing tales of vaudeville masters, ingenious cardicians and gambling eccentrics, one steps into a time machine back to a pre-digital era in which entertainment was more human, more mysterious and, yes, more magical.
A 15-year endeavor for its New York-based filmmakers, Deceptive Practice doesn't just simply contain what you'd expect in a movie about Jay — interview and performance footage, testimonials from his friends and biographical material. It's also got footage from the entire history of 20th-century close-up magic, making it, in addition to a portrait, an excellent primer on the art form. Says Bernstein about their years making the film, "A lot of people would say, 'Well, is it a documentary about Ricky or is it a documentary about the history of magic?' It's both, and it has to be both, in my opinion, because that is his main passion, and it's so much a part of his life. And I think that's partly why his performance is so compelling."
Deceptive Practice was born when Bernstein read a 1993 New Yorker profile of Jay, "Secrets of the Magus," by Mark Singer. She and directing partner Edelstein wrote to Jay proposing a movie, but, remembers Bernstein, his manager replied, "Oh, he's very flattered, but he's too busy. Maybe in a year." They then met Singer, who suggested a lunch with Jay on his next trip to New York. That lunch occurred two years later, and the filmmakers came prepared with a proposal, says Edelstein, which had "a lot of different sections, and one of them was this mentor section. Ricky responded so much to that, and it became clear that that should [be the focus of the film]." So while Deceptive Practice touches on Jay's several different personas over the years — from his brief stint as a child magician to a long-haired, card-throwing "wild and crazy" showman championed by Steve Martin in the 1970s to the irascible master of cons found in various David Mamet films — it was that "narrative of a person learning from his masters that had a richness to it and gave us the most raw material to work with," explains Edelstein. That raw material included stories of Jay studying with magicians such as Tony Slydini, Charlie Miller and Dai Vernon; archival footage and photography of performers such as Francis Carlyle and Max Malini; as well as footage of Jay himself on TV shows like Don Kirshner's Rock Concert and from his Mamet-directed HBO special.
But 15 years! The filmmakers cite the necessity to raise financing, Jay's performing schedule, as well as the time needed to source the archival material as reasons for the film's long timeline. Did Jay ever ask, "What's taking so long?" "No, it was sort of to the contrary," says Bernstein. "Initially, he really was not very interested in a film being made about him, which is unusual. Often a performer will say, 'Okay, here are all my family photos. What else do you need?' This was different. But having this constraint of someone who is reluctant led to a good creative result."
The longer Bernstein and Edelstein worked on the movie, the more archivists, such as the former talk-show host and magic fan Dick Cavett, opened up their vaults, and the more Jay revealed, delivering to them only at the end never-before-seen footage of himself performing at age seven. And by their film's conclusion, the filmmakers realized that their long journey, in which information was parceled out only as trust was built, had an analog in the very mentor-student relationships they were depicting in their movie. Says Edelstein, "There's a line in the film where Jay says that Charlie Miller, as opposed to Dai Vernon, was very reluctant to open up to Ricky as an acolyte. And Ricky says that this is how it should be. And I think the same thing applies to us, that there was an unspoken testing of our trustworthiness on various levels as tellers of his history."