Back to selection
The Art of Brooklyn Film Festival Keeps It Local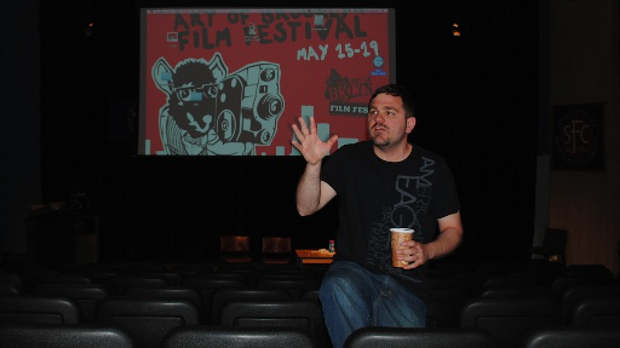 "What Brooklyn needed was not a good film festival," Jason Cusato (above) says in rapid-fire speech and heavy accent, "it has plenty of good festivals. What Brooklyn needed was a film festival that concentrated solely on Brooklyn filmmakers and on Brooklyn."
With 2.5 million residents and the largest borough in New York City – if an independent city, Brooklyn would be the fourth largest in the United States – with a diverse and energetic populace residing in distinctive and tight-knit neighborhoods, with the gritty and refined hopelessly interwoven, with a tornado substituting for a Zeitgeist, with shadowboxing demons and an occasional elephant a favorite pastime, Brooklyn is large, more than a little strange, and certainly unique. It's a brain-full.
"Brooklyn is inspiring, the people, the landscape," born and raised Cusato emphasizes with passion. "There is no place in the world like Brooklyn."
Once a magnet for impoverished immigrants from the old world, today Brooklyn draws artistic and hip Gen X and millennial emigrants from throughout this country. Sure the mindless suits are also doing their dismal gentrification, but that always happens in New York. Historically a refuge and stimulate – from Thomas Paine to Walt Whitman to Norman Mailer – a new generation has rebooted the old borough and this large, strange, unique Brooklyn has morphed into turf-central for American independent film.
More than three years ago, Cusato, with fellow Brooklynites Anthony Devito, Alfred Accettura and Joseph Shahadi laid the foundation for the Art of Brooklyn Film Festival. Every film, it was agreed upon at the beginning, would have a connection to Brooklyn. "And this connection between the film and Brooklyn couldn't be loose." After a quick sip of coffee, Cusato leans forward, "If the filmmaker doesn't answer the question satisfactory on the submission form – we ask, 'What is your connection to Brooklyn?' – then the film doesn't get screened."
The criteria established was the filmmaker had to be born and/or lived or worked in Brooklyn, or the film had to have a significant creative person (director, producer, writer, major actor) who had a genuine connection to the borough, or the film had to be about Brooklyn. It was inclusive enough without taking on the airs of exclusivity.
The festival's first year was a soft launch, the second a much firmer event. Both years the fiction and non-fiction films were evenly split. This year about 65 percent of the films will be documentaries. An added section is the Dark Side, which includes an evening of four horror and suspense films, including the world premier of Chilling Visions: 5 Senses of Fear. Two docs attracting buzz are If These Knishes Could Talk: The Story Of The New York Accent and Rescue! Brooklyn, which is about animal rescue in Brooklyn.
(For more information on the 40 premiers that also include shorts, comedies, and experimental/art films go to the Art of Brooklyn Film Festival website.)
Like with any newish film festival, the director jumps at the opportunity to discuss the future. "In the future we'd like to be in a large number of neighborhoods throughout Brooklyn: Sunset Park, Bensonhurst, Bay Ridge, Dyker Heights, Bed-Stuy have multiple screenings while the festival is going on."
A slice of the future, however, appears to have moved to the present. "This year besides Downtown, we're going to be in Fort Greene. We're very excited about that."
The Art of Brooklyn Film Festival envisions carving out a large swath of the borough that is currently underserved by cultural institutions and essentially untouched by the new trend-setting Brooklyn. Although physically close, Hip Brooklyn and Classic Brooklyn are culturally distant, at times antagonistic. Wearing different cultural lenses, the same subject can look quite different; speaking in a different voice, communicating is not always possible. In one area indie films are the rage – after all, this is the heart of this country's independent filmmaking – in the other, indies are a hard sell.
To reach those not being reached, Cusato says its crucial "the audience trust us." Trust, a simple word, screams another simple word, how. How to get the audience's trust? With a Brooklyn audience, that might not be so simple.
Still, there is only one way for a film festival to convince a potential audience. With engaging stories, poignant scenes, resonating sensibilities … the hard journey from standoffish non-participant to committed festivalgoer, from the apathetic to the enthusiastic, is paved with good filmmaking. Not only good filmmaking but relevant films. Not only relevant films but relevant for a specific audience. And who will make these good films for the Art of Brooklyn Film Festival audience? Brooklyn filmmakers, of course.
"In 2012 we had around 1,000 guests from every single zip code in Brooklyn," said Joseph Shahadi, the executive director. "Ours is the only film festival where you will find old ladies from the neighborhood and out-­of-­towners rubbing elbows with tattooed hipsters and the odd movie star." Again, the present seems to be overcoming the future — might be that tornado Zeitgeist!
As globalism gobbles up more of the world, the global mentality churns out clone festivals at a relentless pace. Wannabes fests swipe their playbooks and visions from a handful of A-List festivals. Yet, as the world becomes more uniform, people need diversity more and more. They need unique roots. They need connections to where they are, not only to where they are not. They need films that speak to them. They need their films.
The third annual Arts of Brooklyn Film Festival is from May 15 to 19 in Downtown Brooklyn at St. Francis College's Founders Hall and Maroney Theaters, 180 Remsen Street, and in Fort Greene at St. Joseph College's Tuohy Hall Theater, 245 Clinton Avenue. 
For the festival's website, click here.