Back to selection
The Back Nine At Cannes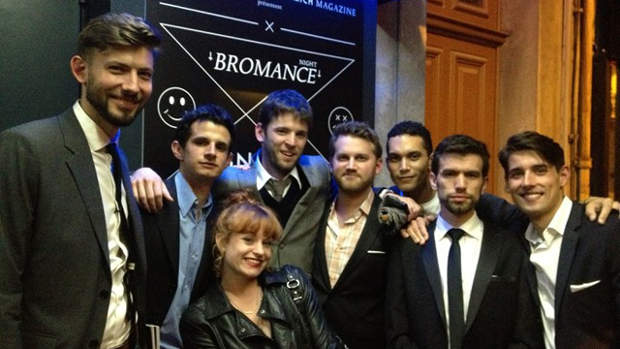 Greetings from the back nine of Cannes! Our adventures continued with a second screening of Shorts Program 1 on Sunday in front of another packed house. It was a real pleasure to re-watch the other films, especially after having gotten a chance to meet the filmmakers – they're a really amazing and talented bunch. Later that evening came one of the highlights of our trip when we got to meet two of our favorite DJs, Gesaffelstein and Brodinski, whose music is prominently featured in The Opportunist. They invited us to come see their live show at Club Access just off the Croisette. Pretty amazing timing that they were in Cannes!
After a later than usual wake-up Monday (the French party pretty late…) we headed to Nespresso Beach for an interview with a lovely crew from Nisi Masa, an organization which helps promote young filmmakers in the European cinema world. Later that day we met with two sales agents who specialize in shorts – who knew that existed? We were pleasantly surprised to learn there is indeed a small but existent market for shorts in European television, mostly centered in France. Both agents we met with explained that the TV market is in flux, but new possibilities in international VOD continue to show promise. As the sun set on day 6, we put on our dancing shoes and headed out to one of the biggest parties of the week, the Critics' Week party!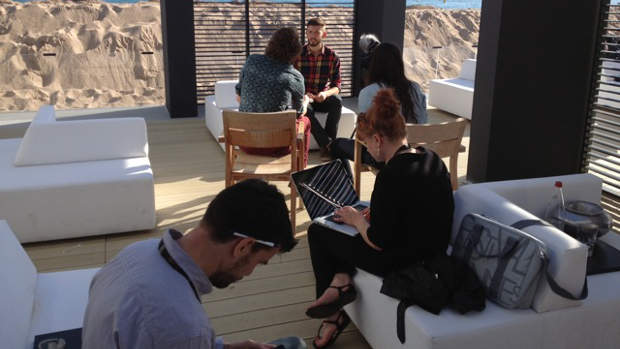 The following morning, we had an exciting meeting with a prospective agent – we'd received a number of inquiries from agencies and sales companies after the Critics' Week line-up was announced, so we made sure to do our homework and prepared extensively. After a nearly hour-long meeting (fingers crossed!) we walked over to the Palais for our required red-carpet photo at the Lumiere. We also found out that a profile written about us and Matt Saulnier (who likewise used Kickstarter to help fund his film Blue Ruin) would be published on the cover of the Los Angeles Times the following morning! The piece focused on how despite Cannes' glamorous (read: "expensive") reputation, younger "DIY" filmmakers were still finding ways to get themselves to the festival and have their films seen.
That evening, we returned to the Miramar to check out Shorts Program 2 and once again, we were blown away – I saw a few films in there that I'm unlikely to forget for some time. It's really amazing to see cinema coming out of so many different parts of the world, with such profoundly different stories and perspectives represented – it felt ever more like an honor to have been included in their company. At the awards ceremony the following night, we were really excited to learn that two of our favorites, Daria Belova's haunting Come and Play and Ninja Thyberg's thought-provoking Pleasure, had won top honors at Critics' Week!
With our time winding down in Cannes, we woke up early the next day to see our only Official Selection screening, Alexander Payne's beautiful and mournful Nebraska. Nothing quite like getting up at 6AM for a movie! And now that we're on the final stretch, we're scrambling to set up any remaining meetings and looking forward to the festival's closing ceremonies. Stay tuned for our last posting next week, where we'll give a stateside wrap-up of our time at Cannes. Until then…