Back to selection
The Twilight Saga: Eclipse Director David Slade on His First Shoot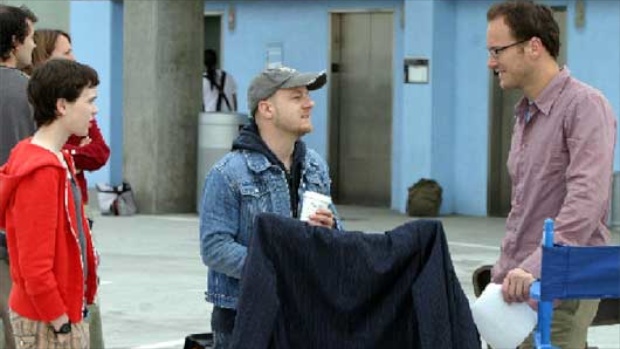 David Slade directing Ellen Page and Patrick Wilson on Hard Candy
Filmmaker Paul Stone has launched a great online interview series, "My First Shoot," which features filmmakers talking about their first time on set as directors. What's particularly interesting about it is the perspective the passing of time affords. These aren't directors talking about the shoots they wrapped last week. No, in many cases these are experienced directors reflecting back, pulling from their memory banks, and constructing lessons that can only be gained by the perspective continued practice provides. An example is provided by the latest interviewee, Twilight Saga: Eclipse director David Slade. I interviewed Slade for Filmmaker during the Sundance Film Festival, where his debut feature, Hard Candy, had screened just a day or two before. In the midst of the festival, before the film sold, here's what Slade, an experienced music video director making his feature debut, told me about the experience:
The fact that Hard Candy is 103 minutes rather than three and a half minutes, I still maintain that the language that I learned with actors over eight years [directing music videos] informed this film. There's a craft to directing, but there's also a humanity to it. Living life, watching how people act in life, understanding why people do the things they do is as much a part of directing, and this is something you can't teach. It's just an instinctive thing, feeling people's emotions and knowing when you'd better not say something. One of the things you can't do on an 18-day shoot is fucking upset anybody. If I got into a row with Patrick Wilson on day 4, I would have been screwed. So there's a degree of diplomacy that you learn as well.
And here's Slade today, talking with Stone and without the pressure of hovering publicists or nervousness over career prospects:
You were learning on your feet. Did you feel like Hard Candy was a logical transition, or was it also trial by fire?

You have to understand, before Hard Candy I never had a script supervisor on set. Continuity was something that I knew about and I knew that there was a person for it. Directing Hard Candy was the first time that line theory would come at me full on. I remember on the shoot saying to myself "I know I'm getting this wrong", and I remember going through a book about cinematography and reading certain sections and I was like "Oh yeah, oh yeah it's fine." Every single shot, everything we had rehearsed with the actors for about three weeks was ready to go. And the first day on set was terrifying, absolutely mortally terrifying. I never worked with a script supervisor before and never had to. People were coming up to me saying "How much orange juice is in the glass?" I would be like "I don't fucking know!" Then they asked what time is it? "I don't know, I think its four thirty." The script supervisor helped me with that stuff, but it felt like I was going to die on my first day. I remember Patrick Wilson gave me one of those talks and said "Hey, you're doing real well mate!" Nobody had done that to me for so long, that thing where they see you're floundering, so they give you a bit of encouragement. I was like "Fuck, not only am I fucking this up, but everyone knows I'm fucking this up."
Check out "My First Shoot" at its site for the rest of Slade's talk and many other interviews. Or subscribe and get them all via email.