Back to selection
"The only place to execute some kind of power was the film set": Agnieszka Holland on her career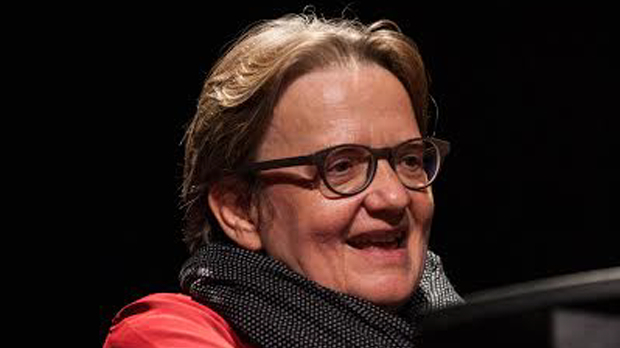 (Photo by Connie Tsang for TIFF)
Agnieszka Holland's first taste of Hollywood was a roller coaster ride. Literally.
It was 1986 and her war drama Angry Harvest was up for an Oscar. "When you've been nominated for a foreign Oscar in those times," the 65-year-old Polish-born director recalled, "one of the attractions that the American Academy gave the nominees was a free trip to Disneyland."
It was an unexpected reward after toiling on a film that she and her crew made for "no money, no money," she explained to an appreciative audience at Toronto's TIFF Bell Lightbox earlier this week. The shoot was so difficult that Holland vowed "never again" to her producer Artur Brauner. However, at the wrap party Brauner pitched a new film to her: "Never say never. I have a great project for you."
It was the true tale of a young German Jew who escaped the Holocaust by impersonating an Aryan German soldier and even joining the Hitler Youth. Though intrigued, Holland was too exhausted to commit. Flash-forward to Disneyland, where against her better judgement Holland decided to ride a roller coaster with her producer. After they stepped off, Holland was shaking with fear as Brauner whipped a contract out of his pocket: "Sign!"
That was how Europa Europa began. The 1990 film would secure Holland awards around the world, including an Oscar nomination for best adapted screenplay. "I was attracted by the complexity and absurdity of the story," she explained. It was a story about identity, not stereotypes; the central character, she noted, was always reminded of his Jewish heritage because of his circumcised penis. However, she confessed to being afraid of the reception she would get for making a comedic drama about a Jew in World War II.
Claude Lanzmann, director of the acclaimed Holocaust documentary Shoah, denounced Holland as an anti-Semite, even though the camps claimed both of her father's parents. "I respect him enormously for Shoah," said Holland, "but he's an incredibly unpleasant man [and] a megalomaniac." Holland was relieved when American Jewish associations and concentration camp survivors themselves praised Europa Europa.
Her triumph coincided with the collapse of the Soviet Communist empire that she endured as a child. Though her Jewish father was a Communist, he died under police interrogation when she was 13.
Growing up in Communist Poland was repressive. "Politics was impossible, the only place to execute some kind of power was the film set," she said. "It was the middle-'60s and the cinema to me was the most exciting artistic expression." Agnès Varda first fired her imagination: "She taught me it was possible to be a woman [and make movies]." Then, the films of young Czech directors such as Miloš Forman and Ivan Passer inspired her to "sneak through the bureaucratic obstacles" and move to what was then Czechoslovakia.
Holland witnessed the Prague Spring of 1968. Czechoslovakia's brief liberalization under Communism fed her own personal evolution as she spent these "traumatic and important years" here, from age 17 to 22. "It was my introduction to politics, violence, beauty, art, marriage, film and other arts," she recalled. "Everything that happened to me after was based on this Czechoslovak experience […] I am forever grateful."
Holland married Slovak director Laco Adamík and, like many artists, was briefly imprisoned for supporting the country's liberal reforms. Sadly, Czechoslovakia lapsed into self-repression and made "terrible compromises" to accept a society of peace without hope. "It was a generation of people who had been broken," explained Holland. She repaid her debt to Czechoslovakia by directing last year's HBO mini-series Burning Bush, the true-life sotry of female lawyer Dagmar Burešová, defense lawyer for the family of Jan Palach, who died protesting the Soviet occupation that crushed the Prague Spring.
Though the Soviet regime was repressive, Holland said it doesn't compare to Hollywood. After making two heavy dramas, Europa Europa and Olivier, Olivier, Holland adapted the classic children's novel The Secret Garden to the big screen. It was her first studio picture and the interference upset her so much that she went on a three-day strike in the cutting room. "Hollywood has a sausage policy," she explained. "They slowly cut away until there is nothing."