Back to selection
Lena Dunham's Strong SXSW Keynote Indirectly Highlights Competition's Homogeny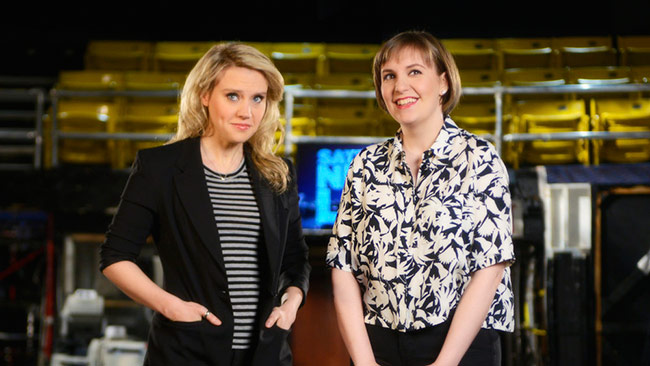 Dunham's SNL promo
Shortly after 11 o'clock this morning, Lena Dunham offered the Austin Convention Center's Vimeo Theater a holistic timeline of her rise from hostess-who-lived-with-her-parents to independent cinema's most overanalyzed success story. Fresh from SNL and somehow running on fumes with the utmost effervescence (she claimed to have written her speech at 3 am), Dunham recounted her days as an aspiring filmmaker with candor and self-effacement. Even if, on the set of Tiny Furniture precursor "Delusional Downtown Divas," she was "struggling how to turn on the camera," it's clear her preternatural drive has always been intact.
A tireless maker and unabashed experimenter, Dunham consistently stressed the importance of telling your own story at all costs. For anyone familiar with her work, such an admission should come as no surprise. Speaking of the film that sparked her (and many a) fuse, Andrew Bujalski's pitch-perfect Funny Ha Ha, Dunham recalled how surprised she was to discover that film could so accurately mimic real life: "I could tell a story that resembled my world." And she's been doing so ever since. In revisiting the watershed, relatively unknown webseries "Delusional Downtown Divas," Dunham readily admits its faults, but is clear to stress the joy she and her co-stars had "making something that reflected our experience." The experience, of course, being that of daughters to prominent New York-based artists, who were constantly side-eyed at their parents' chic cocktail parties.
In speaking about her production company, A Casual Romance, that she founded with Girls executive producer Jenni Konner, Dunham insists that she looks for stories "that no one else could tell." She advised the audience not to worry about checking a box or catering to a genre outside their comfort zone. Don't wait around for anyone to tell your story, she relayed, because no one else can. She's absolutely right, and yet her exact argument seemingly encapsulates the most problematic facet of modern independent cinema: the blaringly absurd lack of diversity. At this juncture, and at this year's SXSW in particular, those who can afford to make films, to tell their own stories, are apparently cut from a freakishly similar cloth.
Every film I've seen in the festival's Narrative Competition hinges upon (white) 20-somethings (a teenager or a 30-year-old, on occasion), navigating the intricacies of a relationship. And, as you may have guessed, Brooklyn reigns supreme. I nearly shrieked with joy at the sight of the Chicago skyline in Animals, a drug-addled relationship drama that leaves much to be desired and is somehow still the strongest entry in Competition. Animals was written by lead actor David Dastmalchian, a recovering heroin addict, who, much like the character he plays, once lived in a car outside the Lincoln Park Zoo with his girlfriend. During the emotional Q&A, Dastmalchian thanked his family in the audience for being there to support him as he began the arduous process of turning his life around. That is absolutely a story that deserves to be told, just as everyone and anyone who makes a film has a right to tell their own story. The question is now, how do we diversify the stories that are bolstered into the public eye by festivals like SXSW? A little variety in programming might be a good place to start.