Back to selection
Shushers, Vulgar Auteurism and the NSA: Sunday Morning Links, August 11, 2013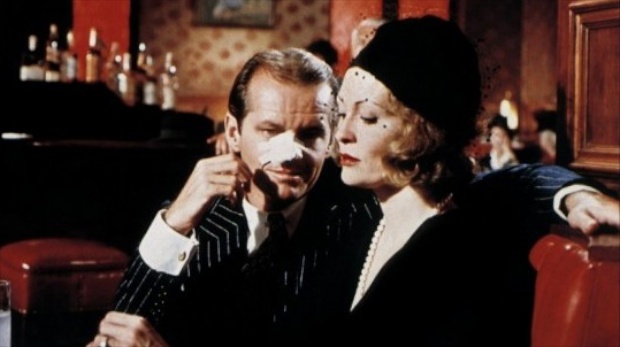 Chinatown
Here are some links to take your through the rest of the weekend.
Kevin Shields of My Bloody Valentine gives his first interview since the release of mbv.
The encrypted email service Lavabit has shut down rather than, it is surmised, comply with U.S. government demands regarding its data. "If you knew what I know about email, you might not use it," says its founder.
At the New Yorker, Richard Brody responds to discussion of "vulgar auteurism":
There has been lots of talk online in recent weeks about a critical phenomenon called "vulgar auteurism" (V.A.), a term coined—as I just learned from Adam Cook at MUBI—by the critic Andrew Tracy. Though that coinage was skeptical, the term as well as the phenomenon have recently been embraced by other critics, as, for instance, by Ignatiy Vishnevetsky, who defines V.A. as enthusiasm for a group of directors who work in what he calls "genre filmmaking" (mainly action films, but the Farrelly brothers and Jon M. Chu are there, too). But V.A. doesn't become clear unless seen in the context of so-called auteurism itself. And auteurism, as such, doesn't exist.
At Pando Daily, touring musician Patrick Sweaney breaks down the economics of his music sales, revealing how Pandora has dramatically increased his audience but also how hard it still is to make a living.
Via The Playlist, this 55-minute conversation with legendary screenwriter Robert Towne (Chinatown).
Paul Bond at The Hollywood Reporter on the companies moving in crowdfunding in the wake of the passage of the JOBS Act.
A short video on the location of one of the most famous record covers in history: Abbey Road.
Bruce Sterling on the Gogol-ish black humor of the current NSA scandals. Also: Bruce Sterling interviewed at The Verge.
The Shushers: Glenn Kenny on "The Myth of the Consecrated Movie Theater," responding to Anil Dash's "Shushers: Wrong About Moves, Wrong About the World."
Eliza Kern at GigaOm on Gumroad, a company targeting artists who want to sell via a subscription model.
Roger Ebert was an online and social pioneer in life, so why not in death? Zach Schonfeld at The Atlantic on "How Roger Ebert Managed his Digital Afterlife." '
"Vagrancy and drift": Sukhdev Sandhu at The Guardian on the art of the essay film.
Finally, via Fred Wilson, security expert Bruce Schneier talks at Google about online security, ethics and trust:
Human society runs on trust. We all trust millions of people, organizations, and systems every day — and we do it so easily that we barely notice. But in any system of trust, there is an alternative, parasitic, strategy that involves abusing that trust. Making sure those defectors don't destroy the cooperative systems they're abusing is an age-old problem, one that we've solved through morals and ethics, laws, and all sort of security technologies. Understanding how these all work — and fail — is essential to understanding the problems we face in today's increasingly technological and interconnected world.