Back to selection
Four Lessons I Learned Making My First Feature in India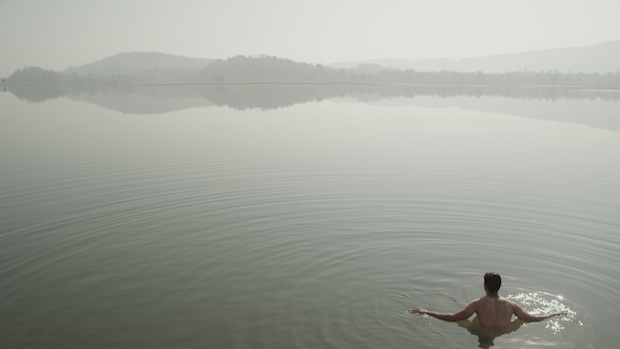 Khoya
Three years of struggle had brought me here, within a whisker of completing Khoya, my first feature, in India. A religious riot was about to threaten to undo it all.
I was filming in my father's hometown in Jabalpur, Madhya Pradesh. We were shooting at a chaat stand in the middle of town. It was a simple scene. The protagonist orders chaat (an Indian street food dish) from a vendor. Matt, the assistant cameraman, had taken over operating because Kevin, the director of photography, was lying in bed, having been leveled by the hotel's Manchurian Chicken.
As we completed a setup and began to cross the street, one of the production Jeeps raced up and Naved, our stocky line producer, ran out. He ordered all of us into the vehicles. We complied and sped off, heading back to the hotel. Along the way, Naved told us that a petty fight between two rival religious groups had escalated into violence. A shop had been torched. A motorcycle too. Someone had a gun and was roaming the streets. The riot police were deploying en masse to impose a complete curfew over Jabalpur's old city, the part of town we were staying in and scheduled to shoot in for the next week. Given the mayhem that evening, we were just happy to get back to the hotel, but it was soon clear that we now needed to completely reinvent our whole schedule in order to complete the film.
In Jabalpur, where movies rarely get made, and the locals are known far and wide for their toughness, we got put through the ringer. Even our experienced Mumbai producers and crew from Anurag Kashyap's production company, fresh off Ritesh Batra's The Lunchbox, got their asses kicked. But, somehow, miraculously, we made it through. Increasingly, filmmakers with experiences like my own, caught between continents and cultures, are traveling to their respective motherlands to articulate their globalized stories. These are four valuable lessons I learned the hard way making my film abroad:
Friends Have a Competitive Advantage
Khoya filmed for four days in Toronto and 18 days in India. The India shoot required about four months of official preproduction, although I had been working on the film ever since I graduated from Columbia's MFA program in 2009. Last winter, a week before we were to begin shooting in Jabalpur, we lost our original lead actor because of visa problems. Replacing him with an old friend, Rupak Ginn, was one of the best decisions I made. Rupak rescued the project by stepping into the role but he also buoyed the production with his amazing generosity on and off of set. The same was true of Kevin, the d.p., another old friend who, because of the hot climate and the predominance of handheld camerawork, was pushed to his physical limits. During prep, Kevin and I, already friends, traveled throughout the region with my amazing cousins Raja and Sajid. During those trips, Kevin and I sought to get to know each other as well as the locations. Similarly, Raj, the director's assistant, got completely inside my head and had an amazing ability to anticipate notes I would give to extras and secondary characters, and became a dear and trusted friend. For their part, my wonderful family in Jabalpur, particularly Raja, Sajid, and Sajid's father, Majid, carried the production, connecting us with locations and contacts in a way a production like ours couldn't afford to do through official channels. We couldn't have completed the film without them.
From these strong relationships I learned that productive creative collaborators develop a shorthand that is vital on difficult shoots like ours that teeter on a knife's edge. Unnecessary conflict and (unproductive) egomania were our enemies and, for the most part, we kept them at bay. When we didn't, the production was put in real jeopardy.
Always Listen to your Body
A feature just kicks the shit out of you, emotionally and physically. And much of the physical exhaustion comes from emotional strain. For me, jitters about making my first feature were only a small component of this anxiety. Weighing more heavily was the incredibly personal nature of the story, the financial stress of taking no paycheck as well as the pressure and responsibility of being trusted with other people's money. Twice during pre-production, when I was working 16-hour days and traveling around India, I had to shut down because of exhaustion. Lying on my bed, completely helpless, I felt a little like Martin Sheen breaking down in the jungles of the Philippines. It's a difficult task to know just how far to push yourself when you have so much at stake, but you have to find that balance otherwise the film will sink and you'll probably go batshit crazy. To stay sane, I've heard that Mira Nair gets her crew to meditate at the beginning of each day, and Ain't Them Bodies Saints' director David Lowery runs. It was tough in Jabalpur – a place with not much green space – to find a way to clear my head and exercise my body. But the daily trip up to the roof to do burpees and pushups probably kept me from going out of my mind.
Know What the Shot Is
A few years ago, I got locked in a crowded detention cell at Tel Aviv Airport, after trying to make it via Israel into Palestine to work on a friend's film, so I was already aware that things could go awry quickly if you say too much. A decade of mix-ups with no-fly lists is to be expected when you're a young Muslim male and especially so if your name is unfortunately close to an American citizen who got drone'd in Yemen. As a result of these run-ins, I've developed a deep streak of caution when it comes to men with guns and sticky situations. The best strategy is often not to say too much if you're in a pickle – which happens a lot in Jabalpur. That famous Mametian mystic Ricky Roma said it best: "You never open your mouth 'till you know what the shot is."
Creative Destruction
When the riots forced us from Jabalpur, we headed into the country and filmed at a temple to the Hindu God Shiva that was built 1,000 years ago. Shiva is the destroyer in Hindusim's Trimurti of Gods. But Shiva isn't malevolent or evil the way destroyers and devils are in the Manichean religions that came out of the Near East. Shiva is a creative destroyer. Practically, in a filmmaking context creative destruction is really about letting go and accepting change. And that's a fucking painful process. Filmmaking is such a mediated process that as the director you're trying desperately to cling onto your perfect vision and fight for it as long as possible. But at each step, the film demands to be reconsidered and reevaluated, and occasionally completely reinvented. Naved, the line producer, and Antara, our British assistant director, were amazing examples of adaptability and grace under fire – two guides who helped me understand creative destruction.
Shooting in a place like India, with its incredible chaos and diversity forced me to embrace Reinhold Niebuhr's old axiom about accepting with serenity the things that you can't change and being courageous enough to change the things you can. That became clear during our first day of shooting. We were in a quiet cemetery. As word spread about the film, onlookers gathered. Within a few hours, we were surrounded by a crowd a thousand strong, creating immense complications for our intimate scene. I had two options: I could adapt and move as fast as possible, making it clear to our small crew and the crowd that we wouldn't be derailed, or I could get intimidated by the crowd and the film would be lost on its first day. Thankfully, I didn't really have time to deliberate. We made our day and we got the movie in the can.
As I'm writing this, after months of postproduction struggle, Khoya stands on a similar precipice. I only hope I have the courage to adapt again. Kabir, an orphan from Varanasi and a 15th-century Sufi saint, summed up the dilemma thusly: "If you don't break your ropes while you're alive, do you think ghosts will do it after?"
Sami Khan's first feature, Khoya, a recent selection of the Tribeca Film Institute's All Access program, is currently in post-production. The film tells the story of a man who travels from Canada to India desperately searching for the birth family he's never known and seeking to unravel the mystery surrounding his adoption. Contact: samikhan1 at gmail dot com