Back to selection
Indie Film Truly Underground: The 2013 Toronto Urban Film Festival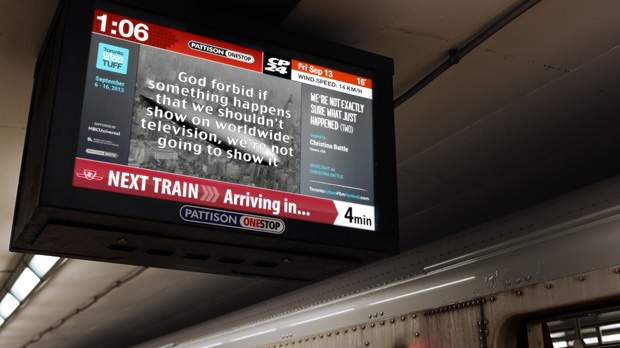 TIFF isn't the only festival opening in Toronto this week. For the last six years, the high-profile screenings along King Street West have been accompanied by a cadre of short silent videos screening on monitors in the city's underground subway stations. The Toronto Urban Film Festival (TUFF, a nice titular contrast with TIFF) draws submissions from all over the world and — due to its restricted format as much as in spite of it — elicits some of the most innovative filmmaking on show in the city. It's also seen by thousands more viewers than its above-ground counterpart.
This year's event includes the regular assortment of 60-second films in every genre and style imaginable, but there are also several innovations as the fest expands to street level and online. Sharon Switzer, the festival's founder and Director, talked with Filmmaker about what viewers can expect. (And those interested in submitting for next year should look for a mid-July deadline.)
Filmmaker: For those who haven't heard of it before, what is the Toronto Urban Film Festival? For those who have heard of it, how does this year's event differ from past years?
Switzer: The Toronto Urban Film Festival (TUFF) is North America's only commuter film festival. TUFF is rolling out its seventh annual edition from September 6-16, 2013. For 11 days, Toronto's subway system will become a city-wide underground theater, screening 82 of the world's best one-minute, silent films to well over one million daily commuters.
A few things that I'm excited about. We are featuring two commissioned projects, a day of animation and an online program of films that are too risqué for public transit. Too TUFF for the TTC features 3 films that we love but can't screen on the TTC.
TUFF's Spotlight program on Friday September 13th highlights the work of experimental filmmaker Christina Battle through a new series of four short videos. The series, we're not exactly sure what just happened [pictured above], offers an alternative visual backdrop to the essentially meaningless transcripts from CNN's reporting on April 19th, 2013 while the city of Boston was on lockdown and police searched for the then at-large Boston City Bomber. This series was commissioned by TUFF.
'For the Love of Animation' on Saturday, September 14th includes two fun programs: '4 from TAAFI', a co-presentation with the Toronto Animated Arts Festival International (TAAFI), and a special Animation Spotlight of four works from the award-winning, Burnaby, British Columbia-based multimedia artist Dimitri Kozma.
For the first time TUFF ventures to above-ground public screens. 'TUFF Above Ground' will animate the Toronto downtown cityscape from September 9-15, 2013 with Subdivision by media artist David Clark. Clark's series of eight-second videos, commissioned by TUFF, will be featured on a 60-foot-wide video billboard, located just north of Dundas Square, an area that experiences more than 100,000 pedestrians on a daily basis.
Filmmaker: Judging from the films that were available for press beforehand, this year's selection is really diverse, including three different kinds of animation, comedy, drama, dance, and experimental. What kind of experience do you hope they'll bring to commuters?
Switzer: The 10 films you previewed where only a small fraction of the 85 films (not including the 8-second video billboard series) that are in this year's festival. But you're right. We have an incredibly diverse range of film genres, styles, and themes. I'm a video artist myself so I'm drawn to the experimental submissions, and animation always seems to work well in a silent 60-second format, but the what always impresses me the most is when a filmmaker manages to create a really professional — tightly scripted, well acted — live action narrative in one silent minute. Often people go for a simple, funny plot that wraps up neatly but occasionally we get a more open ended story that leaves you thinking. I guess that I'm hoping this wide range of films, from 20 countries, opens the minds of commuters to the possibilities for public art and independent film.
Filmmaker: The films' specifications are very specific — a one-minute running time and no sound — and your website says these are culled from hundreds of submissions. What is the judging process like? What about those commissions from individual filmmakers?
Switzer: The films must be 60 seconds because they fit into an advertising context where all ads are 15 or 30 seconds long. TUFF films take up twice the space of a normal ad. They are silent because the network of 300 screens don't have audio capability. It was decided that audio would be too distracting for commuters.
This year we had 390 submissions from 32 countries. The judging process was very fun but also a lot of work! You'd think that viewing 390 one-minute films would only take an afternoon, but in fact it takes a few days to go through them all properly. I work with Angie Driscoll, a professional programmer who has programmed for Hot Docs, the Worldwide Short Film Festival, and TIFF. We each review the films and then have a meeting to discuss and decide. This year we had so many really strong entries that the meeting took about 10 hours and we ended up choosing 77 official selections, up from 66 the year before.
I started commissioning filmmakers two years ago, and until this year ran the commission as a partnership with a local artist-run center. This year TUFF is commissioning artists on its own. We have two commissioned projects, as I mentioned in my answer to your first question. I love commissioning because it give artists a chance to work in series. They still have to work in small chunks of time, but the chunks can add up to a larger vision with a bit more depth.
Filmmaker: What do you see for the future of TUFF?
Switzer: I love TUFF the way it is. Every year I think of reducing the number of films we play so that we show a very tightly curated selection, but in the end the original goals of TUFF — to support emerging filmmakers and offer commuters a wide range of artistic expression — win out and we stick with what works (with the addition of a few commissions, and co-presentations). In terms of the future, we are working on a sister festival to TUFF in Edmonton, Alberta. They have is a new network of LRT screens similar to the ones we have in Toronto. That festival would be co-produced by Pattison Onestop and the local artist-run centre FAVA.
Filmmaker: On a more serious note, you've worked previously with John Greyson, the Canadian filmmaker who's currently being detailed without charge in a prison in Cairo. What can you tell us about his status or what readers might be able to do to help?
Switzer: I've known John Greyson for about 20 years, and just last winter produced with him 'Murder in Passing,' a thoughtfully humorous and very ambitious serial mystery project that John made for our TTC screens. He was one of first people I turned to when I was starting TUFF, and has been a friend and advisor ever since. I've been following his arrest and imprisonment with bewildered frustration and anger. John and the doctor he was traveling with have still not been charged, and it is obvious that they were at the wrong place at the wrong time. Their friends and family are keeping a website and Facebook page up to day with current information: http://tarekandjohn.com. If people want to help support John they can sign the petition, which has just topped 100,000 signatures The can also email the Egyptian Embassy in the US: embassy@egyptembassy.net.