Back to selection
San Sebastian Critics Notebook: The Perils of Human Relationships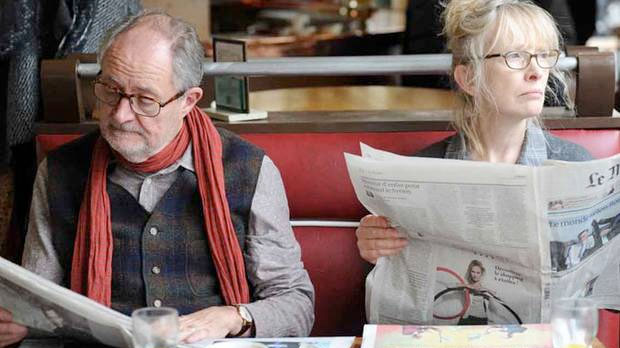 Le Week-End
At almost the midway point of the 61st edition of the San Sebastian Film Festival, relationships have been high on the agenda in the competitive Official Selection, from the pushmi-pullyu problems of a middle-aged marriage in Le Week-End to an unhinged battle between the sexes in Álex de la Iglesia's Witching and Bitching (Las Brujas de Zugarramundi) and the neat and sweet triumvirate of friendship that crops up in David Trueba's Living is Easy with Eyes Closed (Vivir es fácil con los ojos cerrados).
Relationships are also crucial to the festival itself and many others as they fight for films in an increasingly competitive market. With more than 1500 festivals occurring across the globe in the past year alone, forging connections has arguably never been more important. San Sebastian continues its collaboration with Berlin Film Festival in its Culinary Cinema strand. Meanwhile, it is bolstering its status as a meeting place for industry. Its Films in Progress section, which shows unfinished movies in search of final financing and distribution and its Europe-Latin America Co-production Forum are this year running concurrently to maximize their impact. And though the Forum is only in its second edition the signs are good, with it attracting more than 500 professionals last year, a number expected to rise.
Back to those relationships on the big screen, though, and shortly after Le Week-End had received an enthusiastic reception, its scriptwriter Hanif Kureishi explained his relationship with director and long-time collaborator Roger Michell.
"We argue, we disagree. We fall out, we fall in. The point is that we do stuff together that we can't do apart," he says.
"Hanif has described our relationship as being a little bit like Lennon and McCartney," adds Roger. "He's the kind of raucous, lazy, fucked-up weirdo and I'm the bloke putting a nice little bassline under it all, keeping the melody jingling along."
It's a typically kind of funny, kind of abrasive exchange from the pair, a sometimes brutal humor that also marks out many of the conversations in their relationship drama. Le Week-End, fresh from its Toronto premiere and soon heading to the New York Film Festival, is competing for the Golden Shell in Spain.
Jim Broadbent and Lindsay Duncan are magnetic as old married couple Nick and Meg. Once idealistic left-wingers who felt the world was at their feet, he is now crumpled after years of teaching philosophy, while she feels constrained and frustrated with this "man for whom bathroom tiles have become key." We follow them on a weekend to Paris where they bicker and try to bond. Although the dialog occasionally threatens to become too spiky for its own good, Kureishi and Michell capture much of what it's like to be in a long-term relationship, including the way that even an argument can become boring if you've had it often enough. The love/hate struggle plays out not only in the script but in every gesture and twitch by Broadbent and Duncan. Jeff Goldblum also comes up trumps as a brash and outwardly successful former collegemate of Nick's who has a fully formed set of neuroses of his own.
While Meg and Nick are acting out their own personal battle of the sexes, Álex de la Iglesia takes the subject to a whole new level in his big, bold and frequently hilarious Witching and Bitching. Even the credits are a work of sly success, with a succession of women accused of being "witches" through the ages, including the likes of Joan of Arc and Anne Boleyn, featuring near its end the twin terrors of German chancellor Angela Merkel and ex-Brit PM Margaret Thatcher. Merkel, in particular, received a loud cheer from the mostly Spanish audience, no doubt thanks to her current European austerity drive.
The film itself is a free-wheeling and deliciously unhinged satirical romp that also touches on dire economic straits. Divorcee Jose (Hugo Silva) is a desperate man, who has recruited an equally financially stricken set of accomplices to pull off a pawn shop heist — oh, and he's brought his son Sergio (Gabriel Delgado) along because he only has custody of him on Tuesdays and alternate weekends. Jose turns up to the heist as a full silver spray-painted Jesus, while his dim sidekick Tony (Mario Casas) is dressed as an all-green toy soldier and their gang wear sundry cartoon character outfits. When things go bad, mayhem — and the magnificent death of Spongebob Squarepants — ensue and the trio find themselves on the run in a cab driven by Manuel (Jaime Ordóñez).
This is where the bitching begins, as all three men share war stories of their plight at the hands of women. The Spanish sexism is played to the hilt but there's no sense of filmmaker misogyny here — these guys are insecure schmucks, who might just be redeemed by friendship. When their car rolls into a Basque town run by a family coven (Terele Pávez, Carmen Maura and Carolina Bang), they suddenly discover what it's really like to be living in fear of women.
Everything is over the top, from the comic book-style performances to the Gothic sets and, when it finally arrives, the sort of larger-than-life monster of which Guillermo del Toro would be proud. Somehow, just when you think things have become as crazy as they can, de la Iglesia — as he did with The Last Circus — seems to find a whole new level of madness, only this time he keeps the jokes as well as the action in full flow.
Finally, in the relationship line and with a much gentler sense of humor, comes David Trueba's charming road trip Living is Easy with Eyes Closed. Torremolinos 73 star Javier Cámara plays Antonio, a solitary but easygoing English teacher in the Franco-dominated Spain of 1966. His Beatles fanaticism extends to the classroom, where he teaches his Spanish kids the Fab Four's lyrics. When he gets wind of John Lennon shooting a film in Almeria, he sets off to try to meet the man. Along the way, he picks up a couple of strays — Belén (Natalia de Molina), who is obviously hiding a secret and young runaway Juanjo (Francesc Colomer). As the trio try to make Antonio's dream come true, their friendship develops in unexpected ways. The description may sound trite but Trueba's film is a thoughtful affair, shot beautifully by Daniel Vilar, who proves he is just as adept in color as he was with the monochrome of The Artist and the Model. The result is a wistful, heartwarming treat that proves some relationships are worth getting in to.