Back to selection
Your Disney Video on the Escape from Tomorrow DVD?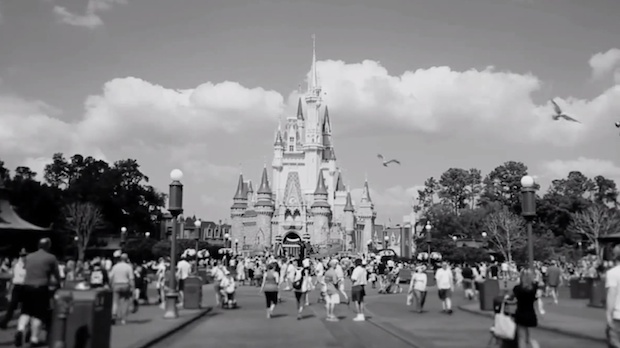 Want to see your own Disney fan or parody video on the DVD for Randy Moore's Escape from Tomorrow? The film's distributor, PDA, announces today that the winner of its current fan video contest, in which homemade videos are uploaded by applicants to Vine or Instagram and hashtagged #DisneyEscapeExperience, will be included as a special feature on the Escape from Tomorrow DVD. In addition, winners will receive Disney gift cards, signed posters and more. (See details below.)
For the filmmakers and distributor behind Escape from Tomorrow, Disney's Magic Kingdom is the gift that keeps on giving. In addition to being a wondrous — and free! — movie location, it has provided the film reams of free media coverage and is now inspiring a contest, ending at the end of the month, in which viewers can submit their own home-made Disney-themed videos. In doing so, it speaks to questions many have had about the film's guerrilla approach: specifically, how did the filmmakers shoot at Disney parks without a permit? And how can they use Disney logos without permission?
I interviewed the film's director, Randy Moore, distributor/sales agent John Sloss, and attorney Michael Donaldson for the current issue of Filmmaker,and here's a section in which Donaldson addresses these issues:
"[Escape from Tomorrow] was a fascinating challenge," Donaldson admits. "But I wasn't concerned with the thing everyone else was concerned about, which was how you can shoot a film at Disney. There are always private property issues shooting without permission, but this was the clearest, easiest issue. Disney wants you to take pictures at Disney World! They even have places for you to stand to get a better shot. Disney encourages it."

As for the Disney trademark issue, "I was very comfortable with it," Donaldson says. "It falls right into the sweet spot of parody. Parody is a commentary on some specific protected material, and that's clearly what this was."
Here's information about the video contest. A winner will be chosen by the end of the month:
The world of Disney is an undeniably wonderful place. It may sometimes get weird, but it's always magical. No one appreciates this more than the filmmakers of ESCAPE FROM TOMORROW, and here's your chance to show them your perspective! We want to see what you consider your FAVORITE Disney experience.

THE PITCH: Using Vine or Instagram, create a video illustrating your favorite Disney Experience. You can embrace the guerrilla filmmaking spirit of ESCAPE, or make a slideshow of photos from your own life with Disney!

Is your favorite experience a fond memory of a family vacation at the parks? The moment your mind was blown by FANTASIA for the first time? Were you playing Buzz Lightyear with a brother in the backyard OR inventing a drinking game for THE LION KING?

Let your imagination go wild and show us on video what you remember best!

HOW TO ENTER: Using your app of choice (Vine or Instagram) create a short film of your favorite Disney experience, and then upload the video to one of these social media platforms and tag it #DisneyEscapeExperience. Make sure your video is between 6 and 15 seconds long.

THE WINNERS: The best entries will be collected from Vine/Instagram and posted on ESCAPE FROM TOMORROW's Facebook page, where a winner will be chosen by ESCAPE FROM TOMORROW filmmaker Randy Moore.

PRIZING:
ONE First Place Winner will receive a $500 Disney Gift Card, an ESCAPE FROM TOMORROW Official Poster & a Blu-Ray signed by director Randy Moore!

ONE Second Place Winner will receive a $100 Disney Gift Card, an ESCAPE FROM TOMORROW Official Poster & a Blu-Ray signed by director Randy Moore!

THREE Runners Up will receive an ESCAPE FROM TOMORROW Official Poster & Blu-Ray signed by director Randy Moore!

Entrants must be residents of the US or Canada and be 18+ years of age.