Back to selection
Gael García Bernal on Documentaries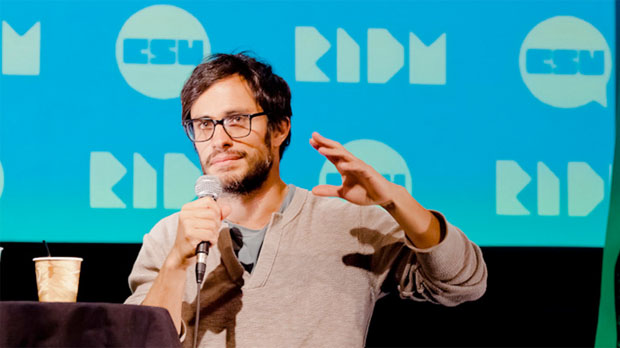 "Let's go back to the time when there was VHS," says Gael García Bernal at the RIDM (Rencontres internationales du documentaire de Montréal or the Montreal International Documentary Festival). "In those days to see a documentary in Mexico your friend would buy a movie in New York or Amsterdam or wherever [and] they would come up to you and say, 'If you want to see this…'"
Inevitably, a documentary fell into the young García Bernal's hands. "I don't remember which one it was, but I remember feeling there was something beyond an investigation, that it had a bigger scope, a bigger angle on many things. From that moment it started a fascination." Only the best documentaries reached Mexico in those days, "but wherever it came from it was going to be something that would open up  some kind of discussion and world."
García Bernal hopes Who Is Dayani Cristal? has the same effect on Montreal audiences. At the last moment, RIDM invited the Mexican star of No, Amores Perros and Y Tu Mamá También, to present Marc Silver's documentary about a desperate Honduran who was found dead in the Arizona desert illegally migrating into the U.S. García Bernal retraces his steps by playing a generic Honduran migrant who rides atop freight trains and eludes Mexican gangs who rob or kill migrants. That's right: he plays a fictional role in this documentary he also c0-produced. The film intercuts his quasi-recreation with interviews of friends of the dead Honduran, U.S. immigration officials and the Mexican consulate. The effect is powerful, emotional, yet informative.
"For me it's very frustrating knowing somebody had a dream, but they ended up being a number," says a woman from the consulate whose daunting job is to identify the remains of migrants found dead in the desert without any I.D. An overworked forensic anthropologist in Tucson states that 19 migrant corpses were discovered in 2000, but now he sees 200 per year.
"This film served the purpose of raising an issue that is seldom talked about," a jet-lagged, but energetic García Bernal explained at his RIDM press conference. "The subject of migration is not only pertinent to North America, but everyone." In the future, he darkly predicted, "Global warming is going to cause a mass migration."
Fans of the Mexican heartthrob may be surprised to learn that in 2005, García Bernal founded the Ambulante documentary festival with his Tambien co-star Diego Luna and Sin Nombre producer Pablo Cruz. Each year for three months, the non-profit Ambulante travels across Mexico to screen over 100 docs. "There were many reasons why we wanted to do this festival, but ultimately — maybe it sounds corny — if you love something, give it away."
RIDM's executive director Roxanne Sayegh, who used to work at Ambulante, asked her old boss during the press conference to compare dramas and docs. "Motorcycle Diaries, I feel, is a documentary," he surprisingly said. "We did it that way, with a small crew. We went and talked to people and said okay, we're in 1959. This is what's happening. Let's not talk about [contemporary things]."
Hours later, García Bernal revealed to a sold-out audience of mostly young women at Concordia University that he was struggling with his portrayal of the young Che Guevara in Motorcycle Diaries until the real-life Alberto Granada (Guevara's traveling companion whose journey across Latin America the movie dramatizes) told him, "Don't imitate who we were. Do your own journey."
Unfortunately, García Bernal revealed little at the two-hour conversation about how documentaries promote social change, which was the theme of the discussion co-organized by Concordia's Student Union. "Social change!" shouted one woman during the talk that got bogged down in innocuous details of García Bernal's fictional films and life. That's a pity.
Besides boasting one of the strongest film schools in Canada, Concordia is also a vibrant base of student activism as seen in last year's demonstrations against tuition hikes that swept even housewives on the street. The general feeling was that García Bernal missed a golden opportunity to seriously talk about documentaries as an instrument for social change. In fact, no footage of Who Is Dayani Cristal? or any Ambulante film was excerpted for the audience.
In fact, García Bernal revealed his thoughts about wrestling with the documentary process at the press conference. "You embark on something with a certainty and motivation that's very specific, but then that story has to find you directly," he said to describe how filmmaker's deal with the unpredictable life of a doc's characters. "Who knows where a documentary's going to take you."