Back to selection
Documentary Shortlist Announced for 2013 Academy Awards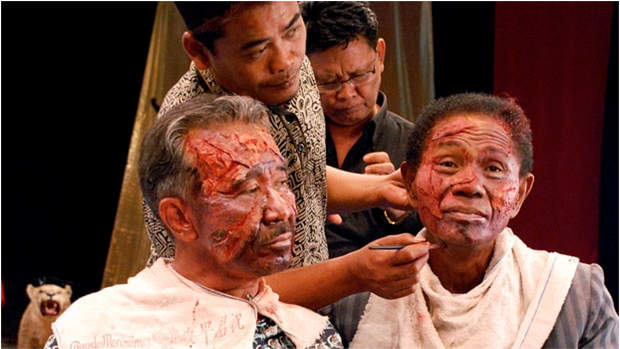 The Act of Killing
The Academy of Motion Picture Arts and Sciences today announced the shortlist of 15 films from the five nominees for Best Documentary will be chosen. That announcement comes on January 16, but until then we can pore over a pretty strong list, featuring Gotham winner The Act of Killing plus new films from such vets as Alex Gibney, Alan Berliner, Lucy Walker and Jehane Noujaim plus crowd favorites from newcomers such as Zachary Heinzerling (Cutie and the Boxer) and Gabriela Cowperthwaite (Blackfish).
There are also inevitably a number of notable absentees, such as Lana Wilson and Martha Shane's After Tiller, Penny Lane's Our Nixon, Jason Osder's Let the Fire Burn and Steve Hoover's Sundance-winning Blood Brother. The absence of Tiller and Hoover's film are particularly interesting because they were major talking points in Park City this year, where no less than 10 of the 15 films on this list made their world premiere.
The Act Of Killing 
The Armstrong Lie 
Blackfish 
The Crash Reel 
Cutie And The Boxer 
Dirty Wars 
First Cousin Once Removed 
God Loves Uganda 
Life According To Sam 
Pussy Riot: A Punk Prayer 
The Square 
Stories We Tell 
Tim's Vermeer 
20 Feet From Stardom 
Which Way Is The Front Line From Here?