Back to selection
Angular Visions: Vertical Cinema at Rotterdam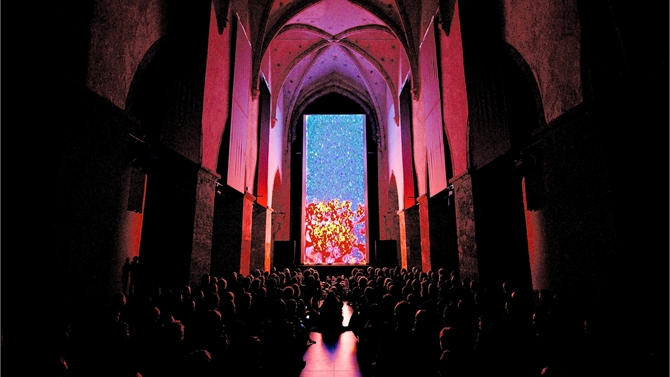 What would vertical cinema be like?
It is a question that must have percolated in the minds of many a cinema enthusiast. After all, there is no rule decreeing that a film can be made only in horizontal format. But, of course, theaters, distributors and historical viewing practices have made us think of cinema in no other way. However, there could have been an alternate universe where films resembled portraits, not landscapes.
At the 43rd International Film Festival Rotterdam (IFFR), underway right now, delegates got a peek into that alternate universe through a special section called Vertical Cinema. A Sonic Acts production, the event comprised ten short films by 13 internationally renowned experimental filmmakers in 35mm and vertical Cinemascope format.
It was a fascinating experience, an exercise that hinted at myriad possibilities for cinema while questioning its very definition. Walking out after the event, several questions abounded in my mind. How would the laws of filmmaking be altered if cinema were vertical? What would happen to the constructs that assist in deconstruction of cinema, such as mise en scène? Where would such a format take the knowledge and rules of photography, composition and scriptwriting?
Not all films were home runs. Unfortunately, a disappointing number did not even utilize the verticality of the screen in any particular way. Making and screening them in traditional formats would have altered the experience, but only superficially. These misfires ranged from Colterrain by Tina Frank, an audiovisual exercise that mapped the onscreen terrain to sound, to Chrome by Esther Urlus, which was basically a celluloid chemical treatment in the vein of the Lumière brothers' Autochrome process.
Yet, there were two films that went all out in implementing this new form of the art and what it could entail. Landing squarely on opposite ends of the spectrum, one achieved rousing success (V~, by Manuel Knapp) while the other failed to convey the maker's understanding of the difficulties of the vertical ratio (Pyramid Flare, by Johann Lurf).
The official website of IFFR describes V~ as "an organic geometry thriller." (Well, that IMDb keyword has never been used before.) The film lives up to its description, using organic geometry to provide visceral thrills aplenty. Lines turn into figures; figures turn into shapes; shapes turn into three-dimensional objects, and these objects fill the vista of one's vision as they move helter-skelter. Austrian filmmaker Knapp exploits the possibilities offered by a tall screen adeptly; he ensures that the action of falling initiates vertigo instantly when projected on such a scale. The short is only 10 minutes in duration, but by the end, I was drained, exhilarated and stuck to my seat. If high-speed motion was shot and depicted in this format, then action sequences would be revolutionized forever.
Johann Lurf was the only filmmaker whose short contained mundane, real-world footage, and the mundanity did not end there. The logline reads, "Pyramid Flare shows us what modern pyramids and vertical screens are all about," and that is true. Sadly, that is also all there is. The six-minute short is merely a compilation of various shots of a modern pyramid, and nothing more. It feels like an actuality the Lumière brothers would have made on a slow day, except worse.
Pyramid Flare is notable, however, for how it illustrates the innate differences in the form and structure of vertical cinema. Any cinematographer worth his salt knows the rule of thirds, and how that guides composition. All scriptwriters are aware of the importance of an establishing shot, and how the mood of one can make or break the sequence being established. Pyramid Flare frames the pyramid as one would if shooting in a conventional format, and the result as a vertical image is clumsy. The amount of ground and foliage visible is jarring, and the division of space between the earth, the pyramid and the sky is off-putting. The short could serve as a (pre)cautionary tale for cinematographers were this format to catch on.
And it should. This article by itself cannot proselytize anyone, but in an ideal world, the cinematic landscape would not be composed of just landscapes. This program proved that vertical cinema is a viable art form in itself. It has its own grammar, and must be lauded for the same. It requires different approaches and ideas from artists, be they writers, directors or photographers. It justifies these impositions by providing different payoffs, and achieving some effects with more intensity than horizontal cinema may be able to.
Till then, one can only hope this project travels further and is screened for more people. If nothing else, it deserves a chance to stimulate debate.