Back to selection
Cinereach Offers "Artist Appreciation Gifts" to Moviegoers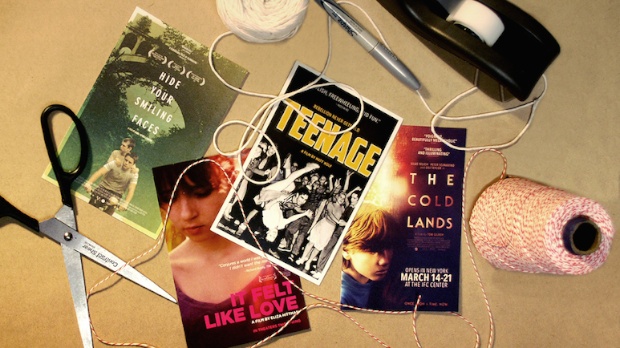 Cinereach, the not-for-profit film support and production company, is offering moviegoers who see at least two of the four Cinereach-supported pictures in theaters this month special, one-of-a-kind artist gifts. The films — all of which are very good, by the way — are Matt Wolf's Teenage, Tom Gilroy's The Cold Lands, Eliza Hittman's It Felt Like Love and Daniel Carbone's Hide Your Smiling Faces. (The first two are at the IFC Center in New York now; It Felt Like Love opens next week and Hide Your Smiling Faces on the 28th).
Here is info from Cinereach:
Why?
Indie releases unite! These four films are teaming up to inspire you to get out to the theater and support their openings, inspired by David Lowery's August 2013 quadruple feature giveaway.

Rules:
– Photos must be submitted to Cinereach on Twitter or Facebook by April 31st, 2014.
– You must include at least two ticket stubs in your photo to enter. The more films you see, the more gifts you receive.
– The film title and date on your tickets must be visible in your photo.
– There is a limit of one photo submission per person.
– Filmmaker gifts are distributed on a first-come-first-served basis while supplies last.
Tweet any questions @cinereach.
I've been getting rid of a lot of junk — old, unwatched DVDs and such — recently. But the few one-of-kind filmmaker and artist mementoes I have — a Chris Doyle flip book, signed stills from some films and even Jean Luc-Godard's cigar butt (okay, that last one was nicked from an ashtray after he left a meeting) — I'll never part with. Start or add to your own collection by seeing what these filmmakers send to you.