Back to selection
Previewing Hot Docs 2014: Ukrainian Women in the Spotlight and More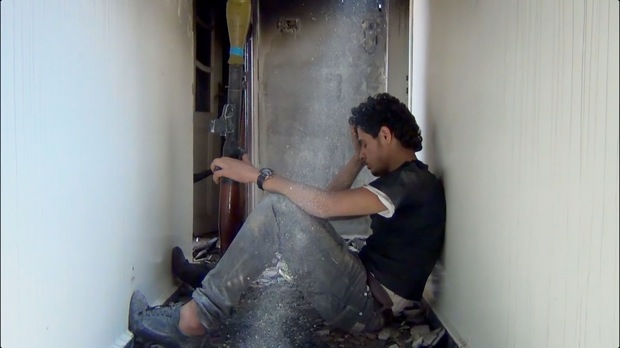 Return To Homs
Hot Docs, the largest documentary festival in North America, opens Thursday night in Toronto, and a number of films caught my eye:
Return to Homs is a grim diary of the Syrian civil war filmed from the inside — a dystopic landscape of bombed-out buildings, dead children, and snipers pockmarking empty streets as civilians run like frightened rats. The winner of the Grand Jury Prize in the World Documentary section at Sundance, this is likely the most difficult film to watch at this year's Hot Docs, but perhaps its most rewarding. 
On a similar note, The Condemned profiles several inmates at Russia's Penal Colony 56, a maximum security prison for murderers that's in the middle of a forest as large as Germany, seven hours from the nearest city. These killers are confined to a threadbare box and forced to reflect on their sins. The results are unsparing and brutally honest, such as one young man who regrets defying his beloved mother, getting drunk one night and killing several people.
Justice is also served in Whitey: United States of America v. James J. Bulger — or is it?  This powerful portrait of a mob boss is also an indictment of the American justice system that allowed James Bulger to terrorize South Boston for decades. Joe Berlinger (renowned for co-directing the Paradise Lost series) is perhaps the best documentarian working at portraying legal cases, and he delivers another brilliant film, exposing corruption in the FBI and the federal justice department.
Injustice of an altogether different sort is highlighted in Ai Weiwei: The Fake Case. This is the unofficial sequel to Alison Klayman's Ai Weiwei: Never Sorry, capturing the internationally celebrated artist-activist after his bogus arrest by Chinese authorities on trumped-up tax evasion charges. It helps to have seen Klayman's film or know Ai Weiwei's story before watching Andreas Johnsen's compelling personal portrait. Here, the world's most important artist is defiant but reflective. In a particularly galvanizing moment, his mother (herself once jailed by the Chinese government) says her son's high-profile protests against government corruption would have gotten him killed around 1957.
A trio of films shines an unofficial spotlight on Ukrainian women. Ukraine Is Not A Brothel profiles FEMEN, a feminist group that battles their country's deeply ingrained sexism with topless protests; the big surprise is that a man is in charge of these women. Kitty Green does not deliver a predictable profile of righteous activists, but raises unexpected questions about gender and power.
Love Me and Love Translated are two very different explorations of Ukrainian internet brides. Both films follow a busload of lonely American and Canadian bachelors who seek beautiful women in Odessa and Kiev. Jonathon Narducci's Love Me is flashier, told in a slick TV style and wider in scope, following several couples long after they initially meet in Ukraine. In contrast, Love Translated by Canadian Julia Ivanova adopts a fly-on-the-wall approach to capture a one-week meet-up, bringing us up close to the bachelors and their would-be wives. Disappointment, deceit and, yes, even marriage arise in both films. Again stereotypes are overturned and complex characters abound; both could be the better film depending on which style you prefer.
Everything Will Be is an elegiac portrait of Vancouver's Chinatown as it transitions from a bustling immigrant neighborhood bordering skid row into a gentrified community teeming with condos. Told in a poetic style, almost like a photographic essay, director Julia Kwan (Eve and the Firehorse) wisely allows a wide range of characters to speak: a security guard chasing winos out of doorways, a Chinese-Canadian artist who moves back into the hood, the manager of a fading Chinese benevolence association, and a white art gallery dealer who restores a dilapidated storefront.
Everything you always to know about zombies is in Doc of the Dead. Strong research and good interviews with zombie authorities, including the creators of The Walking Dead comic, will provide illumination for mainstream audiences, though hardcore zombie fans may find some of this history old hat. Regardless, this is one entertaining, smart pop culture doc.
Horror is all too real in The Engineer, which follows Israel Ticas, El Salvador's only criminologist. His job: digging up unmarked graves to uncover the mangled corpses of gang war victims, including women and children. The opening scene, in which Israel likens a decomposed girl to a doll, is heartbreaking.
A little more uplifting is Hotline, which surveys everyone who works anonymously on a phone from suicide counselors to psychics to sex fantasy madams. The film almost throws its net too wide, but the interviewees and their insights hold everything together. The bottom line is that damaged people volunteer their time to unburden other damaged people of their secrets.
Secrets also drive the world of Love Hotel, which explores several clients who make love, fulfill sex fantasies or escape the pressures of everyday life within the fantastic walls of the Angelo Love Hotel in Osaka. This doc is no peep show, but a meaningful exploration into the inner worlds of various Japanese people living in a society where even public kissing is frowned upon.