Back to selection
A Trans-Generational Triple Feature at NYFF 50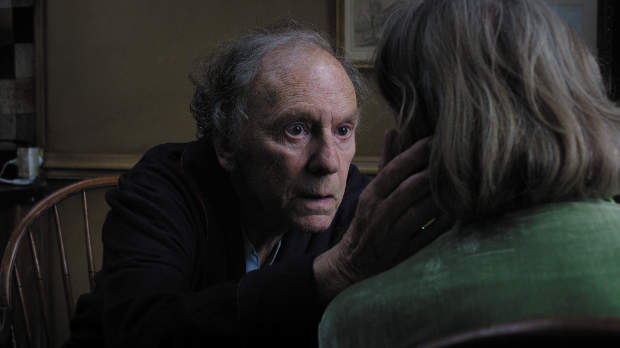 It was not until the very close of Michael Haneke's laurel-laden Amour that I came to a pleasantly odd realization. Without any foresight, I had managed to stumble upon the perfect trans-generational triple feature—perhaps not just at the New York Film Festival, but in the grander scheme as well.  At first blush, the Tokyo-set Like Someone in Love, New York-based Frances Ha, and the claustrophobic Parisian quarters of Amour have as much in common as, well, an Eastern social order, a misguided American woman, and a shackled octogenarian couple could. But a closer look reveals a glaringly common thread.  Like Someone in Love, Frances Ha, and Amour all deal with the most important relationships at a given time in their characters' lives, with each film sure to resonate most with a particular age bracket.
Similar to 2010's Certified Copy, Like Someone in Love sees the Iranian auteur Abbas Kiarostami selecting a couple of strangers, throwing them together, and following their interactions in almost real-time. Perhaps most incredible is the foreign setting—not necessarily to his characters, but to him. In a Q&A after the screening, Kiaraostami, with the aid of a translator, noted that he did not speak a word of Japanese, and thus could not directly communicate with his actors. He only set the film in Tokyo after recalling a bewitching visit to the city eighteen years prior.
In Like Someone in Love, an impressionable, up market prostitute (Rin Takanashi) is sent to the outskirts of Tokyo to carry out her job for a man her boss claims is highly esteemed. Though she goes kicking and screaming, spending her cab ride listening to the melancholic voicemails left by her visiting and neglected grandmother, her mood improves upon arrival. Especially as it becomes increasingly apparent that her elderly customer, a widowed professor (Tadashi Okuno), would rather discuss his artwork with her than do the dirty business. In the morning, he drives her to an exam, where, following an aggressive brush with her high-tempered fiancée (Ryo Kase), the professor protectively claims to be her grandfather. What begins as a comedy of errors ends with a bang, once the fiancée draws back the curtain on their platonic relation. It is a beautifully handled and photographed film, relatable for an audience of both the professor's and the prostitute's age and gender, or perhaps anyone searching for companionship amidst a world of loneliness and hurt.
Frances Ha, on the other hand, is decidedly geared towards a modern, twenty-something set. I fear the majority of the middle age and up crowd in the audience thought they were walking into another one of Noah Baumbach's droll, self-deprecating, familial ruminations. While Mr. Baumbach is indeed credited as co-writer-director-producer on the film, Frances Ha is all co-writer and lead actress Greta Gerwig. Emotionally consumed by her best friend and roommate (Mickey Sumner), Frances is incapable of securing fulfillment elsewhere, most notably at her dead-end dance company apprenticeship and in her failed romantic relationships. When Sumner's Sophie decides to move out and into her dream Tribeca apartment, and later to Japan with her deplorable boyfriend, we spend the rest of the film watching as Frances stumbles and scrambles her way through Chinatown, Paris, Sacramento, and Poughkeepsie.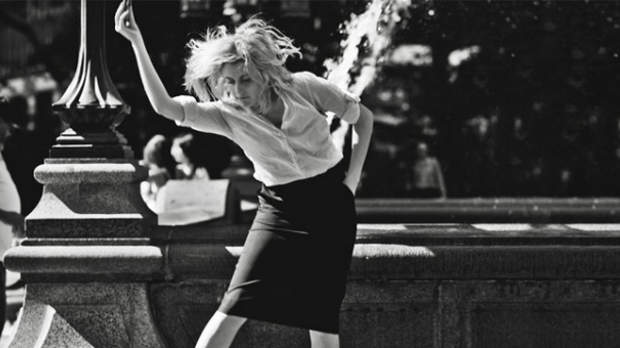 More than anything else, the script succeeds at capturing the highs and lows, the unintentional competition and unconditional love of a female friendship. Often moving at a lighting-pace, the dialogue and banter is not at all indigenous to Baumbach's more acerbic and contemplative work, but rather characteristic of the attention-deficit, hilariously self-absorbed Generation Y, which Gerwig calls home. Capitalizing on the film's situational hilarity and zingers, as much as the heartfelt and poetic asides, the ever-unusual Gerwig ought to shame the folks at IFC for releasing the film next May, thereby thwarting her awards season dark horse status from the realm of possibility. Speaking at the Q & A, Ms. Gerwig said that she is fascinated by "the death rattle of youth," the moment when the end is nigh, but you refuse to let it go, not unlike the ailing and altering friendship between Frances and Sophie. She's quite right. For all its amusing diversions, Frances Ha makes for a wonderful character-study of not only its titular role, but the limbo that divides young adulthood and adulthood.
Add 50 or so years to all of Frances Ha's inhabitants and you've got the Palme d'Or-winning Amour. Just kidding. But central to Haneke's latest is, of course, the ultimate transition: between life and death. Following a subtle stroke over soft-boiled eggs, Anne (Emmanuelle Riva) slowly but surely regresses back to the earliest stages of life: diaper strapped, and entirely under the care and assistance of her dedicated husband, Georges (the wonderful Jean-Louis Trintignant.) Their daughter (Isabelle Huppert), seemingly apathetic about all else, particularly her marriage, has her own staunch opinions as to how her mother's condition should be handled, but Georges is desperate to fulfill Anna's wish that she not be hospitalized. Once she suffers another stroke, however, and her paralysis makes its way up her right side into her brain, the manifestation of Georges's "love" for Anna takes on alternative shapes. With the exception of the first ten minutes, the entirety of the film takes place in Anna and Georges's apartment—the only semblance of outer life being the occasional visitor or aide, a pigeon, and the shrouded Parisian streets through the bay windows (which Haneke admitted were done on a green screen.)  As is Haneke's custom, Amour is tremendously well crafted and acted, but I must admit, I'm a bit too young for it. I struggled to connect with the antagonist, death's physical and psychological sores, as—knock on wood—I have little life experience to draw from. Till those woeful tides turn, Like Someone in Love, Frances Ha, and Amour make for quite the trifecta of inter and intra generational examinations.