Back to selection
"What I Once Felt Guilty About Doing… Is Now My Job": Amanda Trokan on Film Programming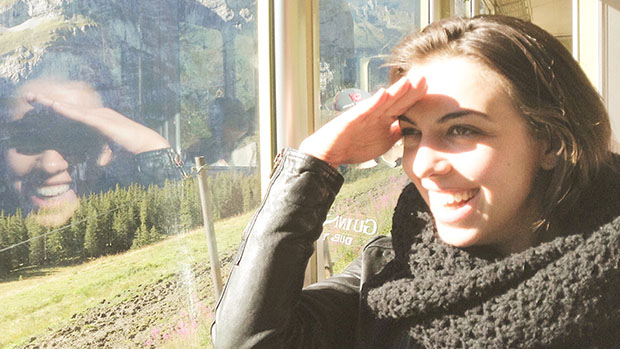 Amanda Trokan
I'm having dinner upstate with my grandparents indulging the Labor Day weekend – food, books, sleep, repeat. Embracing their rigid routines and schedule is a fascinating escape, one that is also mildly horrifying. "Growing old is not for the faint hearted," my grandfather tells me, and while I can only theoretically understand the sentiment, this sort of elder wisdom is his bread and butter. "Always have fun and fill your life with experiences and adventure, but also remember to plan for the future," he says.
I'm conscious of this temporal pressure even while feeling comparatively young in my grandparents' house, sleeping in the Bette Davis room, texting pictures of the signed Dolly Parton portrait to my Dolly-obsessed friend.
Let me explain.
Back in his heyday, my grandfather used to be the Manhattan dentist, with loads of celebrity patients. Apparently, Bette Davis was in love with him (he's featured on page 333 of her biography Dark Victory), so he named a room in his house after her. Over dinner, he recounts his favorite Bette story, but I interject to ask whether he knew Lucille Ball. After all, she is the first woman to have run a major studio. She is the icon of icons. (Why isn't there a biopic yet?) His displaced intrigue surprises me: "I used to see her outside the Imperial House all the time – but she was older then." Apparently, old Lucy didn't make much of an impression on him.
I'm still thinking about old Lucy the next day while watching Caroline Wozniacki defeat Maria Sharapova in a three set upset at the US Open. Wozniacki is the first Scandinavian woman to hold the World's No. 1 title. She is younger than me. Sharapova on the other hand is old news, nearly aging out of the game at a whopping 27.
In the film industry, it seems that age implications for women are constantly contentious. Meaning, no age is ever the right age. What once was too old is now too young, but regardless, we compete to hit our strides younger and younger. It seems arbitrary really.
I originally intended for this column to profile women only in their 20s. I wanted to highlight those making a difference so often in the shadows, or at least in the shadow of their older and more seasoned bosses. Obviously, wisdom and experience accompany age, but I wanted to somehow declare the 20s as a time for not just making mistakes and learning from them, but also for making substantial waves in an industry that often enslaves interns well into their 20s. Though the gesture of my original intention remains pure, I've decided that an age restriction not only limits my search, but also deploys an ageism similar to the one against old Lucy or the one against baby Wozniacki or washed up Sharapova. Futhermore, I'd rather not quantify career timelines based on arbitrary social or cultural behavior patterns or expectations. I'd rather not participate in a conversation about whether 30 is the new 40 or 32 is the 27.
My defiance aside, fixation on women and their age is an unavoidable construction, one that I've admittedly entertained since I started lying about my age at 15. So believe me (or don't) as I introduce my next candidate, 32-year-old Amanda Trokan.
When we meet, she's already nursing a whiskey ginger because "where else can you get one in this city for $4.50!" With her hair in a bun on top of her head, wearing a slouchy sweatshirt and no makeup, it's no wonder I initially presumed Amanda Trokan was in her 20s. But even with a slight air of feminine self-deprecation, she exudes a poise that I think surfaces only after the 20s are purged. Freshly in her 30s, Trokan walks me through a surprisingly robust and eclectic resume. From a Wall Street corner office at 23 through stints at the Film Society Lincoln Center and Seed&Spark, Trokan is now manager of film programming at HBO.
Which means what?
Mostly, I'm evaluating indies and Spanish-language films for our acquisitions team. It involves a lot of screening and a bit of writing too.
How did you get the job?
Well, I wasn't looking for it, but I had previously worked at HBO in Original Programming in a writing role. My former boss had heard about the opening in Film Programming, remembered that I was a "movie person" and that I know Spanish, and reached out to me about it.
So you had to leave your previous position at Seed&Spark. What did you do for them?
I was the Director of Content, which means I selected the titles that would stream on their VOD platform. Films would come in after pitching to filmmakers, guest curators, distributors, or just via submissions so the day-to-day was pretty jam-packed but it was fun. And philosophically it's rewarding to be a part of something that really means a lot to people.
Do you miss it?
Of course! But everyone on the team is a friend now, and I'll always feel connected to that community. Seed&Spark is a growing company and as a department head I knew I'd eventually need to hire a team. In many companies it seems the higher up one goes the less creative the day-to-day work, but I prefer the creative work, so I'd probably have done everything in my power to keep the fun tasks. It was a great place to work.
Well, people are turning to you for creative authority now. You've managed to cultivate a taste that people trust.
That kind of thing only comes with time – being confident with your judgment. For example, I didn't study writing in college but it's been one of the main skills needed to do quite a few of my recent jobs. I noticed that periods when I'm reading a lot, the writing comes more easily and with more confidence. Similarly, the more you are exposed to the film landscape over time, the easier it is to contextualize and evaluate one piece of it. I had a five-year detour before working professionally in the film industry so I felt a bit behind career-wise in some ways. But it was that very detour (Wall Street, MBA) that made my background unique and made Film Society Lincoln Center (FSLC) curious enough to give me a job interview in the first place.
What was it like to go from Wall Street to Lincoln Center?
I think it's pretty common, in general, to now and again look around and think, "Everyone is just winging it, aren't they?" Parents, presidents, etc. So at FSLC, it was incredibly comforting to be surrounded by people who really knew their stuff. Experts to learn from. I'm pretty sure Richard Peña [Former Program Director] speaks just about every Romance language, and then some. Not to mention, he's a walking encyclopedia of cinema. It was impressive.
You are multi-lingual too! What's your history with Spanish? Any other languages?
Several years of study and travel. But fluency in other languages is certainly on the to-do list!
Can we rewind to Wall Street?
I sort of just fell into it when I graduated college and needed a job in order to move out of my parents' house. But I'm really glad to have had the experience because I actually met my best friend on the trading floor – we were two of maybe half a dozen women.
Do your relationships with female colleagues often turn into friendships?
That definitely happens. But I'd say it's more about the circumstance of the job and the workplace – how much time you spend together, if it's social in nature, if it's it based on a common interest – than connecting solely over gender.
So from Wall Street to Business School to Film Society Lincoln Center to HBO to Seed&Spark and back to HBO — what's been the most familiar challenge?
Navigating a variety of personalities is something they all have in common, but it is something that I actually enjoy.
What are you looking forward to now?
Having my own hotel room at festivals! (Laughs.) No…. what's meaningful now is the fact that a sale to HBO has the potential to make a big impact for some filmmakers. It feels nice to be a part of that.
What's next?
I just started!
But is there a trajectory?
I'm definitely not calculated that way.
Trajectory or not, the goal is to…
Enjoy my own day-to-day and also feel aligned with an organization's big picture. At HBO, my day-to-day is amazing. And the bigger idea is one that supports film.
What's the best part?
Getting to watch movies everyday!
Sounds perfect.
I'm just content. What I once felt guilty about doing all the time is now my job.