Back to selection
"I am Optimistic about the Film Industry Finding Alternative Methods of Distribution": Leslie Vuchot on Non-Theatrical Distribution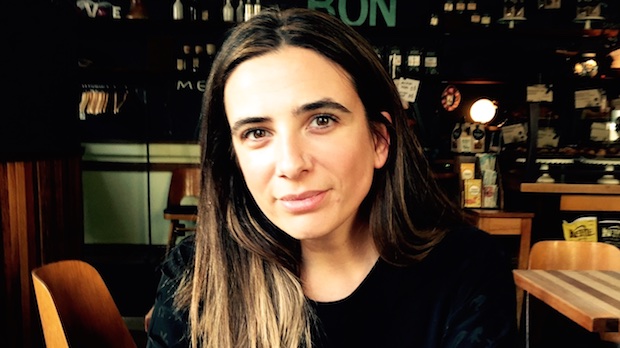 I'm sitting in a small 190°F room. I have taken my glasses off because I think they'd melt, so I can't see. Also, I'm naked, as is everyone around me. My friend and I are whispering, most likely disturbing the neighboring nudes, but this is my first time in a Berlin sauna, so I'm not familiar with the collective sweaty silence that Germans call relaxation. As my friend escorts me through the different bathing rooms, I try to keep an open mind because a night at the Stadtbad is a Berlin staple.
Twenty-five years ago, two friends also made a trip to the Stadbad in Berlin. Meanwhile, thousands of people flooded Brandenburg Gate as the Berlin Wall opened. One of the two sauna bathers is now the Chancellor of Germany and has since explained, "If the wall had opened, it was hardly going to close again, so I decided to wait… Thursday was my sauna day so that's where I went." Today, Angela Merkel leads the country with the same spirit that defined her weekly sauna ritual. She's selective about when and how to compromise as a political leader, just like she didn't follow the crowd spilling into West Berlin.
Five years ago, Leslie Vuchot quit her job at HanWay Films in London and moved to Paris to launch her own company, The Festival Agency, which monetizes the festival circuit for filmmakers while clearing titles and providing prints to programmers. Born and raised in Paris, Vuchot first worked for the Bertelsman Music Group (BMG) in Paris. After working for Focus Features International, Vuchot worked in publicity and marketing at London's HanWay Films. She has a postgraduate degree in Entertainment Law and Business from La Sorbonne.
It takes a certain kind of person to start a company — especially one that's charting unchartered waters. It takes someone who is decisive and uncompromising in both the details and the big picture, someone who is unapologetic about sauna breaks, like Merkel — or having a baby, like Vuchot. When it comes to any expectations or assumptions around running a company and motherhood, Vuchot is impenetrable. She prioritizes under no influence but her own. She, like Merkel, is a leader who leads.
I suppose it sounds a bit grandiose to liken Vuchot, who runs a team of five, to Merkel, who is running a country. But before Forbes named her the most powerful woman in the world in 2014, Merkel was a 35-year-old quantum chemist in a sauna. The point is, one needn't be leading a country or even a company to act in accordance with one's own convictions. The scope of what we do isn't nearly as important as how we do it. I'll bear this in mind next time I'm invited to the Stadbad, where my American prudishness definitely stands in the way of my German assimilation. Honest convictions, even about saunas, can bend only so far.
Why did you start your company, The Festival Agency?
After working at international sales companies, I noticed that too many good films struggled to sell in such a difficult and competitive market. Launching The Festival Agency was a way to represent more filmmakers globally so their films could exist on a bigger circuit. We provide a dialogue between the international festival world and the sales world. We talk to programmers about what they are passionate about, about emerging content, and about what's important to show. We also work with sales agents, and we are building partnerships with VOD aggregators for multi-release strategies.
Why did you transition from the music industry to film?
I only worked in the music industry for a year, but as there were less and less interesting jobs, the move to film was quite natural. I was passionate about both film and music in the same way, but I think film is a more complex industry to navigate. Also there is a feeling of a real community. Some say film is going in the same direction that music did ten years ago (dominated by the majors), but I am optimistic about the film industry finding alternative methods of distribution.
What role do the film festivals play?
Festivals are crucial for launching, exposing, and promoting films. They are the key moment in the life cycle of a film. The prestige and curation of a festival program give audiences a way to follow what they like. They also help build careers and pedigree for filmmakers to create networks and meet potential producing partners and distribution opportunities. For us, festivals are so much about meetings to catch-up with people, discuss market trends, and get a super global view. Recently, we did about 100 meetings at Sundance and about 300 at Berlinale, with people from everywhere in the world.
What have you learned talking to programmers?
Festival programmers are the most passionate people in the industry (and the most knowledgeable). Our dialogue with the programmers is not just about the films we represent, but it's also about understanding the trends, the likes and dislikes of audiences, countries and various markets. And about what's important to show.
What's important to show?
There are lots of films launched at festivals that people want to see — the really tough stories, not the universal ones. Daring voices. These films may not always find distribution after their world premieres or have adequate representation. But they need to be shown and find their niche audiences. We want to find these audiences everywhere in the world.
How does traveling factor into the work?
Traveling is crucial because we need to understand what works where and how films are introduced in different festivals and market places. We also need to meet people for real. On top of work purposes, it's also an immense privilege to travel. It forces you to think in a different space and time frame. When I started to recruit people for my team, one of the main requirements was to be curious about other cultures. We travel to over 30 countries every year. I recently stayed five weeks in L.A. and really liked it. I think there is a real need for international strategy for filmmakers in the U.S.
Do you discuss distribution strategies with producers or directors?
Both. We tend to speak mostly with producers, then directors, but sometimes they are both the same people. Working with producers is a bit easier because there's more distance from the subject matter. Sometimes the conversation with filmmakers about distribution strategy leads back to a more traditional approach, in which case, we will connect them to sales agents or distributors.
Has your law degree been helpful to you?
In France, you can either go to business school or to public university to study law or economics. At the time, I was not inspired but needed to do something that could lead somewhere. Mostly, I was bored at university, but the degree has been useful because law gives your mind structure, a way to think about the details. I still struggle to do my own contracts, but knowing that I have the background has been reassuring and helpful.
Have you grown into your position as a boss?
I think so. In the beginning, I wasn't always sure about the vision. In the last couple years, with more experience and collaborations, I've grown to see myself as an enthusiastic and encouraging boss. It's a big responsibility, but a great one. The best part of my job hasn't been starting a company, but building this team. And if they are happy with the structure of the company, I'm happy.
Is there anything you wish you'd done differently?
The company is already five-years-old, and sometimes I wonder why I haven't been quicker or faster or done more. And then I remember how much progress we've made. And I had a baby. As good or fast as we want to be as women, sometimes we need to just be slower. I've never been a feminist. I never thought there was a need until recently. It's been an interesting turning point for me.
What do you think changed?
In France, our generation of women grew up thinking we didn't have to fight. We didn't relate to images of feminist women from the '60s and '70s. So we thought it was outdated to be a feminist. But I've realized, it is only the idea of feminism we grew up with that is outdated. I recently saw the different salary numbers between men and women, and something clicked for me. I've started going to networking events for women entrepreneurs to see if it's helpful, or if it's a ghetto. I've never used the "woman card" in the past, but I might now.
What changed when you had a baby?
Starting a family came as a normal, natural priority. In a way, a business is another baby. It needs complete devotion, quality time and patience. What has changed is the perception of people. When my child was just over three months old and I was at Berlinale, some people acted strangely. What annoyed me was the assumption that having a baby meant taking a year off and working from home. But for me, it was so important to set up an office and build a team and structure. Delegating and creating a disciplined yet open work environment is a big part of success.
What's next?
I envision running this company for a long time. I love what we do, and there's a lot to do. Having a presence in the U.S. might make a lot of sense.
How will you know when it's a success?
Happy filmmakers. Happy programmers. Good films reaching as many people as possible.