Back to selection
Rethinking Middle Eastern Film: The Inaugural Qumra Meetup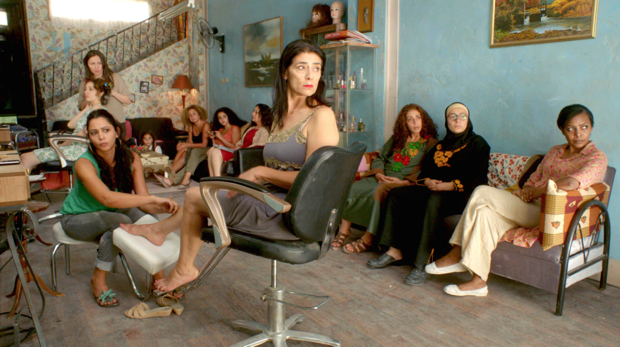 Dégradé
"This is a first rough cut," said Qumra Artistic Adviser Elia Suleiman. In his witty, prize-winning comedies about the Palestinian question, the director casts himself as a character unable to use his voice, but he proved adroit in the vocal position of film event organizer. He's worked on the Qumra concept for two years, but last year the event was abandoned when it was deemed not ready. On the fourth day of this inaugural edition, which ran March 6 – 11, he chatted away contentedly — because if this is the rough version, it's one that might end up being a Picasso.
Qumra is an industry event set up by the Doha Film Institute (DFI) with the aim of ensuring that DFI grantees have a chance of establishing a foothold on the international film scene. 29 films were chosen to take part, from short film ideas at the treatment stage to picture-locked features. Dubai International Film Festival tried something similar on the Middle East festival circuit, but that was more a series of "speed dating"-type meetings, a format popularized years ago by the Rotterdam Cinemart. This was more of a crash course in the art-house film business, combining films I had seen at other festivals, masterclasses, meetings (yes, of the speed-dating variety), mentors, panels, lunches and works-in-progress screenings. If that sounds a lot, that's because it was; if there was one problem with Qumra, it was that attendees were overwhelmed with its awesomeness. (Do you get the impression that I had a great time!)
Once Qumra works out how to create an event facilitating the wide range of projects the DFI are pushing (the wants and needs of a first-time short film maker being wildly different from feature filmmakers who've already won prizes at festivals), it could become a model for similar events in other parts of the world. For example, Gothenburg Film Festival has great pitching and works-in-progress sessions, but they take the best part of the day, leaving little time for side meetings to be organized in anything other than an ad hoc way. In the decade or so that the Gulf countries have started pushing their film industries, or often simply kickstarting them, Qumra marks the first time that the rest of the international film world could perhaps learn something from them, rather than these events simply informing the region how the broader industry works.
George Schoucair, a producer who runs Lebanese company Abbout Productions, says the Arab market is split into national segments; having a commercial hit across the Arab world is a nut still to be cracked by art-house filmmakers. There are around five local productions a year in Lebanon that get more than 100,000 admissions, and their local, more commercial bent makes them unlikely to travel — even to other countries in the Middle East North Africa (MENA) region. Yet it's not all doom and gloom for Middle Eastern filmmakers. Nadine Labaki is an artist who has proven this trend can be bucked. Her second film, Where Do We Go Now?, got 400,000 admissions; that's Avatar numbers in Lebanon. A major factor that will help Arabic auteurs is international recognition. As Danis Tanović said in his Modern Masters talk, "The best thing a director can do is win an Oscar."
How many of the Qatari filmmakers will now look beyond the DFI, which has a financing arm, as the only game in town when it comes to film financing? This is a tricky point. There are benefits for Arab filmmakers who use local and regional funding to make films, but they can run counter to the benefits that would come from Qatari filmmakers thinking on a global scale. Roberto Olla — Executive Director of Eurimages, the Council of Europe Fund for co-production, distribution and exhibition and digitisation of European cinematographic works — revealed that until the last decade, most MENA product we saw internationally was 90% French funded. These films represented, in some respects, a post-colonial view of Arab life. In the past decade, 40% of funding has come from the region itself (often from equity deals), but that hasn't necessarily equated to a sea change in the types of films made.
This year's Qumra event and project were more catered to arthouse than commercial sensibilities. The delegates' guide could have been renamed The Little Black Book of the Great and Good in the Film Industry. The international presence was predominantly French, with sales agents from Wild Bunch, Elle Driver and Wide in attendance as well as French producers such as Didar Domehri of Full House. There was also a smattering of Americans, including Ryan Kampe of sales agent Visit Films, writer and producer Joslyn Barnes of Louverture Films, Jason Kliot of Open City Films, film consultant Jason Resnick, and Executive Director of the Independent Filmmaker Project Joana Vicente.
My proclamation that the event was a success is based on a hunch, yet it's an opinion unanimously shared by everyone I spoke to, from grantees to film festival directors to financiers. And while it's easy to see why Suleiman was in such good spirits, the event's real measure of success will come in a few months when we see what happens with the projects. Will exuberant and charming Dutch-based, New York-born director Susan Youssef — whose debut film Habibi premiered at Venice before wooing audiences at Toronto and further on the festival circuit — get the final chunk of financing that will enable her to shoot sophomore film Marjoun and the Flying Headscarf in Arkansas this summer? The film started life as a short film that played in Sundance in 2013, its 17-year-old protagonist Marjoun an intersectional James Dean.
Do not be surprised if several other Qumra projects appear at the top film festivals around the world. Although journalists were not allowed to see the Works in Progress, the intimate nature of the event made it impossible not to hear about buzz titles. There were two that may sail (probably on a yacht) from Doha and arrive in Cannes in two months' time. João Salaviza's Mountain doesn't sound like much of a Middle Eastern project. It's the first and possibly last international project that will be part funded by the Doha Film Institute during the production phase. That's because one of the many rule changes the organization has implemented in its almost decade-long history is the diktat that international projects will henceforth only be considered when they are in need of post-production funding. Nonetheless, it seems that whoever in DFI made the decision to back Salaviza has good taste. The Lisbon-based filmmaker has been earmarked as a star of auteur cinema ever since his 2009 work Arena, about a day in the life of a young man under house arrest, won Best Short Film at Cannes. Another of his shorts, Rafa, took the Golden Bear short film prize at the 2012 Berlinale. Made for $1.8 million, his debut feature Mountain is set in the aftermath of the economic crisis that has hit Portugal since 2008.
Dégradé is another film that should start appearing on the inevitable lists speculating what will be in Cannes (so I thought I'd kickstart the process now). The film is made by twin Gazan brothers Tarzan and Arab Abunasser, whose short film Condom Lead appeared in Cannes in 2013. An absurdist comedy, Dégradé is based on a true story that made headlines in 2007 when "Operation Liberate the Lioness" was launched by the Hamas-led government against one of the most powerful families in the Gaza strip.
It was a film Jason Kliot said that he wished he could have been involved in producing. Of Qumra, he said, "I've been to nearly all the events: Rotterdam, Berlin, International Film Week. I think they all have wonderful strengths and weaknesses, but what I find here is that firstly, the creators have been incredibly shrewd in keeping the event small and contained. The works-in-progress were incredibly impressive to me, and one of the reasons was that out of many projects they only chose a few." Kliot is interested in two projects in particular he feels can succeed internationally. On one, What Comes Around, he has been asked to get involved to raise further financing in the States; he compared the scenes he witnessed as being in the same class as Salaam Bombay! The documentary is directed by Reem Saleh, who moved to Doha in 2006 to work on Al Jazeera Children's Channel (now JeemTV) as a producer and voiceover artist. The film is a look at Rod El Farag, one of the poorest residential areas in Cairo, which Saleh got introduced to on her rare visits to see her Egyptian mother.
It was a week in which it seemed the industry learnt just as much as the grantees. The lunch and dinners were social networking dreams where projects were animatedly discussed; Qumra put people together. Industry representatives arrived and were given a packed schedule in their welcome packs. Contrast this to the excellent Asian Film Market in Busan, where the project talents sit around all day, and meetings from sales agents and financiers are organized through emails and walk-in meetings. Mornings started with breakfast meetings in which grantees could ask questions of five tables headed by industry insiders. Afterwards, the group was carted off to the morning Masterclass. These masters were astutely chosen: Danis Tanović, Suleiman (a late replacement for Iranian actress Leila Hatami), actor Gael García Bernal, Abderrahmane Sissako, and Palme d'Or winner Cristian Mungiu. Some had received grants from DFI but they all came from countries with small film industries.
After lunch, industry meetings and panels lasted until 6 pm. These mentors were similarly well chosen, like Palestinian director Annemarie Jacir, who enjoyed success internationally. After all, if they can do it (and in times when it was harder for MENA films to breakthrough), there is no reason why others can't. Then it was time for screenings. One film was to accompany the following day's Modern Masters screening and the other — such as Tala Hadid's Narrow Frame of Midnight and Mais Darwazah's My Love Awaits Me by the Sea — was part of the New Voices in Cinema screenings highlighting work in the region. Dinner ended around midnight.
The week was split into two parts. Industry guests spent the first two days advising representatives from major festivals as well as talking with script consultants and producer experts about projects in development. For productions in progress, there were screenings of 20-minute samples. The second half saw financiers and sales agents in attendance. The networking continued to the bitter end. Even while in the car on the way back to the airport I had a discussion with Rima El Misamar, Film Programs manager at Arab Fund for Arts and Culture (AFAC), where we discussed the successful week and how Qumra could open to more films from the region. When I put this question to Fatma Al Remaihi, CEO of the DFI, she said that the way into Qumra was through applying to DFI grants. It's perhaps time to see if you qualify; both Remaihi and Suleiman were insistent that they'll learn lessons from this rough draft. Next year we may see the fine cut.