Back to selection
The Power of Story: Previewing the 2015 Tribeca Film Festival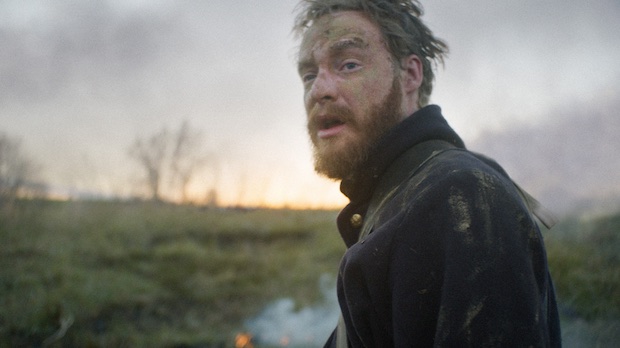 Men Go to Battle
Story. Storytelling. Experience. Community. Story, story, story!
Talk to the heads of the Tribeca Film Festival and its programmers, and you'll soon pick up on the event's messaging this year. A festival that, as Robert DeNiro said at yesterday's press lunch, was originally intended to be a "one-time thing" is now something of a New York institution. But it continues to evolve. At a sit down earlier in the week, Festival Director Geoff Gilmore, Tribeca Enterprises Executive V.P. Paula Weinstein and senior programmer Cara Cusamano spoke of today's film viewing and festival landscape — how we are in, as Tribeca co-founder Jane Rosenthal said at the press lunch, "a screen agnostic" moment when "everyone has a film studio and high-def theater in their pocket."
This realization prompted the Tribeca team to ask itself, says Gilmore, "What is Tribeca trying to do?" The answer, Gilmore said, was to be less inspired by the "reductive" definition of a film festival — "You show some films, put together a jury, give awards and look at what the sales figures are" — and more the concept of what a festival can be in that screen-agnostic world. This year's Tribeca, says Gilmore, "is an examination of what storytelling is. We don't just say we have Virtual Reality as a sidebar event. If you look at [the festival's] various threads, there is real thought given to how we are organizing things, from performance to theater to film to the idea of Spring Studios. And then, let's get back to talking about movies. We hope we are recontextualizing what's going on — that's what's new at Tribeca."
In such an age of media overload, where the last thing anyone seems to need is another movie to add to their queue, Tribeca is also emphasizing, as would be expected, the value of its curation in sifting through the cinematic ruble as well as the value of communal moviegoing events — like Mary J. Blige's performance following the premiere of the documentary, The London Sessions. And, as Gilmore says above, they are emphasizing the festival as a presenter of storytelling across all mediums — not just film but television, gaming and new media. Said Weinstein, "We wanted to have everything we did be a celebration of story but also to break any boundaries of what that storytelling means. We're in this amazing moment where instead of worrying about what's happening to the film business — 'How do you get movies made?' — we flipped [the question] on its side and said, 'What a thrilling time. Yes it's unknown, none of know where these new things like VR are going to go, but out of it is going to come some great stories and adventures, whether those adventures are in a movie theater or on television or on your iPhone.'
Regarding the festival experience, Tribeca this year is launching something major and new: Spring Studios, a 150,000 square foot space that will be a hub for audience and events throughout the festival. It both firmly re-roots Tribeca back in its namesake neighborhood while addressing that odd problem almost all festivals seem to have: the lack of a place to hang out.
As usual, there's too much in Tribeca to effectively preview. Below, however, are some picks from me and the Filmmaker editorial team. Also, Filmmaker will be hosting two programs at Spring Studios Saturday morning at 11:00 and 11:45. The first, at 11:00 AM, is on documentary production and how energy and momentum is sustained over the years of production with the makers of Uncertain and Tom Swift and His Electric Rifle. Managing Editor Vadim Rizov will moderate that one. The second is a discussion of the current state of independent fiction feature producing between Andrew Corkin, whose Emelie is in the festival and sounds awesome, and me.
Below, here are a few films and programs to look forward to.
The Adderall Diaries. Well read by journalists due to one of its subjects — writer's block — Stephen Elliot's The Adderall Diaries is one of the more original and, with its theme of father/son reconciliation (or at least understanding), moving of the crop of experimental memoirs that surfaced a few years ago. In Elliot's book, a writer and journalist — Elliot himself — who's a part of the San Francisco SM community, is hired by a national magazine to cover a murder trial with kink overtones. The book has many tangents, but expect Pamela Romanowsky's debut film to focus on the father-son aspect and be aided by two strong performers: James Franco and Ed Harris.
Meadowland. Reed Morano has shot some of the most striking independent films of recent years — Frozen River, Yelling to the Sky and Little Birds, among them. And she's also an overall badass — check out this call to arms she wrote for us about TV's default "smooth motion" setting. I don't know much about Meadowland except that it stars and is produced by Olivia Wilde, and it's described as "a psychological thriller" about a woman who has lost her son.
The Survivalist. Stephen Fingleton's debut feature is a piece of post-collapse, near-future sci-fi, set on a secluded farm and about a man dealing with the sudden arrival of a woman and her teenage daughter. It's said to be more about emotions and action, and Fingleton has already built out a whole story world, that includes both a short film and a game.
Thank You for Playing. When I edit stories for Filmmaker Magazine, I rarely get emotional. I just focus on the text. An exception was one of Heather Chaplin's Game Engine columns about Ryan Green and the video game he made to help process his son's terminal cancer diagnosis. Now, David Osit and Malika Zouhali-Worrall (the latter a 25 New Face) have made a documentary about that game — That Dragon, Cancer — and the family's journey through its making.
Door in the Dark. I feel a little bad picking this "immersive documentary" that requires you to be remove your shoes and be blindfolded as you navigate yourself through "a vivid aural world of real people who have been profoundly lost." Part of Ingrid Kopp's always excellent Storyscapes section, it's already mostly sold out, from what I understand. Still, it's definitely the most singular event of the festival — literally. I'm seeing it today and will report back. "Everything in the festival is so visually driven, said Cusamano, "and this is stepping back and letting your other senses take in the story."
All Eyes and Ears. In her debut feature, director Vanessa Hope looks at China's emergence as a political and cultural power through the lens of three individuals — former Presidential candidate and U.S. Ambassador Jon Huntsman, his adopted Chinese daughter, and a blind Chinese attorney and activist, Chen Guangcheng. Hope and her husband and producer, Ted Hope, are friends and colleagues, and I've been following the progress of this doc from afar, so I'm excited to see what directions its taken in its final edits. Hope has also launched this week an Indiegogo campaign to support its festival campaign.
The Panels. Tribeca has a particularly strong grouping of panels and dialogues this year. Among the ones I don't want to miss are my friend, producer and, upcoming, director, James Schamus talking with director Cary Fukunaga; directors Christopher Nolan and Bennett Miller in conversation; director Brad Bird and actress Janeane Garofalo on transitioning between animation and live action; and, finally, director and Filmmaker 25 New Face Alma Har'el talking with Shia LaBeouf about her new documentary, Lovetrue. She'll be showing scenes as well.
Here, from the rest of Filmmaker's editorial staff, are more picks to get you through the next ten days.
Applesauce. A talk show host invites listeners to overshare concerning the worst thing they've ever done. A high-school teacher proceeds to do just that, setting off an unsettling and potentially deadly chain of events in Onur Tukel's newest effort, his second at Tribeca in as many years. Last year's cult item, Summer of Blood, was a bonafide microbudget success story, and for a director with a comedic sensibility that feels poised to reach broader audiences, this may prove to be a breakout film. — Brandon Harris
Men Go to Battle. Director Zach Treitz's feature debut, co-written by Kate Lyn Sheil, involves a pair of brothers, Kentucky farmers scraping by at the dawn of the Civil War, who are torn apart by pride and the encroaching specter of violence. Competing in the World Narrative Competition, Men Go to Battle was lensed by the unfairly unheralded Brett Jutkiewicz, who along with Treitz were key collaborators on the Safdie Brothers earliest films. Count me intrigued. — BR
Havana Motor Club. Former 25 New Face in Independent Film Bent-Jorgen Perlmutt's competition doc excavates Cuba's once vibrant auto racing subculture. Late in the Bastista era, Havana played host to a world class Grand Prix, but auto racing was tarred as elitist and driven underground by Castro and has remained largely taboo on the island. Perlmutt, one of the most adventurous young documentarians working, has spent years profiling a half dozen of the illegal sports' most dogged, promising practioneers. Premiering just as the political barriers that have long plagued the Communist country are starting the fade away, the film couldn't be more topical. — BR
MA. In her short films The Audition and Prom Night, Celia Rowlson-Hall playfully deconstructed the cinematic, subordinate tropes of the clawing actress and Hollywood blonde. With MA, her feature-length debut, Rowlson-Hall sets her sights on a riff of Biblical proportions: a modern-day take on the pilgrimage of the Virgin Mary. Conveyed entirely through dance. With no dialogue. It's screening at PS1 as a work-in-progress, as it did in December at Borscht 9. — Sarah Salovaara.
Uncertain. The Ross Brothers' Western isn't the only doc on this year's circuit about a border town under economic and physical duress. Anna Sandilands and Ewan McNicol's Uncertain concerns the titular town that straddles the states of Texas and Louisiana, where a once fruitful, natural habitat is rearing its ugly head, and threatening the livelihood of the locals. With a population of just 94, Uncertain proves a bullpen of memorable characters who fight and resign in equal measure to forces beyond their control. — SS
Democrats. An unprecedented probe of Zimbabwe's languishing dreams of democracy, Camilla Nielsson's Democrats portrays two rival politicians charged with creating the country's new constitution. After 30 years under the dictatorship of Robert Mugabe, the weight of the task is considerable, and Nielsson juggles that burden alongside insightful portraits of Zimbabwe's old, conservative guard and the forward-thinking opposition party, to forge a scrutinizing look at the quagmire of thwarted governance. — SS
Tom Swift and His Electric Rifle. Years in the making, Nick Berardini's debut feature documentary Tom Swift and His Electric Rifle examines the troublesome fallout from the invention of the TASER. It's a trademarked proper noun, not a generic catch-all for the stun gun, with the specific intended goal of alleviating fatal police violence. As Berardini's thorough journalism presents at an especially timely moment, idealistic intent hasn't been matched by violent reality. — Vadim Rizov
Everybody in Our Family. In early 19th-century Romania, a policeman is hired to find a runaway Gypsy slave. Taking to the trail with his teenage son, he descends into a world in which every conceivable form of bigotry and oppression is the openly expressed norm. Following up on his nerve-wracking black comedy Everybody in Our Family, Romanian director Radu Jude's quasi-Western is his most ambitious film yet, a 35mm black-and-white road trip through a cruel past with clear resonance for the present. — VR
Stranded in Canton. With its dreamy cinematography and nuanced sound design, Swedish artist Måns Månsson has crafted an entrancing work of hybrid cinema. Lebrun, a Congolese entrepreneur with more optimism than business savvy, has found himself stuck in a state of Lost in Translation-like limbo, settled into a kind of permanent jet lag as he attempts to close on a deal to ship Chinese-made political T-shirts back home to Kinshasa. Only problem is the shirts have taken so long to produce that the DRC elections are now over, and he owes the Lebanese owner of a storage facility in Guangdong Province a ton of money. Between biding his time with the self-assured Sylvie, another African in Canton with the street smarts Lebrun woefully lacks, and brainstorming with his Chinese assistant Frank about how to market a warehouse's worth of useless shirts (to hilarious effect), Lebrun hangs with fellow expats and hits the karaoke bars while hoping for a miracle. The sound of water as Lebrun hand-washes his clothes in his coldly nondescript room mingles with a lulling Chinese tune. A scene with this hustling Congolese lead speaking a mix of English and French with his Chinese employee flows effortlessly into the sound of Lionel Ritchie's "All Night Long," and a scene in a karaoke bar. Subtle madcap alternates with lovely poignancy, which renders Stranded in Canton an acute portrait of global economics wrapped inside a truly inventive arthouse film. — Lauren Wissot
Jackrabbit. A lo-fi genre yarn with an obsessive appreciation for analog, first-time feature filmmaker Carleton Ranney's Jackrabbit pays homage to science-fiction films of the '80s while providing a complex, mind-bending narrative puzzle. Given its extremely detailed, multi-layered screenplay — as deft as it is compelling — Shane Carruth is a clear narrative influence. While the film will be appreciated for its adoration of '80s technology (the main characters are hackers determined to break free from an oppressive society that's literally reset itself back to technological infancy), there's an accessibility to the material that adds a welcome humanity to the proceedings. Hailing from Texas, Ranney proudly shot his feature in the Lone Star State, and cinematographer Ashley Connor knows how to shoot its dry terrain: the film's closing moments are a classic western stand-off for the ages. — Erik Luers