Back to selection
AJA Drops Price of 4K CION Camera Significantly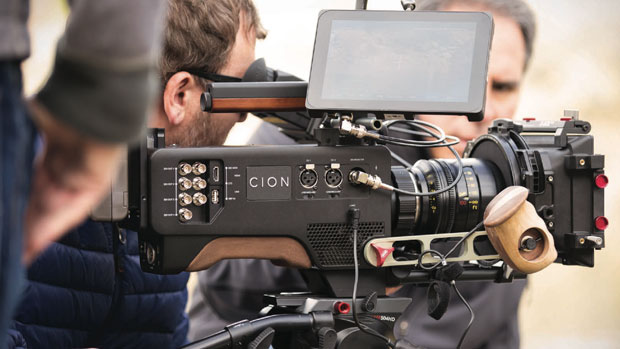 AJA has slashed the price of their 4K CION camera in half to $4995. It's part of their "Summer of Savings" promotion, which they say will run through the end of the summer. Other price reductions announced: Ki Pro Quad (their 4K recorder) is now $2995, Ki Pro Mini is $1495, Ki Pro is $2495, and Ki Pro ND is $2295. AJA customers who purchased the CION production camera before May 26, 2015 will receive two AJA Pak 512 SSDs for free, directly from AJA (valued at $2495).
AJA is well known for their video hardware, and the Ki Pro file-based recorder, but they only entered the camera market last year with the CION camera. I went to a demo of the camera a few months ago, and it's an interesting design; the camera body looks large but it's actually comparatively light. AJA attempted to "do it right" by building just the camera, using standard formats and connectors, as well as standard attachments for EVF, batteries etc. There's one limitation in that you must use AJA's Pak Media for recording; AJA says that it's the only way to guarantee performance. Also, the camera price does not include an EVF. Video is recorded internally using ProRes, or the camera can output a RAW signal.
Despite being in existence for several years, AJA is but the latest entrant in the camera market, where it can take a couple of years to make a name for yourself.
Blackmagic is competing heavily at lower prices; the 4K Production camera is $2,995, and the URSA Mini is $2,995, while the URSA 4K is, interestingly, $4,995 (for the EF mount cameras). Blackmagic also announced a 4.6K version of the URSA at $6,995, which isn't shipping yet, though you can now see a sample video shot with the 4.6K sensor on their URSA product page.
Sony meanwhile has the PXW-FS7 ($7,999), a camera that Sony claims has been so successful they have had to double production capacity to meet demand.
Finally, Canon is also a serious competitor in the sub-$10,000 market, though not with the C300 Mark II 4K camera, which is priced at $15,999. However, the original C300, which has proved very popular with filmmakers even though it's "only" an HD camera, can now be bought for $6,999.