Back to selection
Mountain Men: Bexar County Filmmakers Blake Pickens and Stephen Love at the Sundance Creative Producing Lab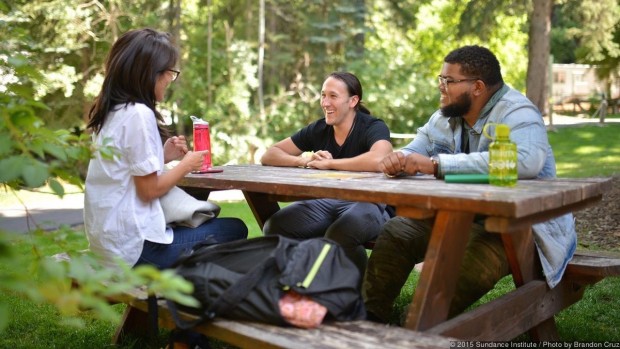 Creative Advisor Gina Kwon with Blake Pickens and Stephen Love Jr. (Photo: Brandon Cruz)
Blake Pickens and Stephen Love traveled last week to the mountains of Utah where they took part in the Sundance Creative Producing Lab with their project Bexar County. To be directed by Catherine Grieve, the film is described by Sundance like this: "In sunny San Antonio, Texas, where nothing ever changes, a town is turned on its head when a delusional Texas housewife accidentally poisons her son's fiancée, learning that killing people is an efficient way to solve her problems." Below, the two producers recount their experience at the Lab as well as the Creative Producing Summit that followed.
Two years of development, five weeks into prep, and three days before principal photography on our first feature, and we were bound for the Sundance Creative Producing Lab. Our film, The Land, would have to wait for us to return home, hopefully stronger, smarter and better looking than when we left.
Honestly, it was a lot like we left our firstborn child to be raised by someone else. We knew the people raising the child, and we trusted them, but we felt a bit like deadbeat dads. However, going to the Producing Lab was the best thing we could do for the movie and for our careers.
We left on a Monday morning from the Cleveland airport, which turned out to be trickier than we could have ever imagined. The airport itself was undergoing significant construction, and only one security checkpoint was operating. Surely we thought we'd miss our flight. Luckily we had been training for this moment and were able to sprint to the plane just before the doors were closing.
Once we boarded and had our bags safely stowed, it finally sank in that we were actually on our way to the Sundance Creative Producing Lab! All we could do was sit and smile at each other from across the plane.
After arriving in Salt Lake City we were shuttled to the resort. Driving up to the mountain where we would be staying was absolutely glorious and inspiring. Our home for the next week would be in this pristine place away from the hustle and bustle of our daily lives.
Upon check-in we were given a quick rundown of how things would play out for the next week, complete with a detailed schedule and our housing arrangements. We quickly realized that cell phone signal was a lost cause, making communication with our team shooting in Cleveland effectively impossible. Understandably, we were terrified at what this might mean. However, it was actually quite beautiful to be off the grid. We felt like real mountain men; we even wore flannel a couple of times and tried to grow beards.
Immediately we were off to the races. Orientation, meet-and-greets, receptions, dinners and case studies were all on the docket for the first day. It was also the first day of many days in which we would pitch our projects and ourselves. At first, we weren't sure how much we should disclose about ourselves in the pitch, but we were quickly empowered to share.
The project we brought to the Lab is called Bexar County, from co-writer Dylan Slocum and director/co-writer Catherine Grieve. It's a dark comedy about a delusional Texas housewife who discovers that killing her problems is the best way to solve them. That's a good pitch, right? We thought so. That was until our amazing advisors began to shape and hone our pitch into what it is now.
Each morning thereafter began with a buffet-style breakfast, which was great for the taste buds, not so great for our silhouettes. The first full day was all about story development. Beginning with group sessions, our advisors challenged us on our projects and as a group sorted out ways to address our specific challenges. We spent most of our time exploring our protagonist and how to ground her in the crazy world in which she lives. Our situation is unique, as you have to root for our main character while she is effectively killing people in her community. Obviously challenging, but our advisors were able to help us conquer the challenge. Creatively all of our intentions were pure, so hearing our advisors really dig into the material with care meant a lot to our script's development.
Our first one-on-ones were with Creative Advisors and producers Lynette Howell and Jay Van Hoy. Our conversations were about life, relationships and navigating obstacles we are sure to face. Since we are producing partners, we know about how our partnership works, but beyond that we also form partnerships with other producers and producing teams. These one-on-ones were a great chance for us to speak frankly about our challenges and to get advice from people who have already been in our shoes and successfully navigated our situation. We came away from them well equipped to tackle the challenges that faced us on both The Land and Bexar County.
The next two days were a flurry of strategies for effective communication, navigating the marketplace, and of course – pitching! We broke down finance for each individual project and how to go about presenting our financing plan to potential partners. There was extensive game planning on how to move forward, leaving us feeling ready to be released into the real world.
Just when our minds were ready for a rest, the Lab came to a close and our small bubble was expanded to include the other filmmakers and panelists coming for the Producing Summit. Our small family became a large family. The Summit was equally as intense as the Lab, and we were rushed straight into pitch-mode. However, by this point we were completely prepared thanks to our amazing advisors, Lynette, Jay, Paul Mezey, Gina Kwon, Lindsay Doran, and Matt Ross during the Lab. We pitched one-on-one with industry vets and in large groups with our peers, each time tailoring and honing our pitches. We were Usain Bolt coming into the homestretch, only better and faster.
To close, we feel like we need to talk about the night of the dance party. If there was a time to get face time with industry leaders, it was on the dance floor. What we found out that night is that dancing=networking. Luckily we are great dancers, and we feel that anyone on the dance floor that night would agree – including Michelle Satter, who has some pretty sweet moves!
We came down the mountain with a new inspiration and confidence that we are on the right path. We spent two years in the Peter Stark Producing Program at USC, but this week was like going through a second masters program in super-producing. There is still so much to learn!