Back to selection
Looking Both Ways: Tales of Future Past at Sheffield Doc/Fest 2014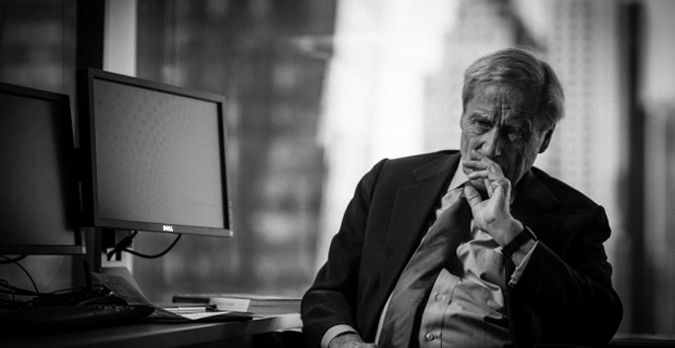 Attacking The Devil: Harold Evans and the Last Nazi War Crime
Talent, money, and press descended on the otherwise quiet northern English city of Sheffield last week for the 21st edition of Doc/Fest — officially named the Sheffield Documentary and Digital Media Festival. With its mix of screenings, live events, music, and genuinely fantastic parties, this five-day celebration earns its reputation as the Glastonbury of documentary festivals (albeit without the mud). The analogy is encouraged by the seemingly endless days (the sun doesn't set until 11pm), as well as some remarkable outdoor venues. These include a giant cave affectionately known as the Devil's Arse, where I caught an evening screening of Godfrey Reggio's Visitors (bats squeaking along to the Philip Glass score) and the sprawling grounds of the Chatsworth estate, which hosted the premiere of Kim Longinotto's terrific BFI archival doc Love is All.
Famous for its steel industry and a music scene that gave birth to Warp Records, Pulp, and the Arctic Monkeys, this provincial Midlands city might be an unlikely locale for what is now a major international showcase. After spending its formative years as a strictly local affair focused on British production, the festival has come of age under the guidance of Heather Croall, the festival's director since 2006, whose goal was to transform Doc/Fest into a "broad church of documentary" by embracing all styles and platforms of non-fiction, and creating a viable marketplace that now boasts some 350 buyers.
As it happened, among the unusual venues in Sheffield's downtown commandeered by the festival was a 16th century chapel, where I attended a panel called "From Fact to Fiction," which was about how not to get screwed when Hollywood wants to turn your doc into a blockbuster. The iconic 2,000-seat art deco City Hall provided a grand backdrop for the enthusiastic home-town premier of Florian Habicht's Pulp: A Film About Life, Death, and Supermarkets, which opened the festival. The music doc is as much a portrait of Sheffield as it is the band, and it seemed like the entire cast was in attendance, from Jarvis Cocker to all the local personalities interviewed in the film.
The media was in many ways the hot topic at Doc/Fest. Laura Poitras received the festival's Inspiration Award and the Special Jury Prize (the top award) went to Jacqui and David Morris's somewhat misleadingly titled Attacking the Devil: Harold Evans and the Last Nazi War Crime. The film details the horrifying story of Thalidomide, a drug marketed to pregnant women in post-war Britain that caused devastating deformities in children. As editor of The Sunday Times, Evans spearheaded a controversial and ultimately successful decade-long media campaign to win compensation for the victims and uncovered the drug's origins as an antidote to nerve gas developed by the Germans in World War II and tested on Jews in the camps. The film's postscript, in which Evans offers key testimony against the tactics of News of the World reporters in the phone-hacking scandal, underscores what happens when journalism is guided by sales rather than moral imperative.
It was by chance that I saw Attacking the Devil immediately after catching festival's only screening of Peter Wintonick and Michael Achbar's 1992 classic Manufacturing Consent: Noam Chomsky and the Media. If the former showcased the media as agent of social justice, the latter exposed its complicity in nefarious corporate and governmental agendas. The film was screening as a tribute to Wintonick, the beloved Canadian filmmaker, programmer and mentor who died earlier this year. The Wintonick Award, which the festival created in his honor to recognize media activism, went to first-time filmmaker Diana Whitten's Vessel, a vivid portrait of reproductive health advocacy group Women on Waves.
Manufacturing Consent was an unexpected highlight for me and should be mandatory viewing for any documentary filmmaker. Produced by the National Film Board of Canada, the film brilliantly melds the medium and the message of the famed linguist's critique and is full of playful passages, such as when we see the New York Times laid out page by page on the floor to demonstrate the ratio of advertising to reportage. In many ways, the film is a meditation on the condition of dissent and the labor of activism. In interview after interview, we see Chomsky tirelessly arguing against the mainstream and taking heat, most dramatically with William Buckley threatening to punch him. Chomsky may disavow the cult of his own celebrity, but the film reveals him to be a compelling and highly watchable personality.
As with Wintonick's film, some of the most fascinating discoveries at Doc/Fest were rediscoveries. This was certainly the case with pioneering gay filmmaker Peter De Rome, a mild-mannered English gentleman who, in the 60s and 70s, began channeling his fantasies into playfully erotic Super 8 movies that often featured men he seduced on the street and filled scenes of explicit sex. (Keen to avoid arrest, he would bookend each film with "decent" imagery to dupe the Kodak developers.) Titles like Hot Pants, Double Exposure and Fire Island Kids suggest De Rome's signature mixture of tongue-in-cheek dreaminess.
As revealed in Ethan Reid's Peter De Rome: Godfather of Gay Porn, which was receiving its world premiere, the dandyish De Rome was a kind of gay Zelig who participated in civil rights actions in Mississippi and befriended Warhol and John Gielgud before giving up filmmaking during the AIDS crisis. Too racy for the mainstream and too narrative for the avant-garde, De Rome's films were in a category of their own, which may be why they languished in his apartment for the last quarter century. Their depictions of happy gay men unburdened by self-loathing—many of whom are African American—made these films radical in their day and feel contemporary in their non-ideological queerness.
De Rome, now 90, may finally get his due, and his outlier story resonated with two other biographical films playing at Doc/Fest that left a strong impression: Nancy Kates's Regarding Susan Sontag and Allison Berg and Frank Keraudren's The Dog. The latter is a portrait of John Wojtowicz, the bank robber immortalized in Dog Day Afternoon for whom that incident was merely one chapter in life filled with outlandish drama. Sontag and "the Dog" couldn't be more different as people or as cultural figures, but the films reveal them both to be individuals driven by a superhuman commitment to personal vision and to self-invention—qualities that made them controversial figures both within and outside the gay community.
Of course, films constitute only a fraction of what goes on at Sheffield. Curious about a presentation titled "East Village Preservation Society," I wandered into a lecture by Richard Metzger, editor of the blog Dangerous Minds. He showed several videos by Nelson Sullivan, who documented New York's club scene in the '80s and '90s in some 1,900 videos and became so dexterous holding the camera and walking that his videos often feel like choreographed Steadicam shots. Maybe it's nostalgia, but in the context of a documentary festival, it was nice to see life captured spontaneously and artfully without an agenda. Then again, here lie the seeds of the selfie.