Back to selection
Eight Recommended Short Films at Sundance 2016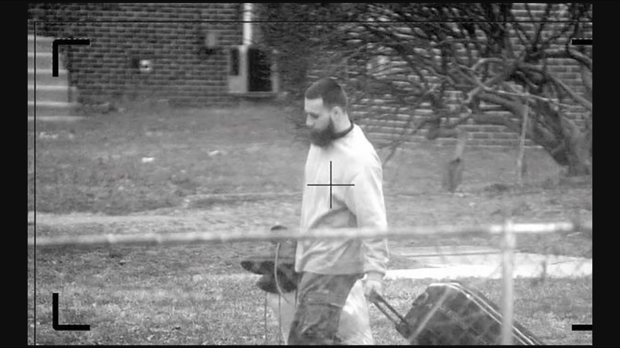 Razan Ghalayini's Entrapped
Features premiering at the 2016 Sundance Film Festival tend to receive the most media attention and press coverage, but there are a number of short works making their debut this week that deserve equal or greater consumer attention. Documentary filmmakers trying their hand at narrative work, established producers getting behind the lens for the first time: many of the shorts in this year's Sundance lineup feature filmmakers stepping outside of their comfort zone to expand their careers and diversify their storytelling output. The short form is an ideal place to try new things, of course, and it's encouraging to see filmmakers of all different backgrounds being welcomed to the party.
Below, I give my recommendations for eight shorts premiering this weekend that I've already had a chance to see and that are very much worth your time and attention.
Affections
Best known for her performance in the 2014 SXSW Grand Jury Prize-winning feature Fort Tilden, actress Bridey Elliot makes her directorial debut with Affections, a self-starring comedy that finds the humor in one conflicted woman's battle against relationship ennui. Desperate for an emotional connection with someone other than her perfectly acceptable but buttoned-up white collar boyfriend, our lead character contemplates the act of cheating and finds her beau in the guise of a homeless man who's looking for little more than a car ride. Presenting a lighthearted situation that finds unexpected emotional weight, Elliot's screenplay deepens the often frustrating realization that wanting more and accepting less is not necessarily a surrender to relationship lethargy. Composer Kristen Reilly's melancholic original score only further massages the theme of searching for satisfaction in rather confusing times.
Dirt
Known for his riveting documentary Evolution of a Criminal, an award-winning debut feature that examined how and why the filmmaker turned to potentially life-crippling crime early in his youth, 25 New Face Darius Clark Monroe now sets his sights on fiction filmmaking with Dirt. A wordless, Texas-set mystery that's contemplatively elegiac, Dirt finds a solemn young man (played intensely by theater actor Segun Akande) digging a grave in an empty field for a lifeless body he's had wrapped in plastic within the trunk of his car. Anchored by an impressively shot  uninterrupted take (the DP is Daniel Patterson) in which the gravedigger, having finished his work, silently recalls his actions as the camera observes his regretful face from outside a car windshield, the film's strong visuals are complimented by subtle sound design; there's nothing quite like hearing a heavy, plastic-covered body being dragged across open land.
Dogwalker
The directorial debut of 2012 25 New Face Kim Sherman, Dogwalker is morbid, dark and all the better for it. Sherman's film is a very compelling tonal oddity, a day in the life of a curious young female dogwalker (Sarah Hagan) struggling with the fact that one of the canines she looks after has dropped stone cold dead. After a series of impulsive decisions, our title character packs the deceased dog into a suitcase and hops onto Chicago transit, where she befriends a seemingly kind gentleman (played by Keith Poulson). A dark comedy that balances empathy with queasiness, Dogwalker concludes by featuring its lead actress worse-for-wear, and the extended closing shot is humorously poignant.
Entrapped
An investigative documentary report into an Islamaphobic American mindset and the wrongdoing of the FBI, Razan Ghalayini's Entrapped dives deep within a web of governmental set-ups, slanderous misinformation, and wrongful imprisonment. A Circuit City employee found suspicious material within a Muslim family's Pocono vacation footage, dropped off for a format transfer. The employee took note of a section of the tape in which the men used firearms on a shooting range while supposedly reciting religious chants, and they become suspects in plotting to cause harm to a military fort. Over the course of a year, FBI informants attempted to drag out incriminating evidence that could put these innocent men, deemed Islamic radicals in the media, behind bars. A production of The Intercept (with special thanks to Laura Poitras in the closing credits), the film makes it painfully obvious that these informants are trying to shape an evil that just wasn't there. Entrapped proves the power — and often the complexity — of personal archival material.
Her Friend Adam
Jealously and untrustworthiness run rampant in Toronto-based filmmaker Ben Petrie's Her Friend Adam, a apartment-set slow burn that features bickering characters who'd fit right at home in Who's Afraid of Virginia Woolf: The Early Years. When a neurotic boyfriend (played by Petrie) stops by his girlfriend's apartment, glances at text messages on her cell phone and begins to question her faithfulness, all hell breaks loose. Graphically intense arguments spring up as the couple fights over whether or not a fellow male friend is straight (and thus a threat to the boyfriend) or gay (and thus not). Played with ferocious intensity by actress Grace Glowicki, the girlfriend uses her lover's accusations as fuel for ridicule and emotional comeuppance; when his girlfriend mocks his insecurity by touching herself and faking an orgasm, the young man is forced to just sit there and take it. Quite skilled at amping the claustrophobic tension to a riveting degree, Petrie excels at extracting the raw uncomfortableness of a situation and allowing it to linger.
How to Lose Weight in Four Easy Steps
There are many reasons why one may grow determined to hit the gym and shed a few pounds, but there is perhaps no better motivation than the sight of your ex-girlfriend moving on with her life without you in it. Taking the form of an instructional, self-help guide, Benjamin Berman's How to Lose Weight in Four Easy Steps provides an amusing look at a mattress salesman (played by Saturday Night Live's Beck Bennett) who, after a bad breakup, decides to eat healthy and hit the gym. Narrated by Bennett at a speed that mirrors the pace of the film's breakneck editing, the film endearingly studies how grief can subsequently lead to a positive outlook on life. Inspired by screenwriter Aaron Bleyaert's own desire to get in shape after a breakup, the film is sure to gain attention, both due to Bennett's dramatic weight loss apparent throughout the shoot and for a cameo provided by a certain late night talk show host.
The Procedure
Quite appropriately in the festival's Midnight section, Calvin Lee Reeder's The Procedure features a helpless man captured and subjected to a unique eye exam. Strapped down to a table as his left eye is clamped open Clockwork Orange-style, the sad sack lays helplessly as a man's bare posterior slowly descends from the ceiling to deliver a flatulent burst of air onto the prisoner's openly exposed pupil; if you've ever gone to an eye doctor and received a blast of pressure straight to the eyeball, you can only begin to realize the grimness of this chap's predicament. Cold and clinical, sterile and dirty, The Procedure is humorous in the way it plays on the familiar tropes of torture porn while not being afraid to revel in the grossness and absurdity often found in the unsettling genre.
The Send-Off
An inquisitive observation and examination of one American high school's much anticipated prom night, Ivete Lucas and Patrick Bresnan's The Send-Off is a documentary that places its southern subjects center stage. Set in Pahokee, Florida (population: 5,962, more than half of which is African-American) on the day of the Pahokee High School prom, the film finds both the nervousness and solace in the traditional ceremony that requires young men and women to dress up and appear older than they are. Receiving a haircut at a local barbershop or applying layers of makeup across their faces, students are shown preparing for the night of their life with skilled precision. They're quite comfortable in front of Lucas and Bresnan's camera too, as well they should be: before heading to the dance hall, each date drives into a local field and poses for pictures, family and friends surrounding them with camera phones and iPads like determined paparazzi. Filled with establishing shots that capture Pahokee's peaceful desolateness, The Send-Off is unassuming in the way it depicts the private details of a major public event that allows all to partake in its glamour.