Back to selection
"It Found Its Way to Me Exclusively Because of the Title": Alexander Payne on Nebraska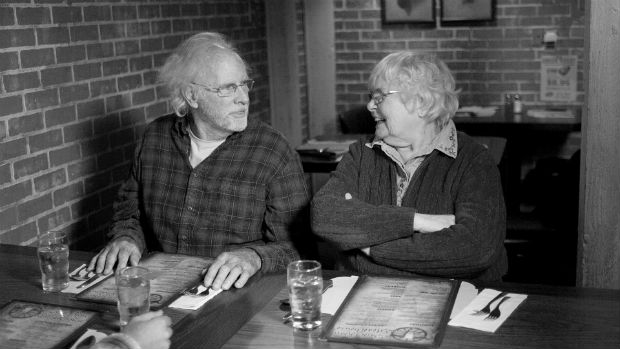 If Bob Nelson's screenplay had been called Iowa, Alexander Payne would have never made Nebraska. "It found its way exclusively to me, because of the title," said the Omaha-born director before a recent sold-out audience at the TIFF Bell Lightbox in Toronto. Indeed, Nebraska could be mistaken for one of Payne's scripts, since it shares common story elements with The Descendants, Sideways and About Schmidt: a man hits the road to find himself accompanied by a buddy, uncovers painful yet funny revelations about his past, and arrives at peace with his imperfect life. "Who am I really?" asks his heroes.

In Nebraska, Bruce Dern plays Woody, an old alcoholic from Montana who believes he's won $1,000,000 from a piece of junk mail sent from Lincoln, Nebraska. Seizing a chance to bond with his estranged dad before his old man's mind or body vanish forever, his underachieving son (played by Saturday Night Live's Will Forte) drives Woody to Lincoln. They stop off in Woody's hometown in the middle of Nebraska where Woody blabs to old friends and family that he's a millionaire. Suddenly, everybody wants Woody to repay his ancient debts, and their encounters expose the old man as a gullible, womanizing drunk to his son.
"I liked the story and I liked the humour in it," said Payne.  Nelson's script is full of laughs, but Dern and Forte create pathos as they try to bridge the aching gulf between alcoholic father and sober son. Woody is a loser, but, remarkably, Dern creates sympathy for him. And though he's a sketch comic, Forte never goes for gags in Nebraska.

"I liked his believability, his simplicity, sweetness [and] damage," said Payne who cast Forte from an audition tape. "He felt like someone I'd bump into Omaha," Payne's hometown.
The only comic role is June Squibb's tough, long-suffering wife who speaks her mind, whether it's swearing at her greedy in-laws or flashing her crotch at the grave of an old suitor. Squibb, Dern and Forte deliver top-notch performances in Nebraska.
"I like to get laughs," said Payne who doesn't distinguish his "earlier, funnier films" (Citizen Ruth, Election) from his more recent "dramas" (The Descendants). "I hate to put labels on them," replied Payne. "They're just movies." Then again, he hopes that his films are "deepening" as he ages, just like his idol, the Russian author, Anton Chekhov. "His work continued to deepen until his untimely death, but always with a comic sensibility."
Nebraska is Payne's most serious film to date, and the black-and-white cinematography adds another somber layer. "I didn't want more time to lapse in my life without making a black-and-white film," Payne declared to scattered applause.  "I felt it was time, and this was the story for it. The screenplay cried out for it."
DP Phedon Papamichael's black-and-white images beautifully capture Nebraska's austere vistas, dusty small towns, and the grizzled whiskers on Dern's hardened face. Payne admits that given the low budget, he limited more time-consuming dolly shots and crafted more stationery images, which gives Nebraska a meditative, sometimes sad feel. For inspiration, Payne drew upon Jim Jarmusch's early films, which also featured deadpan humor, and the work of Shohei Imamura.
The emphasis on landscapes in Nebraska is typical. Many of Payne's films are road pictures and they are renown for their profound sense of place. Payne's heroes travel to find themselves so they can truly come home. "These days when I'm deciding whether to make a film or not," explained Payne, "I mentally audition both the emotional story, which in one respect can be told anywhere, and then where would it be told."
He admires the films of Anthony Mann (El Cid, The  Glenn Miller Story), in which the faces of the heroes are contained within the same frame as the landscapes, for the way in which "the shifting story behind the landscape reflects the psychological journey of the protagonist."
In Nebraska more so than any other Payne film, the wide-open countryside is breathtaking, but also yearning and empty. They perfectly complement Dern's long, melancholic gazes of  a man who's staring into death. Though funny and entertaining, Nebraska is Alexander Payne's most haunting film yet.