Back to selection
Letterboxd, the Social Network for Cinephiles, Finally Has an iPhone App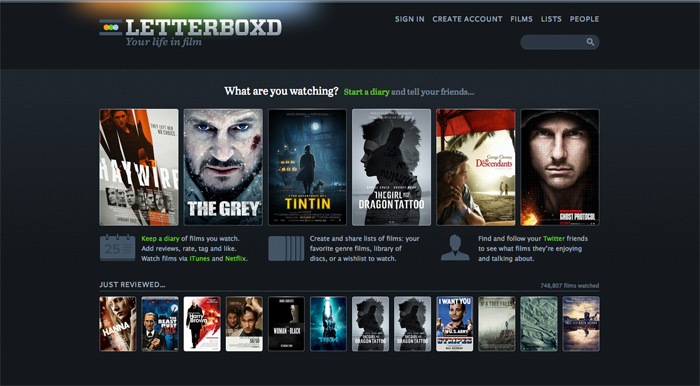 Film fans, film journalists and all varieties of film lovers post reviews and get into passionate debates about their favorite films on Facebook, Twitter and other social networks. But Letterboxd is the only social network exclusively for sharing film reviews and recommendations.
With the introduction of an iPhone app, the popular social network from New Zealand has just become an even more essential resource.
For newbies, when you log into the free service, you'll be asked "what are you watching?" and then invited to keep a film diary and create and share lists of your favorite films. Follow people and you can see which films they've seen and read their reviews. You can also create a watch list of films you want to see.
Like Goodreads but for movies, Letterboxd serves as a recommendation tool so you can discover new (or old) films. Check out lists such as 1001 Movies You Must See Before You Die, Vulgar Auteurism or 100 Great Movies Under 100 Minutes.
As on Facebook, you've got a profile page on Letterboxd where you can display your favorite films and there's also a newsfeed so you can keep track of who has seen what. You can follow your favorite film critics and get their take on the latest releases.
Though it's by no means intended for film industry professionals, you'll find your fair share of film critics and indie film folks on Letterboxd. Below you'll find some suggestions for who to follow (note that there seem to be many more men than women on Letterboxd).
Film critics/journalists: David Ehrlich, Mike D'Angelo, Tasha Robinson, Matt Singer, Scott Weinberg and Filmmaker's own Vadim Rizov, among many others
Filmmakers: Robert Greene, Chad Hartigan, Pat Healy, Bill Condon, John Carpenter and Roger Avary to name just a few
Film industry pros: Alamo Drafthouse founder and CEO Tim League, festival director and programmer Tom Hall and Film Society of Lincoln Center's Eugene Hernandez