Back to selection
Bringing Web Series Butch and Nellie Take the Rap Game to Independent Film Week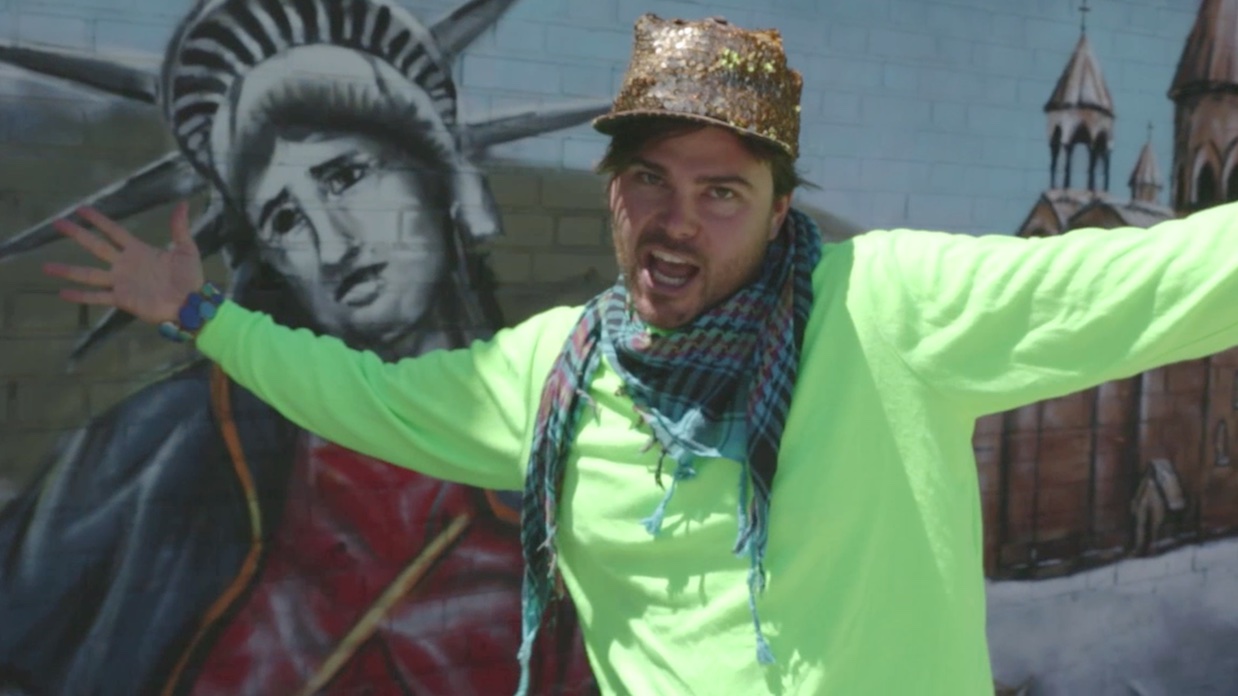 Conor Fetting-Smith in Butch & Nellie Take the Rap Game
It's 9:20 pm on Friday, September 16th. I'm on the tarmac of Burbank's Bob Hope Airport, just two Z-Quill and one red-eye flight away from my first IFP Film Week. My luggage occupies the last available overhead space. Inside are two stacks of business cards for myself and my producer Lindsey Villarreal, a raincoat (I'd heard it rains outside of L.A.), and a gay pride cape (costume for a homo-hip-hop performance on Wednesday night). Before I know it, it's take-off time for me and my short-form episodic series Butch & Nellie Take the Rap Game.
I first became involved with IFP in 2007 when I worked for the organization for a little under a year. I fielded calls about the Gotham Awards by day, and by night I performed around the city with my best friend in our two-man gay rap group. Since then, I moved to LA to attend graduate film school at USC, hoping to take those songs we wrote and turn them into something cinematic. I embellished our story into a fictionalized buddy comedy and wrote it as a feature, then a short film, then a half hour pilot, and finally it found its legs as web series.
Over the past couple years, it's been clear to me that filmmakers were carrying on the traditions of independent cinema on smaller screens and finding their audience on the web. I found this to be particularly true for stories about Queer people, who lack representation in traditional television. I took inspiration from series like The Outs, F to 7th, Go-Go Boy Interrupted and Little Horribles as I fashioned my gay rap saga into a web series.
We began production on Butch & Nellie Take the Rap Game in April of 2015, and in November our project was accepted to the first ever IFP Screen Forward Labs for serialized content. We spent a packed week in Brooklyn, and heard from the web's leading distributors, filmmakers who'd found success online, media strategists and thinkers leading the conversation about new media. The filmmakers left with allies in one another and applied what we'd learned to our own projects.
As of today, Monday, September 19th, meetings are in full-swing between industry and filmmakers across various forms of cinematic content: documentary and narrative features, episodic series and narrative screenplays. Our goal for Butch & Nellie Take the Rap Game is to find distribution partners for our first season on the web, and production partners for season two on the web or TV. We've found that discussions with industry and our fellow filmmakers have gravitated not just to the needs of our specific projects, but to the needs of the industry at large. It's clear that filmmakers and industry alike are adapting to shifts, not all of which fall in the doom and gloom category. It's been exciting to be a part of IFP's venture into new platforms for filmmakers, and we're hopeful that this world that we're a part of will make room for new stories from passionate filmmakers who've traveled from around the world to spend this week in Brooklyn.