25 NEW FACES OF INDEPENDENT FILM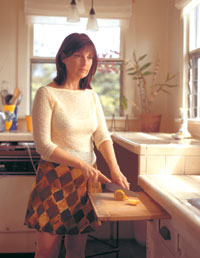 PHOTO: MARIO DE LOPEZ
Kat Smith — writer/director
"I guess I just never had the impulse to direct someone else's script," says the prolific Kat Smith, explaining her contentment with the writer/director mantle. "It seems like directing is a natural extension of the writing process." Smith has been writing and selling scripts for more than a decade now, even though she has wanted to be behind the camera from the very beginning. She finally got her chance to direct with The Clearing, a short film developed at the American Film Institute's Directing Workshop for Women, which went on to a long life on the festival circuit, the Independent Film Channel and various PBS affiliates.
One of six participants selected for the 2001 Independent Feature Project/West's Directors Lab, Smith is currently packaging her next project as writer-director, El Paso, a study of various people she met while traveling along the U.S.-Mexico border, and writing a script for Starz! Entertainment based on the true story of a piano tuner from Evanston, Ill., who brought a groundbreaking lawsuit against the American gun industry. The author of numerous screenplays, Smith's previous work includes Into the Land of Nod, her first feature spec sale, originally acquired by Warner Bros. with Robin Wright Penn to star, about the relationship between a white woman and a Jamaican sugarcane cutter set in Belle Glade, Fla.; The Lady's Transgression (for Universal) about a 16th-century Hungarian countess, Elizabeth Bathory, who was tried for the murder of 600-some women in her court; Crazy Love, a comedy for Spring Creek based on Pedro Almodovar's Tie Me Up! Tie Me Down!; and a Jean Seberg biopic for Jodie Foster's Egg Pictures.
"I never write autobiographically," Smith says when describing My Blue Period, a tragicomic study of a young woman's journey through the world of pornography in contemporary L.A., which she is currently in negotiations to direct. "I was the type of girl who hid behind the locker door when I changed clothes in gym class. When I write, I just like to learn something new every time and to immerse myself in a world that maybe I'd never encounter otherwise, whether that's hanging out on porn sets or with coyotes on the U.S.-Mexico border or with Jamaican cane cutters in Florida."
Smith is now in the process of reacquiring In the Land of Nod so she can direct it herself. – Chuck Stephens
[contact: Jon Klan, agent, (310) 278-0178]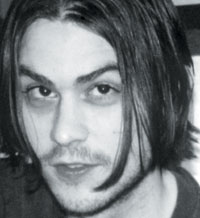 PHOTO: PORSCHA RICKETTS
Don Hertzfeldt — writer/director
Animator Don Hertzfeldt gives a new twist to the maxim that the shortest distance between two points is a straight line. Herzfeld wanted to be a filmmaker, indeed an animator. Hertzfeldt couldn't really draw. So he turned to stick figures to propel his art. For Hertzfeld, "Stick figures are equally both a necessity and an aesthetic choice. They are a necessity because I really just can't draw much better than that. But it's a clear aesthetic choice as well, because the minimalism first and foremost serves the stories."
Herzfeldt's career has long shown a pragmatic approach to the aesthetics. "I went to U.C. Santa Barbara for film school, a top school in the country for film theory, analysis and history, but with a minimal emphasis on production. Nobody there used the equipment much, so I had the 16mm animation camera all to myself and made four films in four years." Those four films – Ah, L'Amour, Genre, Lily and Jim and Billy's Balloon – demonstrated Hertzfelt's talent for using the inherent preciousness of the animated form for his own bitter and hilarious ends. In his 1996 Genre, Hertzfeldt uses the convention of the congenitally cute bunny rabbit to stage an artistic war between creator and subject. And his 1998 classic Billy's Balloon takes the most basic element of a children's film –— think Albert Lamorisse's 1956 kid classic The Red Balloon – to create a sadistic little gem.
His post-college film, Rejected, a series of absurd scenarios rejected for different commercial and promotional projects, creates a metaphysical whirl from what starts as a fairly straightforward joke. And it is clear from Hertzfeldt's own explanation that the film was never a simple joke: "Rejected is more or less a wild and angry howl at the endless assimilation and death of art in commercial culture; when the art loses itself and the artist loses his reality." We can only hope that with growing world attention and an Oscar nomination this year for best short animated film, Hertzfeldt will not lose his own reality. – Peter Bowen
[contact: www.bitterfilms.com]
PHOTO: KELLY DORSEY
Paul Harrill — director
"Setting stories in Knoxville lets me root them in a sense of place, a sense of home" says Paul Harrill, the winner of this year's Sundance Best Short Film Prize for his Gina, an Actress, Age 29. Knoxville resident Harrill, also 29, received much acclaim this year for Gina, a surprising short distinguished by sure direction, an original script and spot-on performances.
In the film, a would-be actress answers a casting call only to find that her "role" requires her to persuade organizing workers not to unionize at a worker's meeting. Even as its storyline foregrounds class politics, a subject usually absent from both American indie and Hollywood cinema, the film's personal drama wittily details the problems of dramatizing such concerns in a fame-obsessed culture.
If the film contains both laughs and a measure of poignancy, then perhaps it's because Gina's plight – her struggle to make it as an actress in Knoxville – mirrors Harrill's own decision to base both himself and his stories away from the bright lights. Gina, in fact, was originally conceived of as the first part of a feature, Christmastime, consisting of five such small tales. When Harrill, who was finishing graduate film school at Temple University, decided to apply for an Aperture film grant, he lifted Gina from Christmastime and slipped it in with the application. He got the grant in the fall of 1999 and, with Mary Jane Skalski on board as producer, shot Gina in the spring of 2000.
Now that Harrill has won some acclaim on the festival circuit (Gina also played at New Directors/New Films) he is back at work hustling Christmastime and Other Stories. "I call it a story cycle," Harrill says. "It draws on the inspiration of albums like [Van Morrison's] Astral Weeks or short-story collections that have an arc and recurring themes. It's an attempt to tell stories about the smaller moments, the moments that are otherwise overlooked in features." – Scott Macaulay
[contact: pharrill@lovellfilms.com]
PHOTO: CRAIG SMITH
Bradley Beesley — director
When he was 14 years old, Oklahoma filmmaker Bradley Beesley attended a family wedding at which his adolescent attention was captivated by the bloody forearms of his cousins. It turns out that his relatives had been noodling, a method of catfish fishing – legal only in their home state of Louisiana, along with Tennessee and Missouri – that involves using only one's hands and wriggling fingers as bait to manually snag the piscine delicacy.
Those wounded forearms "burnt a profound image into my memory," says Beesley today, and his fascination with his cousin's avocation became the subject of Okie Noodling, a short-feature documentary about the curious sport. A true-blue chunk of Americana, Okie Noodling is at once a thorough document of noodling itself – its history, its contemporary manifestations – and a portrait of a group of men fiercely devoted to their hobby. It's also a bit of a love story, as Beesley moves from a position of ironic detachment to fascination to out-and-out ardor (Beesley has himself become an avid noodler).
Beesley is now in the process of remixing the film – which was funded in part by the Independent Television Service and recently won the audience award at the South by Southwest Film Festival – for its PBS debut. He is also the d.p. on Christmas on Mars, a sci-fi flick featuring fellow Oklahoma natives The Flaming Lips, who scored Okie Noodling and were the subject of Beesley's earlier film The Flaming Lips Have Landed, soon to be released on DVD by Warner Bros.
Meanwhile Beesley has two documentary treatments in the works: Freeway, a feature-length, character-driven film that follows the everyday lives of three commercial truck drivers and the hitchhikers they pick up, and a doc about a cult of little-league girl wrestlers. "Producer Julianna Brannum and I have only shot video so far," Beesley says. "But if things get interesting with the girls or we get some dough for the movie, I will swing into high gear and start shooting film. That has been my trend." He's also in pre-production with music video director Philip Harder on a mockumentary about a polluted Minneapolis creek.
Beesley says he'd eventually like to "make a movie that evokes as much emotion as Terry Zwigoff's Crumb," but his immediate goal, he claims, "is to catch a 40-pound catfish with my bare hands." – Hazel-Dawn Dumpert
[contact: littleleague@netscape.net / okienoodling@netscape.net
PHOTO: DERIN THORPE
Minh Nguyen-Vo — writer
"I spent a lot of my youth in movies theaters," recalls writer/director Minh Nguyen-Vo, "trying to escape the fighting and the atrocities all around me. Outside Vung-tau cinemas, the war was still on, but inside I was absorbing films from Europe and Japan and America." The war in Vietnam, that is. Now 45, Nguyen-Vo left to study science in France at age 18, and eventually ended up at U.C.L.A.'s graduate program in applied physics, but those years in the dark haunt him. Buffalo Boys, the script Nguyen-Vo workshopped at the Independent Feature Project/West's Screenwriters Lab this past spring, is in some ways intended to reconcile the filmmaker's future with his past.
A coming-of-age story about a young Vietnamese man who must become a buffalo herder in order to save his family, Buffalo Boys is set near the places Nguyen-Vo grew up, "but it's not autobiographical," he explains. "It's based on two short stories by the Vietnamese writer Son Nam that are set in the 1930s, when the French were still there. It's mainly about the relationship between a father and son – the son of a woman who his father raped. There's a lot of repressed hypermasculinity beneath the surface of the story, largely because of the presence of foreigners in the country at the time, though the film will mainly be expressed through men's relations to women."
After the Screenwriters Lab, he won the prestigious Equinox Screenwriters Award, which is sponsored by actress Jeanne Moreau and Canal Plus, and spent a month in France workshopping Buffalo Boys and meeting with production execs. The result: a production deal with the French company 3B's who produced Bruno Dumont's L'Humanité. Nguyen-Vo hopes to start shooting in Vietnam late this year; he has already completed the location scouting and managed to shoot a short documentary, Crimson Wings, while he was there.
"I'm really hoping to work with Clair Denis's cinematographer, Agnès Godard, on my film," says the enthusiastic Nguyen-Vo, who counts Denis and François Ozon among his favorite new French filmmakers. The dialogue for Buffalo Boys is in Vietnamese, but the trilingual Nguyen-Vo has already got an English-language screenplay in the works: another story about broken families, this time about the daughter of an MIA pilot who goes to Vietnam to confront her father's past. – Chuck Stephens
[contact: mnguyen-vo@worldnet.att.net]