25 NEW FACES OF INDEPENDENT FILM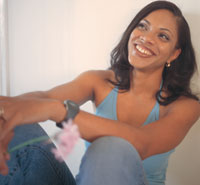 PHOTO: DERIN THORPE
Monique Matthews — writer/director
When Monique Matthews first set foot in Los Angeles, she didn't really have moviemaking on her agenda; she wanted to save the world. A self-described "big, bad New Yorker," Matthews went to work as a case manager for substance-abusing families in Compton. She decided to change direction when she realized that the families were looking at her, she says, "as if I was the system."
She entered U.C.L.A.'s sociology program but soon came under the influence of Egg Films's Meg LeFauve, who was teaching in the university's producing program, and started writing scripts. Her latest, Inventing Don Juan, a college-based romantic comedy that Matthews says is "very Pygmalion-like," was workshopped at the Independent Feature Project/West Screenwriters Lab. "It's about a guy who convinces the most popular girl on campus to teach him how to be a ladies' man."
This spring Matthews was hired to write a script for Lisa Bonet, who sold the as-yet-untitled pitch to Disney. "It's going to be the first African-American, large-cast fairy tale," Matthews explains. "We're just calling it The Nanny Project at the moment. It's about a mysterious boarder who comes into the lives of wayward adolescents in Harlem and manages to transform them. It's a little bit Disney," she says, then adds that the fantasyland aspect of the prospect has its serious side as well.
Matthews is also involved in an animation project for a new television program starring Macy Gray, and she is writing a book with LeFauve on creative producing; she says she has been working on it "for about a minute." Who has time? Ever since she shot a scene from Inventing Don Juan and hooked up with Bonet, she's been taking meetings at studios everywhere. – Chuck Stephens
[contact: Shana Eddy (310) 273-6700; Shawn Hopkins, AMG, (310) 860-8000]
PHOTO: MIGUEL VILLALOBOS
Ari Gold — writer/director
In the past few years, Ari Gold has been to the Sundance Film Festival more often than most established filmmakers. He arrived in 1997 with Frog Crossing, a short film that he co-directed with Jamie Babbit. Two years later he was back with Culture, a one-minute short that reel.com hailed as the "the best 60 seconds of film at Sundance." In 2000 he returned once more, not as a filmmaker but as an actor in the rave-scene romance Groove. This year he presented Helicopter, a 21-minute mixed-media short film on the death of his mother in a 1991 helicopter accident with her then boyfriend, rock impresario Bill Graham.
Having gone on to win numerous awards, Helicopter stands out for its striking difference from his earlier work. Frog Crossing, in which he also stars, is a charming romantic comedy, and Culture, in which Gold mocks both Dogme films and himself, appears more akin to video art than narrative film. But Helicopter is more ambitious by miles, telling its story of grief through a poetic structure of repeating themes and forms. Black-and-white animation gives way to a toy landscape that stands in for San Francisco and a funeral procession. For Gold, these abrupt shifts in style and form were simply personal reactions to his topics: "Helicopter was not coming out of any tradition of mixed media; it was just what was right for the project. I wrote it one night, in one sitting, and I didn't go back and add any of these things. That is how I wrote it – first image: black-and-white animation; cut to …"
For someone so visually versatile, Gold did not grow up yearning to make movies. His destiny was to write, like his father, Herbert Gold. But as he took off in that direction, he realized how much times had changed since his father's youth. "At some point I started feeling somewhat pragmatic. I started feeling that writing is a losing battle, since for the most part the world of fiction is a losing battle. Fewer and fewer people read. Part of this was that I was working on short stories. The short story when my dad was my age was a really popular and respected art form. He was writing in the '50s. You could become a celebrity just writing short stories."
Now with several award-winning films, an active acting career and several scripts out there, Gold is becoming a celebrity on his own terms. – Peter Bowen
[contact: www.arigoldfilms.com]
PHOTO: MARIO DE LOPEZ
Chris Papierniak — writer/director
Hal Buckley, the MFA thesis short Christian Papierniak wrote and directed while a student at the American Film Institute, may be the fastest, funniest version of Shakespeare's Henry IV you'll ever see. Funded by a grant from the ketchup conglomerate, Heinz, and probably the only version reconfigured as a portrait of the existential crisis of a high school jock, it is an astonishingly polished piece of work. Shot in a whirlwind eight days, the film's allegorical setting, satirical tone and sure-handed direction are reminiscent of Alexander Payne's Election, but Papierniak and his actors make this tale of a bullying football hero's sudden attachment to philosophy, stagecraft and the nerdiest girl in school all their own. "No, I wasn't required to include any prominent display of Heinz foods in the movie," Papierniak says, "though I did have a job in product placement once."
Originally from San Francisco, Papierniak started making films when he was 15. At U.S.C. he started out as a film major, then switched to fiction writing and literature before graduation. Fox Searchlight's Searchlab signed him on the basis of Hal Buckley and a feature-length script called The Long Shadow of John Brown. "It's about a high school football prodigy who winds up in prison, then gets out and tries to put the pieces of his life back together. It's a bit like a western with a football setting, or John Ford's The Quiet Man – a story about a guy with a past that won't go away. The idea of getting into a bully's backstory is something that really appealed to me."
So, apparently, does keeping busy: Papierniak just did a page-one rewrite on a second A.F.I. thesis film, Mother's Poppyseed Cake, starring Greg Zola (Pearl Harbor) and Alanna Ubach (Clockwatchers, Legally Blonde), and stepped in to direct when the original director had to drop out. Fox has also got a one-picture, first-look option on a feature length version of Hal Buckley, and Papierniak is already at work on another short film for the studio. As yet untitled, the film is about "marriage, Wall Street, and the ways that ambition and business and media set up unrealistic expectations and disrupt the family unit," Papierniak says. "It's a little dark, I guess, since I feel like my work's getting darker the older I get." – Chuck Stephens
[contact: Karl Austen, Armstrong/Hirsch, (310) 553-0305)]
PHOTO: ROBERT ZASH
Brett Vapnek — writer/director
It was a love of former dancer Maya Deren's seminal short feature Meshes of the Afternoon that coaxed writer-director Brett Vapnek from her career as a modern dancer into the experimental film program of Hampshire College. But it was her first gig after college – interning in L.A. for director Julien Temple – that led to the fusion of sensibilities that distinguishes her first short, the sweetly hypnotic Dream Machine.
"Julien didn't have a driver's license, so I wound up driving him around in L.A., sitting in on his edit sessions, and learning a lot about music video," Vapnek says. Moving back to New York City, she became the in-house head of video production at Matador Records, where it was her job to find young directors talented enough to make memorable clips on the company's mid-four-figure budgets. After bringing in such folks as Mike Mills and Phil Morrison, she took company artists Helium and $2,000 of personal money and, on the sly, shot her first video. When it was well received by her bosses, she directed others for Cat Power, Sleater-Kinney and Spoon.
Now in her fourth year at N.Y.U.'s Graduate Film Program, Vapnek is blending experimental film's formal freedom with subject matter that references indie rock's ambivalent attitude toward stardom. Dream Machine, her first narrative short, won the 2000 Grand Marnier Award at the New York Film Festival. In Vapnek's hands, this slip of a story involving a young girl karaoke singer (a beguilingly natural Mary Timony of Helium) and her improbable young fan (Vapnek's Japanese haircutter) becomes a visually assured study of alienated teen romance that echoes the compassionate humor of Jim Jarmusch and Aki Kaurismäki.
Vapnek plans to return to the indie rock scene for her next short, Drew Tyler, which will star Sleater-Kinney's Carrie Brownstein and Fischerspooner's Casey Spooner. She promises "more of a story" this time, before attempting a feature she is writing with her sister – "a classic rise-to-fame tale, like A Star is Born." – Scott Macaulay
[contact: brettvapnek@earthlink.net/Susie Vlchek (music videos) at (323) 860-8031]
PHOTO: MIGUEL VILLALOBOS
Todd Stephens — writer/director
Fresh out of N.Y.U. film school and with only two shorts to his name, Todd Stephens wrote and produced the gay indie hit Edge of Seventeen, a semi-autobiographical feature based on his teen years. "I actually started out as director of Edge of Seventeen," Stephens says, "but after a week of shooting this very personal story, I found it was very hard to maintain my objectivity, and I felt it was better for me not to continue. I asked David Moreton to step in and finish it. It was hard, but it was the best thing at the time, for me and for the film. Ultimately I was very happy with the way things turned out."
With that success under his belt, Stephens was soon ready for what would be his debut as a director, Gypsy 83. "I wanted to pick up where Edge left off," he explains. "[The films] are tied together by my real-life experiences. Edge is about one part, and Gypsy is the part about leaving Ohio."
An unusual road movie of sorts, Gypsy 83 is the story of a young woman, Gypsy, obsessed with her idol, Stevie Nicks, and dreaming of a way to escape her small-town life. She finds refuge in fantasy and in hanging out with her gay, goth best friend. Gypsy has a few strikes against her: she is overweight, her mom abandoned her, and she has a chip on her shoulder. The road trip is her journey to self-acceptance.
Vociferously upbeat, and featuring a killer soundtrack with Bauhaus, the Cure and Siouxsie and the Banshees, Gypsy 83 is backed up by talent that includes Karen Black and Sara Rue, who were both drawn to the project by a strong script. Says Stephens, "It's about accepting yourself for who you are and living your dreams, something we can all relate to." Next up for him? Flamingos, a script about a gay retirement home in Florida, and The Dana Rivers Story, an original movie for Lifetime Television. – Arnold Salas
[contact: www.gypsy83.com or gypsy083@aol.com]