25 NEW FACES OF INDIE FILM 2003
01 Tasha Oldham
After arriving in California to pursue a career in film, Mormon-raised Tasha Oldham soon discovered that most people she ran into had gross misconceptions about her religion. "I was always battling these stereotypes about Mormons, and people not understanding what their lives were really like," says Oldham. "At first, it was frustrating, but then it got me curious – I wanted to discover more about Mormonism myself." That's when Oldham, who began her career as p.a. on David Lynch's Lost Highway and eventually found work as a script supervisor, traveled back to Utah to make a doc about Mormon women.
"One of the issues I wanted to investigate was homosexuality," says Oldham. "First, I was meeting with lesbian Mormons, but that didn't work out because they kept leaving the church. Then I started looking for Mormon women who married gay men." It was at that point that Oldham discovered the story for her breakthrough film, The Smith Family.
Oldham's film chronicles the story of Kim and Steve Smith and their two children, a once picture-perfect Mormon family thrown into turmoil when Steve, now out of the closet, tests positive for AIDS. Filmed and edited over the course of four years, The Smith Family launched the 2002 season of POV for PBS (it was picked up at the 2001 IFP Market) and recently took home a DGA Award for Outstanding Directorial Achievement in a Documentary in addition to a number of other festival prizes.
"I never really set out to become a documentary filmmaker, but this story fell upon me and I felt that I needed to tell it," says the 31-year-old Oldham, who's currently developing an ensemble comic drama set in Salt Lake City with her Small Town Productions producing partner Noelle Wright. "I think the great stories kind of find you." – Matthew Ross
Contact: Maura Teitelbaum at The Abrams Artists Agency: maura.teitelbaum@abramsart.com, smtownprod@aol.com
02 Jesse Moss
Jesse Moss never intended to be a filmmaker. After graduating from U.C. Berkeley in 1993, Moss moved to Washington D.C., where he landed a job with Congressman Vic Fazio, eventually moving up the ranks to become a policy assistant and speechwriter. Unfortunately, recalls Moss, "I found D.C. to be suffocating."
Moss left D.C. and moved to New York, where he soon found himself working with a number of the city's top documentarians, eventually landing a gig as an in-house producer for Barbara Kopple's Cabin Creek Films. His first doc as director, Con Man, was picked up by HBO after the trailer screened at the 1999 IFP Market, and aired on the Cinemax Reel Life series in 2002. The deal allowed the 32-year-old Moss to set up his own production company, Mile End Films. During a break in the production of Con Man, he decided to check out a demolition derby at the Riverhead Raceway in eastern Long Island, where he met Ed "Speedo" Jager, the derby's charismatic star. "As soon as I went home with Speedo to shoot him and his family, I knew I had to make the movie about him. He's an exceptional documentary film character."
Moss shot Speedo over the course of three years, and ended up a with an extremely entertaining, heartfelt portrait of a crude, lovable oddball and dedicated father who manages to find love – and some big-time demolition victories – after his marriage falls apart. "Speedo's life really changed dramatically during the years that I was filming him," says Moss. "You think he's going to offend everybody, but people end up falling in love with him by the end of the film." Speedo premiered at SXSW 2003 and has since picked up a number of prizes on the festival circuit, including the Audience Award at the Full Frame Documentary Film Festival. Moss is currently developing a fiction feature and two documentaries – one about a New Jersey mob family and another about a maverick Hollywood screenwriter. – Matthew Ross
Contact: jesse@mileendfilms.com
03 Steven Tsuchida
Steven Tsuchida, whose hilarious short film A Ninja Pays Half My Rent has played to acclaim and occasional awards across the world, is a man who gets what he wants – once he decides what that is.
Born and raised in Hawaii, Tsuchida studied advertising in Southern California. During his senior year, he read an article in Details about a hot new company called Propaganda Films and soon thereafter landed an intern position. Deep in their vaults, running off dubs of Michael Bay's and David Fincher's reels, Tsuchida got a glimpse of his future.
After moving on and working at a New York advertising agency, Tsuchida realized he was not going to become a filmmaker by continuing as an advertising creative. So, he returned to Los Angeles to study filmmaking at the Art Center of Pasadena – a school that, he points out, educated the likes of Tarsem and Michael Bay. In film school, he perceived the trend of successful commercial and video directors moving over into feature films. Why not him? For his thesis, he created a commercial reel rather than a short film, and after he graduated, Oil Factory picked him up to direct commercials. Then, as he explains succinctly, "I wanted to make steps toward making features, so I decided to make a short for Sundance." That short, A Ninja Pays Half My Rent, played before Mark Illsley's Bookies at the 2003 Sundance Film Festival, before moving on to SXSW, HBO Comedy Fest and New Directors/New Films. Next up, Tsuchida is looking at a script about a guy who models his life after John Hughes—style films. – Peter Bowen
Contact: steven@oilfactory.com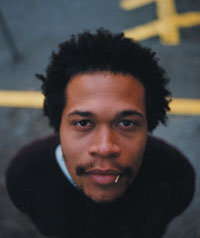 PHOTO: ©HANK THOMAS
04 Seith Mann
Although it's set at an all-black college, Seith Mann's breakout short Five Deep Breaths evokes the suspense and tension of a classic western. When a campus girl is violated, her brother and his friends form a posse to avenge her honor – a mission that, with shades of Unforgiven, upends their own notions of masculinity. "I like situations that are morally ambiguous, where there are different versions of what the right thing to do is," says Mann.
The film's skillful direction, expert pacing and brooding performances have made Five Deep Breaths one of today's hottest shorts. Shot in 16mm, the film premiered at the 2003 Sundance Film Festival, won Best Short Film at NYU's First Run Festival and was one of only four American shorts selected to play at the Cannes Film Festival by the Cinéfondation.
Like Spike Lee, Mann graduated from Atlanta's all-black Morehouse College and then attended NYU's Tisch School of the Arts Graduate Film Program. More recently, Mann has been doing sound design jobs to pay the bills and indeed, his dramatic use of film sound helps makes Five Deep Breaths so memorable. Jazz pianist Jason Moran wrote the short's score, and his percussive sounds and chanted vocals form an initially odd but ultimately moving musical commentary on the action.
Although Mann admires independent-minded directors like Lee and Steven Soderbergh who have managed to successfully navigate the studio system, he also says he likes classic Hollywood action films like Die Hard and RoboCop. Currently working on a feature screenplay, Mann says, finally, "I think the best films are made without anticipating what the audience wants but by telling your story to the best of your ability."
Five Deep Breaths will have its L.A. premiere at the IFP Los Angeles Film Festival this June. – Anikah McLaren
Contact: gatelife@hotmail.com, (212) 462-3058
05 Jessica Sharzer
"I started out as an achiever and ended up the class clown," says Jessica Sharzer, explaining the "weird, winding road" that lead her from the Ph.D. program in Slavic languages and literature at U.C. Berkeley to screenwriting and film directing.
Sharzer was all set for a career in academia until she took a summer film course at New York Film Academy. Realizing then that she was "not meant for academia," Sharzer left Berkeley and enrolled in NYU Film School. Her career change paid off when, in 2002, she won the school's prestigious Wasserman Award for her graduate thesis film, The Wormhole. The story of a young boy's yearning to find a wormhole in the space-time continuum so he can travel through time and prevent the drowning death of his older brother, the film finds emotion and truth within a child's world while sidestepping obvious sentimentality.
The win at NYU registered Sharzer on the industry radar. She signed with Jason Spitz at Endeavor, moved to L.A. and took meetings. "I was considered for a couple of $10-million to $15-million films," she says, "but I thought the scripts sucked. I would pitch a take on them that required a rewrite, and these companies didn't want to hear that. Then I thought, I don't want my career to end over one movie. I have an opportunity to do something good if I am patient."
So Sharzer, who credits her work as a documentary editor with sharpening her directing skills, began developing and pitching original material, and just one year after the NYU win she has three projects set up. The first, Pretty Lies, is an original "New England Gothic tale of revenge and loss of innocence" that Sharzer will direct with Dorothy Berwin (The Safety of Objects) producing. And then there's Speak, a drama based on a book by Laurie Halse Anderson that Sharzer will direct for Showtime.
And finally, Sharzer's Russian literature background will be put to good use with a project she has set up with producer Kevin Misher (The Scorpion King): an adaptation of Turgenev's 1860 novel First Love. "Russian literature is this amazing and unexplored wellspring of material for movies," Sharzer says. "Because old Russian novels were serialized, they are inherently cinematic. They were written with cliffhangers, and there's so much passion and violence!" – Scott Macaulay
Contact: Jason Spitz at Endeavor: (310) 248-3058, sharzer@yahoo.com


<< Back | Next >> [1-5 | 6-10 | 11-15 | 16-20 | 21-25]
Go to Sidebar: Update on 2002's 25 New Faces