25 NEW FACES OF INDIE FILM 2003
21 Matt Smith
Matt Smith's short films revel in understatement, which seems a paradox, given the bizarre characters that populate them, from tuxedoed men growing on trees and the little girl who picks them to eat the fruit of their brains in Bob (1999), to the caring father of The Provider (2001), who drives to an abandoned country home where he harvests brains from hairy, acid—dripping sacs earlier laid by an eerie group of pajama—clad grandmotherly figures.
Smith's films rely on a meticulous visual logic and vivid sound design unspooling in seemingly idyllic natural settings that turn foreboding even as they test the audience's patience. Shades of Chuck Jones, whom Smith cites as a major influence, are evident not only in the close-ups of cartoonish faces nervously looking this way and that, but in the resonant, textured sound design, which replaces Jones's Zing!, Splat! and Kaboom! with the slurp, suck, and chew of people feeding their insatiable appetites.
Though almost painterly in his composition, Smith's goal is not control, but the cultivated loss of it. "Most of my work as a director of actors is to try and get rid of the acting they have either had trained into them at school or battered into them through the daily TV diet." The effect is a sort of drowsy naturalism, and this masterful fusion of the horrific and the comic has kept Smith on the festival circuit nearly non-stop since he made his second short, Hunting Earl (1996), from SXSW and Telluride to Seattle and Stockholm. In the early stages of preproduction on his latest project, The Nursery, the Santa Monica—based Smith is expanding the skewed universe of his shorts into a feature-length vision of an utterly binary world composed of "Bobs" and "Not Bobs," featuring blood-sucking mites and a "society of short middle-aged greasy men" who subsist on "the embryonic larvae of an enormous woman who lays the clutch in an abandoned building." Along with his co-producer and partner, the filmmaker Sarah Shute, Smith hopes to begin shooting the 35mm film by year's end. – Nick Twemlow
Contact: matt@theburgessshale.com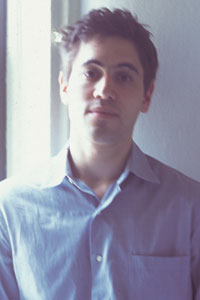 PHOTO: RICHARD KERN
22 Elliot Greenebaum
Explaining his decision to enter NYU Film School after majoring in philosophy at Amherst, Elliot Greenebaum says, "I always wanted to be involved with making art, and I naively thought that filmmaking was a way of avoiding choosing [one specific art form]." But now that Greenebaum has won the 2003 grand prizes at both Slamdance and Gen Art for his debut feature, he says he realizes that film is "its own bizarre thing with its own unique set of challenges. In filmmaking, there's a simultaneous degradation of one's intended outcome combined with the magical specificity that the real world brings."
Greenebaum says it was that "magical specificity" he was looking for while making Assisted Living, his prize-winning film. Greenebaum took two-year break from NYU to expand what was originally intended as a short film – the tale of a twentysomething stoner who recovers his humanity while working in an old age home – into a feature. Shooting in an actual assisted living facility in Greenebaum's hometown of Louisville, Kentucky, and mixing a few actors with the home's elderly residents, the film is an intimate character piece as well as an elegant visual treatise on American society and aging.
While the film gains much of its power from it seamless melding of scripted scenes with documentary reality – the latter captured in a kind of Errol Morris—influenced, hauntingly hyperreal style – Greenebaum says that he originally wanted to create a more experimental mixture of documentary and fiction. But after shooting for a summer on DV and editing his material, he more or less discarded his footage. "I made that film and it wasn't good," he says. "It wasn't true. So I reshot the film the next summer on Super 16mm making every concession to story. I realized that audience members didn't care that I was mixing documentary and fiction. Once audiences are introduced to a story they want the filmmaker to just stick with it."
After making Assisted Living, Greenebaum returned to NYU where he'll graduate in the fall. Citing Todd Haynes's Safe, Harmony Korine's Gummo, and Emir Kusterica's Underground as "the three most important films of the '90s," Greenebaum says: "I like rigorous, perfect filmmaking, but I just want to make sure that my next film is good. It's common for [directors] to run out of movie ideas but keep doing movies. I only want to do movies if I have movies to make. And, I'm excited by my next one." – Scott Macaulay
Contact: assistedlivingthemovie.com
23 Jen Sachs
Jen Sachs's award-winning animated documentary The Velvet Tigress had its roots in a dungeon-like barroom in Washington D.C. during a Mr. Bungle concert over 10 years ago. Not that either the ambience or music spurred Sachs on – the overhead video monitor was playing an animated film from Euro-surrealists the Brothers Quay and the Baltimore-raised Sachs discovered there the power of animation. For her BFA, she attended the University of Maryland, mixing up filmmaking and studio art to forge her own animation program. What excited her was not just the manipulation of graphic elements, but how that alchemy could tell complex and powerful narratives. While still in Maryland, she began her first film, Translations, which was inspired by the cathartic gestures of 19th century hysterics.
Sachs next enrolled in the Experimental Animation MFA program at CalArts (from which she graduated in 2001). It was there she started The Velvet Tigress, an 11-minute animated documentary about Winnie Ruth Judd, made infamous in the 1931 "Trunk Murders" trial. The idea came to Sachs on a train ride on which her bags (and sketchbooks) were stolen. Left only with Jana Bommersbach's true-crime book The Trunk Murderess: Winnie Ruth Judd, Sachs loved the idea of telling Judd's story, but needed a way in. In researching original newspapers, especially Hearst's more salacious ones, Sachs hit upon a way of collaging the graphic language of advertising, entertainment news and murder trials into a single aesthetic. She points out how "the advertisements next to the murder story illustrated the case, how the ads portrayed women with price tags around their necks that looked like nooses." The end product, which is narrated by The Blair Witch Project's Heather Donahue, manages to recall Judd's trial and the American 1930s as much through graphic allusions as through empirical facts.
The film debuted at the 2002 Telluride Film Festival and subsequently was invited to over 40 more festivals, including Sundance, and won its director a trophy case of awards. – Peter Bowen
Contact: Jen_sachs@hotmail.com
PHOTO: RICHARD KERN
24/25 Luis Cámara Silva & Gabrielle Galanter
Writer-director Luis Cámara Silva and writer-actress Gabrielle Galanter met seven years ago when she auditioned for his AFI thesis film. But it was only about 18 months ago that the pair, both of whom had previously written scripts on their own, began collaborating on screenplays. During that short time, this prolific husband-and-wife team has churned out four feature-length scripts, including one commissioned by acclaimed writer-director and d.p. Rodrigo García (Things You Can Tell Just by Looking at Her). In addition, their brilliant short film Endgame – in which an innocuous chess match turns into a fervent demonstration of human sexuality – has won kudos at festivals around the world.
There is an obvious connection between García and Cámara Silva: both grew up in Mexico and relocated to the U.S., and both aim to straddle the Hollywood and indie worlds. As Cámara Silva puts it, "In Mexico you can be a lot of different things. Here you have to drop everything to get jobs to survive." Galanter, a New York native, grew up a world far away from her husband's, yet their artistic motivations are completely in sync. The pair aims to make movies the way they want to make them. "We're done with being flexible," Cámara Silva declares. "If you write it for yourself to make, you should have some leverage. Once you make one compromise, it snowballs, and every compromise leads to another one."
In their current writing, the two of them are, Cámara Silva says, "figuring out how to get more low budget." Their goal is to create films for Cámara Silva to direct and Galanter to perform in, although they note that the roles created for her are not so much movie-star appealing as they are small, quirky and interesting.
The team's low-budget feature Off Key – workshopped through IFP/LA's directors and producers labs – is in preproduction talks to shoot this summer. Galanter's own Darling Clementine participated in IFP/LA's screenwriters lab. Their seven-year itch is certainly proving much more constructive than superstition would have you believe, but they do have a contingency plan. Cámara Silva explains: "If this doesn't work, it's all over. We're moving to Nashville so I can become a bartender and Gabrielle can be a country singer." – Lisa Y. Garibay
Contact: xvoto@aol.com


<< Back | Next >> [1-5 | 6-10 | 11-15 | 16-20 | 21-25]
Go to Sidebar: Update on 2002's 25 New Faces