Edy Modica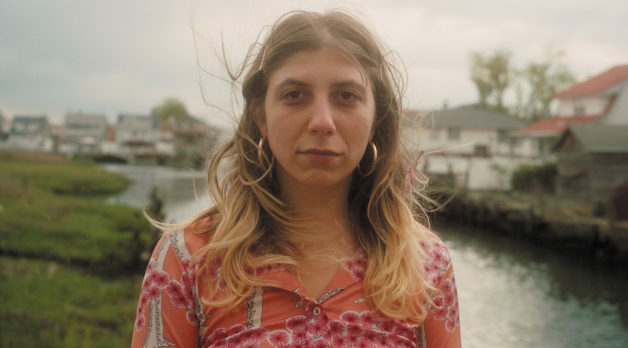 Edy Modica

Edy Modica cites not-so-average New Yorkers as her principal creative influence—she often records and transcribes public conversations as they play out in front of her face. "There's nothing realer than that," said the Brooklyn-based actor, director and stand-up comedian. "The other day, I recorded this couple standing on the L train platform. The girl had mascara running down her face—very Jersey Shore—and told her boyfriend, 'I saw you looking at those girls!' He screamed, 'What girls, Lisa?!' I just love crazy, loud people." 
Crazy, loud and desperately craving a Dunkin' Donuts Coolatta, the eponymous Nicole of Modica's breakthrough 2021 short, currently streaming on the NoBudge platform, is similarly inspired by real-life "funny characters," though this time the director eschews observations gleaned from strangers on the street. Having grown up in Nyack, New York, a place she simply describes as "weird," Modica recalls adolescent interactions with family members that would eventually mold the character of Nicole; namely, a dolphin-loving, 25-year-old lesbian her uncle "dated" (i.e., did drugs with) and brand-obsessed cousins from Freehold, N.J. She also references her Facebook sleuthing of hometown acquaintances as an additional muse. ("They're like caricatures but real-ass people!") 
Played by Modica, Nicole is dirt broke, disgustingly selfish and determined to quench her thirst with the only sugary coffee beverage that will suffice. Yet, in her pursuit for something so simple, she can't help but abuse and alienate everyone she encounters. When an old friend offers her a ride to "Dunks," Nicole callously reveals that she once tricked her into sending nudes during high school by masquerading as a "basketball lesbian" on Facebook. "You have salami tits," jabs Nicole as she's being kicked out of the car after her brash confession. When she finally makes the trek on foot to Dunkin', she arrives to find the establishment closed for an employee-only "Dunksperience" training. Confronting a barista on their smoke break, she rages and demands to be served anyway. ("I will cause a scene at your fucking job! I will get your ass fired!") Dejected, she embarks on the next leg of her strange odyssey, coming across a corner store a capella group, as well as an alleged mallrat vampire. 
Co-directed by Modica and her frequent collaborator (and ex-boyfriend) Ian Faria, the film's authentic portrayal of a specific type of person came down to debating over the finest details. For example, Modica deeply regrets not including Nicole's use of a signature scent in terms of how it would play among millennials. "I remember, I got into an argument with Ian about seeing the Sweet Pea Bath & Body Works spray in the short," she laughs. "I just knew it would resonate!" 
In a broader sense, however, Modica and Faria subvert the dominant depiction of poor, oft-trashy characters within the media landscape. "If they're showing someone who doesn't have money on screen, they need to be redeeming and have a heart of gold," complains Modica. "But sometimes, people who don't have money just suck. It's not their fault, but it really creates an angry person."
While Nicole is a bold and self-assured short—complete with an impeccable central performance and well-curated visual flourishes (dirty Ugg boots, Victoria's Secret merch, neon-painted acrylic nails)—Modica will likely identify as a comedian and performer first, and filmmaker second. After graduating high school, she attended a two-year acting program at Manhattan's American Academy of Dramatic Arts ("a scam school"). She has spent the past 12 years living in the city and building a reputation for herself as an ever-present figure in New York's comedy scene. Now 30, Modica has felt that the creative transition to narrative filmmaking was sudden, but she is ready to embrace the process—particularly because it allows her to flesh out original characters, brazenly portrayed in all of their sleazy glory. 
With partial funding from Brain Dead Studios, Modica is currently developing her feature debut, Waiter Movie, for which she wrote her first script. She's teaming up with the same crew that created Nicole, including co-director Faria, producer/AD Sarah Wilson and producer/DP Alex Bliss. She will star in the film once again, this time donning intense prosthetics to play a 60-year-old man who works at a restaurant with his brother, who will be played by Modica's father. When his sibling sells the business without warning, Modica's character goes on a full-blown bender, fueling much of the film's plot. Supporting actors from Nicole will also appear in this film, including Brian Fiddyment, Francesca D'Uva and Modica's own mother. Though she is aiming to begin shooting by December, Modica's mostly just happy to relish the moment. "I feel so cool," she beams. "You're catching me at a good moment."—NK/photo by Fiona Veronique