Jessica Dimmock + Christopher LaMarca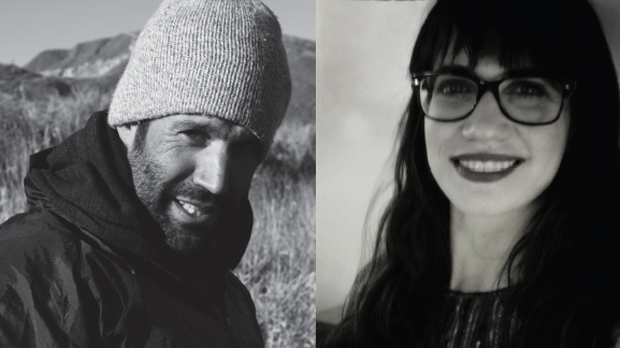 Jessica Dimmock + Christopher LaMarca

Jessica Dimmock and Christopher LaMarca first met at the International Center of Photography, where training in documentary photojournalism laid the common foundation for their future working relationship. Separately, both took on long-term projects while working as professional photographers. Dimmock's three years tracking a group of heroin addicts became her monograph, The Ninth Floor, while LaMarca's work included a series on underground pool hustling in Queens and four years tracking forest activism in Oregon.
In 2010, LaMarca was burnt out on still photography. His work covering environmental issues for Rolling Stone, GQ and similar publications led him to feel that he was "adding to the madness." At the same time, the emergence of the 5D camera convinced him he could take up documentary work. The result was two years of shooting on Boone, a closely attentive portrait of three Oregon farmers struggling to keep their land and battling the USDA. "To say that the film is about the farm movement or green movement doesn't do it justice," LaMarca says of his film, currently in postproduction. "Farming has been very romanticized, but the actual experience is very gritty and not comfortable, and that was the story that I wanted to tell."
When shooting on Boone ended, LaMarca got a call from Dimmock, by this point a celebrated photojournalist who also d.p.'d Mark Jackson's feature, Without. She had found subjects in Portland that could offer a chance to collaborate. What began as a weekend shoot for a short became Brick, a multiyear project about four transgender women in the Pacific Northwest that begins editing this fall. "By the end of the first few days, it was very clear that we were going to make a film together," Dimmock says.
"When we started shooting Brick, we both knew we wanted the film to feel immersive, not only making a film about an important social issue but also creating a visceral entry point into a world most people are unfamiliar with," LaMarca says. In fall 2013, Brick received a Chicken and Egg development grant, and in June 2014, the filmmakers screened early material for potential partners at Good Pitch. Dimmock and LaMarca's footage looks like the product of harmonious integration of two totally similar aesthetics: their handheld cameras are comfortable in dark domestic spaces, constantly shifting foreground-background focus while finding new objects of contemplation. The intent, she says, is not just to be "racking focus because someone is talking, but staying on something that feels emotionally resonant."
LaMarca got used to running his own sound on Boone, a method the duo employ to build intimacy with their subjects. "At the end of the day, another person in the room with a boom mic hanging over people's heads affects things," LaMarca explains. "We can run up to five lavs at a time: three off mine, Jessica with two, and we both have a shotgun." That also means handling two cameras simultaneously to allow for shot-countershot and a full, narrative immersion. "We want to be able to shift perspective as though you're in the room with them," Dimmock adds. "And we also want to make it really, really beautiful." — Vadim Rizov
Photos by Jessica Dimmock (self), Katrina Taylor (LaMarca)