Rashad Frett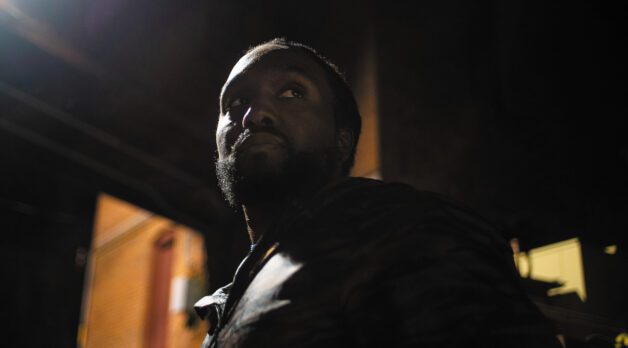 Rashad Frett

A first-generation Caribbean American whose family traveled back and forth from Connecticut to the Virgin Islands during his childhood, Brooklyn-based Rashad Frett grew up "aspiring to be creative" and explored different possible outlets, such as drawing and acting. He wound up joining the military instead, where he was a combat medic for his unit during 9/11—an experience that began an introspective period during which he explored different career avenues, including business school, until he enrolled in the communications department at Central Connecticut State University. There, the experience of studying filmmaking with director and professor Jeffrey Teitler was catalyzing, and to this day, he refers to Teitler as his mentor. "His style of teaching—well, if you saw Whiplash, it was like that," Frett says. "He really pulled potential out of us, and he helped steer my career to where it is today."
In the seven years separating Central Connecticut and graduate school at NYU's Tisch School of the Arts, Frett accrued the real-world experience informing his debut feature. His jobs included working for a Connecticut nonprofit that supported the children of incarcerated parents (he shot short docs in prisons) and directing an independent TV pilot, The Second District, which he calls a "Connecticut version of The Wire." He plans to shoot Ricky, based on his Sundance-premiering thesis short, next year.
"A lot of the things in the [Ricky] screenplay that me and [co-screenwriter] Lin Que Ayoung wrote are from the actual experiences of people we know," says Frett. "I looked at a lot of my peers that I grew up with, who were in and out of the criminal justice system, and saw how they struggled reacclimating to society. It inspired me to create this character [of Ricky]. We shot the short in Hartford, Conn., and had ex-offenders, police officers, parole officers, judges and family members of the incarcerated all involved and consulting on the script."
In the short version of Ricky, the eponymous ex-convict, 30, who has spent his entire 20s incarcerated, borrows his sleeping brother's car without permission in order to make it to his new job, an act that spirals into an anxiety-fueled nightmare that threatens to return him to prison. Frett keeps the camera focused tight on lead Parish Bradley throughout the short, ramping up the tension until concluding with a starkly devastating ethical dilemma. For the feature, Frett has retained the same starting point—a paroled Ricky getting laid off from work—while skillfully expanding the scope of his protagonist's external life and internal struggles. About his direction of the feature, Frett says that, similar to the short, "I want it to feel like verité, like we're in his world." Citing influences ranging from City of God to the work of Ryan Coogler and the Safdie brothers, Frett says, "My aim is to make the audience feel like they forget they're actually watching a film and feel like they're actually there on this journey with him."
Prior to Ricky, Frett made the poignant, character-based K.I.N.G. ("kid in need of guidance"), loosely based on the writer-director's own reconnection with his distanced father. The short attracted attention, winning awards and recognition, including a BAFTA New York Media Studies Scholarship. When Ricky was in rough cut, Frett was approached by WME agent Craig Kestel, who signed him and has been supporting the progress of the feature. Sundance is another supporter; after being invited to apply by Sundance's Michelle Satter when she saw Ricky, Frett attended this past summer's Screenwriters Lab. Frett has also received a number of honors during the making of his short, including a DGA Student Film Award, a Spike Lee Production Fellowship, and selection to Ryan Murphy's HALF Initiative Director Shadowing Program, and he received a $20,000 grant from NYU's Cary Fukunaga Production Fund.
Frett expects to be in production next year, after the strikes are over, but in the meantime continues his job teaching directing at Brooklyn College. He says a lot of his students find his life story inspiring, but the sentiment goes both ways. "One of the biggest things for me is giving back to the community—allowing youth to be on sets and get experience. When I was growing up, I didn't have anyone. I had to figure it all out until I met my mentor late in college. Now, I'm just truly honored to be in a space where I can inspire the youth and be inspired by them at the same time."—SM/Image: Josh Therriault