Back to selection
Recommended on a Friday: Gimme Danger, Dreamlands, The Fosters, Killer Party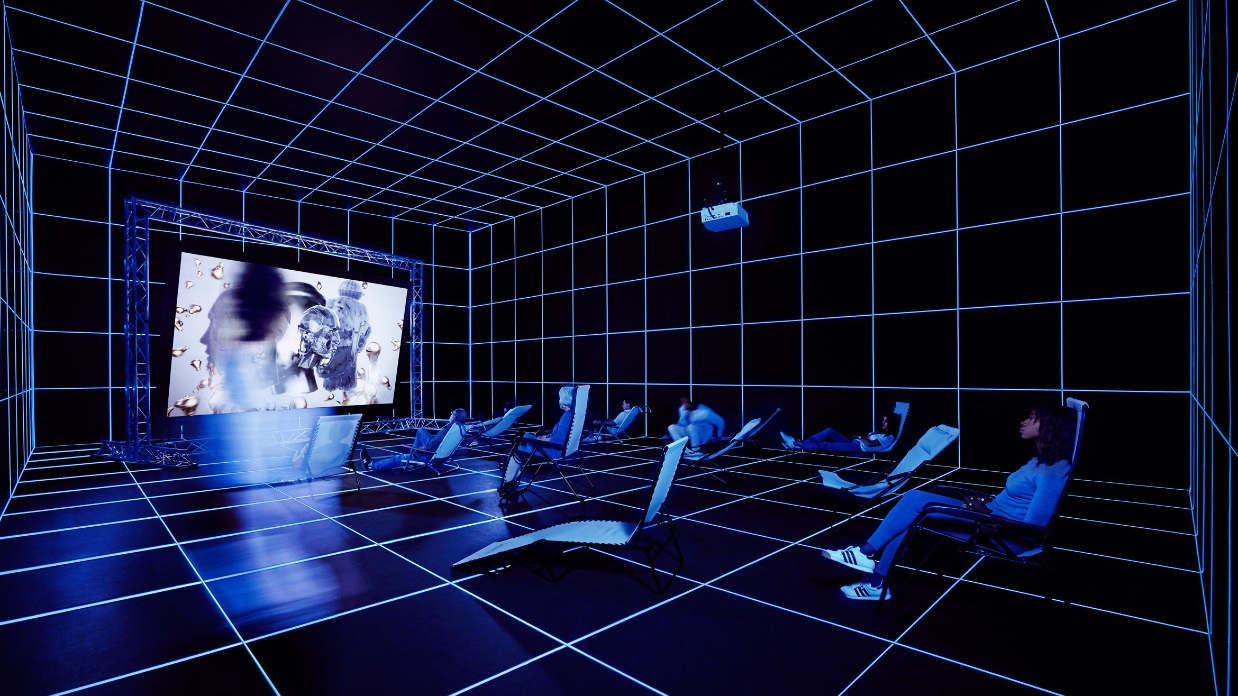 Hito Steyerl (b. 1966), Factory of the Sun, 2015. (Photo: Sarah Wilmer)
This pre-Halloween weekend is unexpectedly light on new releases. For Filmmaker readers, the most significant of the newcomers is Jim Jarmusch's Cannes-premiering documentary on The Stooges, Gimme Danger. If you're any kind of Iggy Pop fan — and, although not an obsessive or a completist, I count myself as one — than this doc is a must-see. It's certainly not a revolutionary rock doc, consisting straightforwardly of Iggy's own present-day interviews; comments by fellow band members, other musicians, and various colleagues and music execs; fantastic concert footage (albeit less of it than you want); and a smattering of archival footage clips used to provide tongue-in-cheek punchlines to Pop's various quips. That said, Jarmusch is both a friend and a fan of his subject, and he confidently conveys the group's revolutionary abandon, underdog ethos and casual anti-careerism with an insider's touch.
If you're in New York, you can check out the Whitney Museum's long-anticipated Dreamlands: Immersive Cinema and Art, 1905 – 2016. A mammoth exhibition and accompanying film series, Dreamlands "focuses on the ways in which artists have dismantled and reassembled the conventions of cinema — screen, projection, darkness — to create new experiences of the moving image." Containing the work of artists ranging from experimental hero Bruce Connor and techno-feminist explorer Lynn Hershman Neeson to Blade Runner designer Syd Mead, and Filmmaker 25 New Face Frances Bodomo, the exhibition is, writes the curators, "the most technologically complex project mounted in the Whitney's new building to date, embracing a wide range of moving image techniques, from hand-painted film to the latest digital technologies." The accompanying film series this Saturday includes new work by downtown NYC experimentalist Bradley Eros. And, fun fact, Dreamlands contains work by one of my favorite media-based artists, Pierre Huyghe, who was the subject of the very first post on the Filmmaker blog back in 2004. (That post is still online, complete with period-appropriate broken image-links and spam comments.
…
Finally, Jim Hemphill weighs in with two more widely available titles that can be streamed this weekend:
This week I want to focus on a couple of home viewing options, starting with the exquisite – and, given its ambition and excellence, criminally underrated – series The Fosters, which is now streaming on Netflix. Superficially one of the oldest TV staples in the book (an ensemble family melodrama), The Fosters in fact takes the most conservative of television genres and uses it to radical social ends. By dramatizing issues including (but not limited to) gay marriage, racial profiling, the privatization of public services, and the role class plays in our legal system and in society at large, showrunners Bradley Bredeweg, Joanna Johnson, and Peter Paige brilliantly explicate the direct line between social and economic policy; the cliché that someone can be a social liberal but an economic conservative proves to be an unsustainable contradiction in the universe of The Fosters, which is the best TV show I've ever encountered when it comes to conveying the private repercussions of public policy. The show's greatness lies in the way that it achieves its agenda without preaching or resorting to didactic oversimplification, honoring as many diverse points of view and providing as much entertainment value per episode as anything currently on the air. It's both the best teen show since My So Called Life and an extraordinary portrait of an adult marriage; as the couple who head the family at the show's center, Teri Polo and Sherri Saumm provide a multi-faceted depiction of married life in all its life and death struggles, subtle negotiations, minor and major grievances, and temptations and disappointments. The show recalls the best of Cassavetes in its recognition that extreme, sometimes contradictory emotional states are at the core of the human condition, not part of its periphery — this is a melodrama that earns every one of its points, high and low, political and personal, hilarious and tragic.
Also, since it's Halloween weekend, I want to draw attention to writer-director Alex Drummond's Killer Party, a wonderful micro-budget horror-comedy that's now streaming on a variety of platforms. The movie, which follows a group of friends trapped at a baby shower when a zombie apocalypse breaks out, transcends its limited resources with a script that's surprisingly insightful — it earns comparison with films like The Big Chill and The Return of the Secaucus Seven thanks to its witty characterizations and reflections on pre-middle age malaise and restlessness. The performances are uniformly excellent and the deft blend of horror and comedy recalls early Sam Raimi, Peter Jackson, and Edgar Wright – it's essential viewing for genre enthusiasts. — Jim Hemphill